The Makati Representative attends a Senate hearing to support her brother and to defend herself from the allegations of Senator Alan Cayetano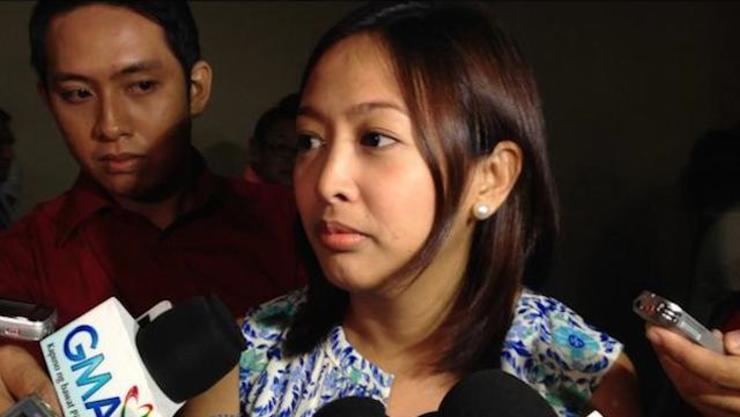 MANILA, Philippines (UPDATED) – The daughter of Vice President Jejomar Binay showed up at the Senate on Tuesday, August 26, vowing to confront Senate Majority Leader Alan Peter Cayetano but she was unable to catch him. 

Makati Representative Abigail Binay said she can no longer afford to stay silent and needs to "fight" Cayetano's allegations she was behind the graft case against him and wife Taguig Mayor Lani Cayetano.

"Nandito ako para suportahan ang aking kapatid at sa proyektong ito; secondly also to confront Senator Alan. 'Di ko napanood ang huling Senate hearing. I heard he mentioned my name. That's why I'm here. Puwede ko naman siyang lapitan, even before or after; not really a confrontation but siguro magkapaliwanagan kaming dalawa," Binay told reporters before the hearing on the allegedly overpriced Makati "parking building."  

(I'm here to support my brother and this project. Secondly, to confront Senator Alan. I did not watch the past hearing but I heard he mentioned my name. I can approach him; not really a confrontation but maybe to make things clear between the two of us.)

Binay was referring to Cayetano's statements linking her to the filing of the graft cases against him and his wife. The senator claimed the complainant, Rod Vera, was Binay's law school classmate, and that her "Thursday group" or classmates and associates who visit her house every Thursday was the one behind the case.

The congresswoman denied having a hand in the case.

Binay said: "I do not deny Rod Vera is my classmate. We are both from Ateneo. Am I guilty by mere affiliation? This Thursday Club – he is the one who has a Thursday Club, not me. Maybe he is confused. It's a far leap from being my classmate and ergo, saying I have something to do with the case."

The representative added she was "hurt" because she is friends with Cayetano's wife but yet the senator keeps "attacking" her.

"Ang tawag ko kay Mayora Lani, kapatid. Ganoon kami kalapit kaya masakit ang ginagawa nila sa akin (I call Mayor Lani, sister. That's how close we are so this is painful for me)."

She added, "Personal kong pinapasok sa buhay ko sila kaya masakit ang ginagawa nila sa akin. Kahit tinitira nila si VP, wala akong sinabi pero ngayong ako na tinitira nila, kailangan akong lumaban. Kailangan akong magsalita."

(I personally allow them to enter my allow that's why this is painful. Even if they attack the VP, I do not say anything but now that they are attacking me, I need to fight back. I need to speak up.)
Watch Binay's statement below.
Along with her elder sister Senator Nancy Binay, Congresswoman Binay tried to approach Cayetano but the senator immediately left after he asked questions in the hearing. In a phone interview, Cayetano said he was not avoiding Binay but had an "appointment outside." 
"They know how to get in touch with us in private. Why does she have to bring a media crew at the same time of the hearing?"
"My appeal to the children of Vice President Binay is: let their father answer. Let's not confuse this with other issues. Can't we focus on the building whether it's overpriced or not? It's not about us but about the building and accountability and transparency," Cayetano told Rappler. 
Binay arrived prior to the second hearing on the alleged overpriced Makati parking building, where Cayetano has been active in asking questions. The building is allegedly overpriced by P2 billion ($45.67 million*).
She later said she was inclined to cut ties with the Cayetanos after the exchange of allegations between the two families.  – Rappler.com
*$1 = P43.8