The officers argue there is no proof of Taiwanese national Hong Shih-Cheng's death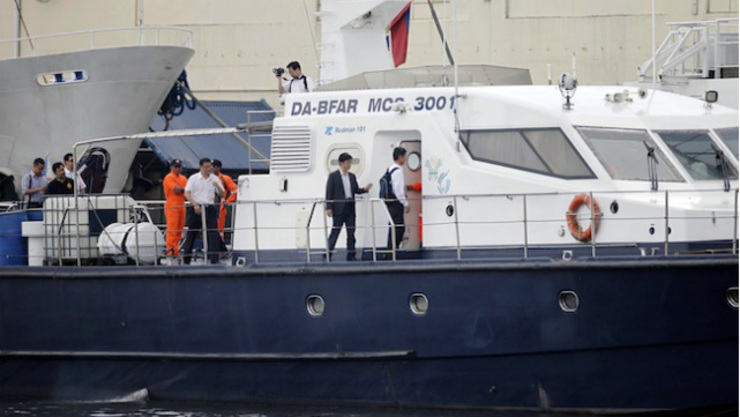 MANILA, Philippines – Philippine Coast Guard (PCG) officers charged with homicide for the 2013 killing of a Taiwanese fisheman along the Balintang Channel in Batanes asked a court to dismiss the case.
The 8 accused, through their lawyer Rodrigo Moreno, asked the Batanes Regional Trial Court Wednesday, August 27, to dismiss the homicide charges against them.
They said there is no evidence to prove the death of their alleged victim. "(T)he evidence in support of the Information does not show that Hong, the supposed victim, is actually dead. Clearly then, the Information does not charge an offense, since there is no one who was killed, i.e., there is no crime of homicide committed."
Moreno alleged that the prosecution's proof of Taiwanese national Hong Shih-Cheng's death is at best hearsay, as it was Taiwanese state investigators who conducted the autopsy.
A Department of Justice (DOJ) resolution dated December 20, 2013 states that "the Taiwan authorities were hesitant to give the death certificate and autoposy report" to their counterparts in the Philippines.
Strained ties
The Balintang incident caused tension between the Philippines and Taiwan, with the justice department citing this strained ties also as proof of Hong Shih-Cheng's death.
"If Hong is still alive, we seriously doubt that there would have been such an international dispute," the DOJ said when it found probable cause against the accused.
Over 16,000 Filipinos working in Taiwan temporarily lost their jobs after Hong's death. (READ: Standing firm against Taiwan's strong-arm tactics)
Moreno argued that "public knowledge" on the strained relations, as claimed by the DOJ, is not proof that can be admitted in court, as it was "obviously taken from the extensive media coverage of the matter."
Evidence on the outset
In a September 2013 affidavit, National Bureau of Investigation (NBI) medico legal officer Ruperto Sombillon Jr admitted that he did not see the actual remains of Hong and did not conduct the autopsy himself. 
He, however, said a powerpoint presentation with photographs of the exteral and internal injuries of Hong was shown to him by Taiwanese investigators in a closed-door conference.
According to Sombillon, the Taiwan authorities agreed to have their doctor testify in court when required.
Moreno pointed out that the evidence, including a death certificate and an autopsy report, should have been there from the beginning to establish probable cause.
"We are asking for dismissal of the case since in a criminal prosecution, you cannot scrounge for evidence as you go along. If the evidence is not there at the outset, there is no case to speak of," he told Rappler.
Out on bail
The 8 PCG officers indicted for homicide include: Commanding Officer Arnold Enriquez dela Cruz, Seaman 2nd Class Nicky Reynold Aurello, Seaman 1st Class Edrando Quiapo Aguila, Seaman 1st Class Mhelvin Aguilar Bendo II, Seaman 1st Class Andy Gibb Ronario Golfo, Seaman 1st Class Sunny Galang Masangcay, Seaman 1st Class Henry Baco Solomon, and Petty Officer 2 Richard Fernandez Corpuz.
The accused are currently out on bail, after securing their temporary liberty for P40,000 (around $904.16) each.
Moreno said it took over 3 weeks for the 8 accused to raise the funds which totaled P320,000 (US$7,229.86*). Moreno is representing the indicted PCG personnel pro bono. – Rappler.com