The former lawmaker criticized the way the Senate blue ribbon committee was handling its investigations, including the probe on the Makati City 'parking building'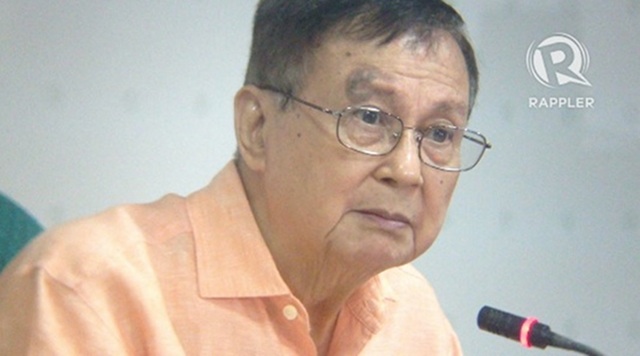 MANILA, Philippines – The former chairman of the Senate blue ribbon committee criticized the way the panel was handling investigations, particularly hitting the rules and systems that he called "one-sided."
In an interview on dzBB on Sunday, August 31, former senator Joker Arroyo was asked about the Senate blue ribbon committee probe involving Vice President Jejomar Binay and his son concerning the 11-storey Makati City Hall Building 2, allegedly overpriced by P2 billion ($45.65 million).
In the interview, Arroyo refrained from issuing a "political" stance on the case, but instead criticized the manner in which the committee's investigations were being conducted.
"Itong blue ribbon committee, hindi na as it was before. Talagang kapag humarap ka sa blue ribbon, Binay or not, one-sided 'yan," Arroyo said. (This was not the blue ribbon committee as it was before. When you face the committee, whether you are Binay or anyone else, it is one-sided.)
Arroyo drew attention to the rules regarding what constitutes a quorum, non-submission of a committee report, and rules on affidavits and cross-examination of witnesses, among others.
The former senator hit the rule that says only two out of 21 members already constitute a quorum.
He also questioned the rule that any pending prosecution shall not stop the proceedings for legislative purposes. This means that the Senate proceedings cannot be stopped by any parallel probes conducted by the Office of the Ombudsman or the justice department.
Arroyo also said that the committee chairman should prepare a committee report to be signed by the majority, but he noted that this has not been done.
"Do they file a committee report? Katamaran 'yan ha, kasi mahirap gumawa, in writing 'yan. Makikita mo ang defect na pwedeng ma-criticize," Arroyo said. (Do they file a committee report? That's laziness, because it's hard to do, it's in writing so you will see the defects that can be criticized.)
The former lawmaker also hit the Senate body for not following rules that affidavits must be given in advance whenever possible.
He also criticized the set-up in which the witness and the counsel cannot cross-examine witnesses.
"Imagine that, you are being accused of being a thief but that accuser cannot be cross-examined," Arroyo said.
He also noted that with the current set-up allowing only two members to constitute a quorum, it will only take two people for a witness to be cited for contempt and then detained.
"The chairman, with the concurrence of one member, may punish the witness for contempt. Since the quorum requires only two, you can be detained for contempt on the say so of just two people."
The controverisal Makati structure, now being probed by the committee, was first built in 2007, when the Vice President was still mayor of the city. It was completed in 2013, under the term of his son and current Makati Mayor Junjun Binay. The Binays face plunder and graft charges over the "parking building." – Rappler.com
Related stories: