'Di ko akalain na interior decorator na rin si Senator Trillanes – at least may trabaho na siya after 2016,' says UNA secretary general Toby Tiangco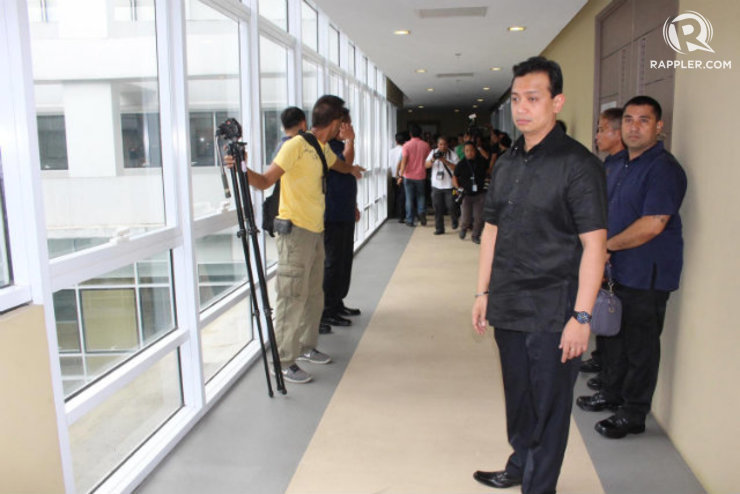 MANILA, Philippines – United Nationalist Alliance (UNA) secretary general and Navotas Representative Toby Tiangco on Monday, September 1, chided Senator Antonio Trillanes IV for his assessment of the allegedly overpriced Makati City Hall Building 2.
During a Monday ocular attended by Senator Trillanes, he remarked that the building did not seem "world class." A construction consultant they brought along also said that it was a "normal building" and there was "nothing unusual."
In a statement, Tiangco said "the inspection proved… Trillanes has a misjudging eye for the quality of the materials used in the building's construction."
"Di ko akalain na interior decorator na rin si Sen. Trillanes – at least may trabaho na siya after 2016," added Tiangco. (I didn't know Senator Trillanes was an interior decorator too. At least he has a job after 2016.)
The allegedly overpriced building is the basis of a plunder case against Vice President Jejomar Binay and his son, Makati Mayor Junjun Binay. The building is also the center of a Senate Blue Ribbon sub-committee probe. (READ: Makati bizmen urged: Speak up on Binay 'horror stories')
The Binays, however, have criticized the probe as politically motivated. In the course of the probe, witnesses – some of them, the Binays' political rivals – have pointed out other Makati city buildings and even the local government's programs for senior citizens as proof of their corruption.
Vice President Binay's spokesman for political affairs Cavite Governor Jonvic Remulla downplayed Trillanes's comments, hitting him for making "subjective, biased statements." (READ: COA: 'Many questions' on Makati building)
"What is important is that the materials used are the same ones reflected in the bill of materials, bidding was conducted, and that the Commission on Audit audited the entire process and rendered a finding that there was no overpricing," Remulla said in a statement.
The Senate resumes its probe into this case on Thursday, September 4. – Bea Cupin/Rappler.com