Akbayan's Walden Bello pushes for the return of P89.6M in the Commission on Elections' proposed budget, saying a higher overseas poll turnout is a congressional priority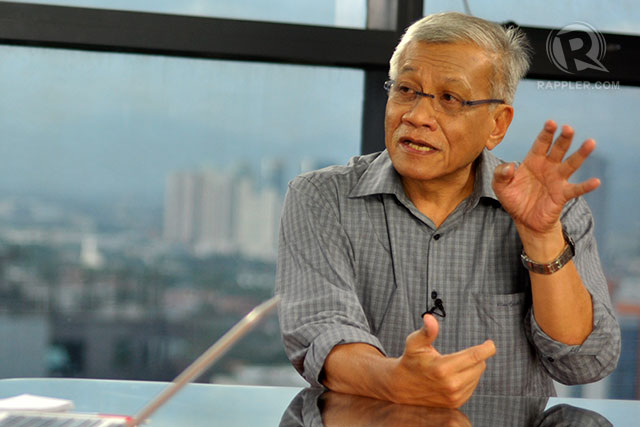 MANILA, Philippines – The budget department has removed from the proposed budget of the Commission on Elections (Comelec) items for the resumption of overseas absentee voters (OAV) registration and expenses for its Office for Overseas Voting (OFOV) amounting to P89.6 million.
This was revealed during the House committee on appropriations' hearing on the poll body's 2015 budget on Thursday, September 4. This prompted Akbayan Representative Walden Bello to remark: "The DBM (Department of Budget and Management) seems to be quite detached from the national priorities that Congress is pushing."
Bello, who chairs the overseas workers affairs committee of the House, sought to restore the allocation for overseas absentee voters (OAV) in the 2015 budget. 
"We will not rest until we get the P89.6 million restored during the final deliberations on the budget," he said, noting that they worked very hard in the previous 15th Congress to maximize the participation of our citizens overseas.
Comelec submitted a P36-billion budget proposal to DBM for 2015, but the DBM slashed it to P16.9 billion.
Ria dela Vega, representing the DBM during the Comelec budget hearing, said the funds for OAV expenses would be sourced from Comelec's savings. She also noted that the Department of Foreign Affairs (DFA) was allocated around P120 million for OAV-related expenses.
Comelec Chairman Sixto Brillantes Jr said that the poll body really needs the amount. He noted that it would mean a lot if it would be given back to them, so that Comelec can improve its overseas voting system in time for the 2016 national elections.
Brillantes added that if the budget items would not be reinstated, Comelec could realign some items within its budget or obtain savings from the purchase of new precinct count optical scan (PCOS) machines for the poll body to have enough savings.
Earlier, Brillantes revealed plans to test Internet voting for OAVs in the 2016 polls.
Seafarers and OAVs who live far from Philippine embassies and consulates would most likely get a first shot at the Internet voting system which Comelec will pilot, said Brillantes.
Comelec still has to settle, however, whether a resolution from the poll body would be enough or a law has to be passed or amended in Congress to implement Internet voting for OAVs. The commission also has to determine if the host country would allow it. – Rappler.com