This is AI generated summarization, which may have errors. For context, always refer to the full article.
The electric shuttles meant to render conventional Philippine jeepneys obsolete have hit the road. What do its first passengers think?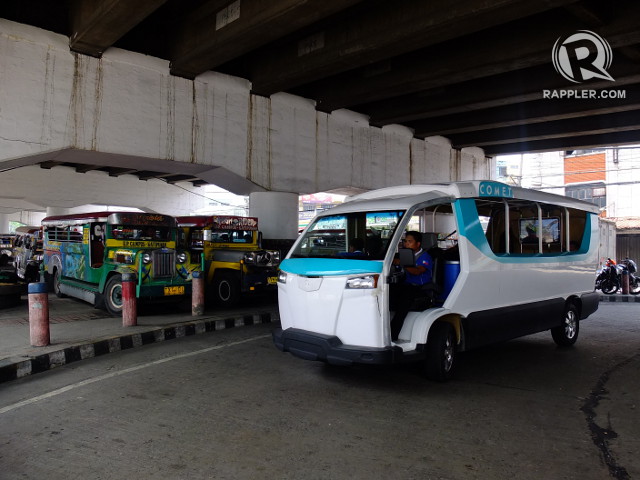 MANILA, Philippines – Third year college student John Domingo waits at the first electric shuttle terminal station in SM North EDSA mall, Quezon City, on Tuesday, September 23. (WATCH: E-shuttles about to hit PH roads)
He is one of the first to avail of the free, unlimited rides on e-shuttles travelling between SM North EDSA to LRT Katipunan Station. The free rides, part of a soft launch and route testing of the new e-shuttles, will last until Friday, September 26.
On September 27, the route will be officially launched and the first real rides will be offered to paying passengers starting September 28.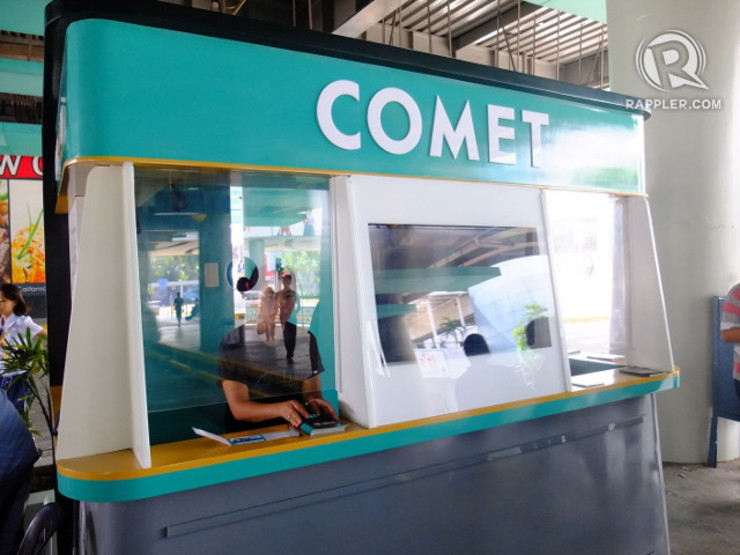 During the soft launch, only 3 e-shuttles – called COMETs (City Optimized Managed Electric Transport) – will be plying the route. But come Sunday, 30 COMETs will be on the road.
Domingo has already purchased his GET (Global Electric Transport) card, the blue and white plastic card that passengers load with credits in order to pay for a ride. It's P20 ($0.45) to buy the reloadable card that comes with a unique card number registered to you.
Thirty minutes after, the distinctly turquoise and white COMET emerges from the North Avenue mid-day traffic to park neatly inside the mall parking area, in front of the terminal station.
Domingo tucks his tablet in his bag, takes out his GET card and waits in line to swipe his card by the vehicle entrance.
A male voice quips, "Welcome to the COMET!" once the card is properly swiped. Domingo takes his seat and looks at his watch, anxious to make it to his 10:30 am class at the Ateneo de Manila University.
Route of the Quezon City e-shuttles:
New features
The COMET boasts some key features never before seen in Philippine jeepneys. These include:
Cashless, tap-in, tap-out payment system

Powered by lithium ion batteries sealed in a waterproof case

Set stops located 100 meters from each other along the route

GPS and Wifi connection for passengers and drivers to use

Flat screen TV that flashes advertisements and news

CCTV camera that takes photos of passengers as they tap in their card and is supposed to be a deterrent against robbers

Connection of the e-shuttle to a command center that communicates with the driver and manages e-shuttle congestion along the route

Hydraulic wheels that can rise by one foot to enable the e-shuttle to drive through floods

Side entrance allowing passengers to board from sidewalks instead of having to go in between cars on the road

Drivers who receive monthly salaries and benefits (READ: E-shuttle to improve lives of PH jeepney drivers)
During the soft launch period, passengers like Domingo had to wait around 30 minutes for the next COMET to arrive in the station. According to COMET passenger assistance officer JP Nicolas, the maximum waiting time will be 15 minutes.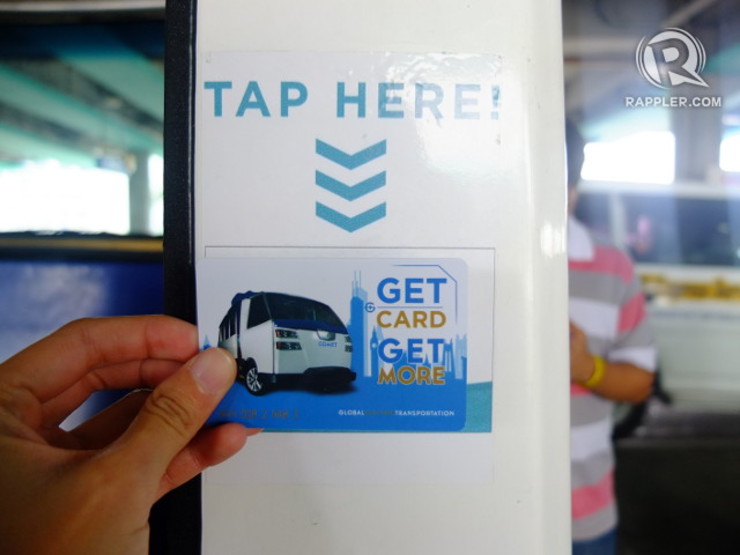 "In every stop, the COMET will wait 30 seconds. It will leave even if there are no passengers on board. In the two terminal stations, the COMET will wait for one minute," he told Rappler in Filipino.
The cost of riding the entire route one way is P13 ($0.29), he added. But the first 4 kilometers ridden by a passenger costs only P8.50 ($0.19), just like the fare of traditional jeepneys. Every one kilometer after that costs an additional P1.50 ($0.03).
Passengers can check their card's balance online in the account created for them right after they buy a card. When the card is out of credits, passengers can reload in various amounts from the terminal stations.
If they lose their card, they must report the loss through their online accounts within one day. The load in the lost card will then be transferred to the new card they buy.
Passenger experience
"Maluwag siya, hindi pipilitin pagkasyahin 'yung mga pasahero. Ang priority talaga niya 'yung comfort ng pasahero," said Domingo while riding the COMET through Congressional Avenue. (It's spacious. Drivers won't force passengers to ride if it's already full. Passenger comfort is the priority.)
He was commenting on the e-shuttle policy of not taking in more than 20 passengers. Some drivers or conductors of conventional jeepneys tend to fill their vehicles to overcapacity in order to make as much money as they can from one ride.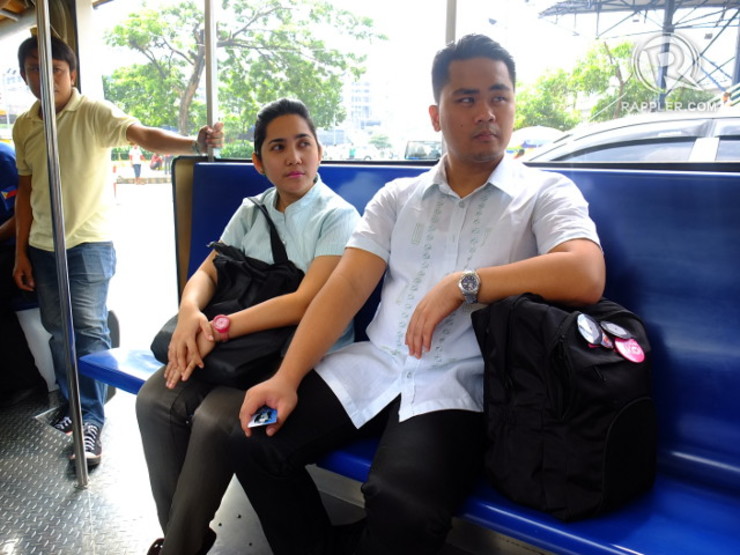 Jake Guevarra, a pharmaceutical employee on his way to Cherry Fooderama, also appreciated the e-shuttle's novel features.
"Mas comfortable. Maluwag eh. Nakakapanood ka ng TV. 'Tsaka mas mahangin," Guevarra told Rappler. (It's comfortable because it's spacious. I can watch TV.) 
True enough, the COMET is much larger than traditional jeepneys giving passengers inside as much as 3 feet in head space. It is even possible to stand inside without hitting your head on the ceiling.
The ample space addresses not only comfort but gender-sensitive issues, said Tess Carlos, a GET card agent.
"In the old jeepneys, women have to bend their backs to get to their seat so they need to cover their chests. With the COMET, they don't need to bend. And because the floor is low, they don't need to raise their legs so high to get on board which is awkward when they're wearing skirts," she told Rappler in Filipino.
Windows, much larger than those in conventional jeepneys, let lots of air in and allows passengers to get a good grasp of where they are in the city. In comparison, a full-to-the-bursting jeepney requires passengers to turn their heads to see outside their small portion of the window.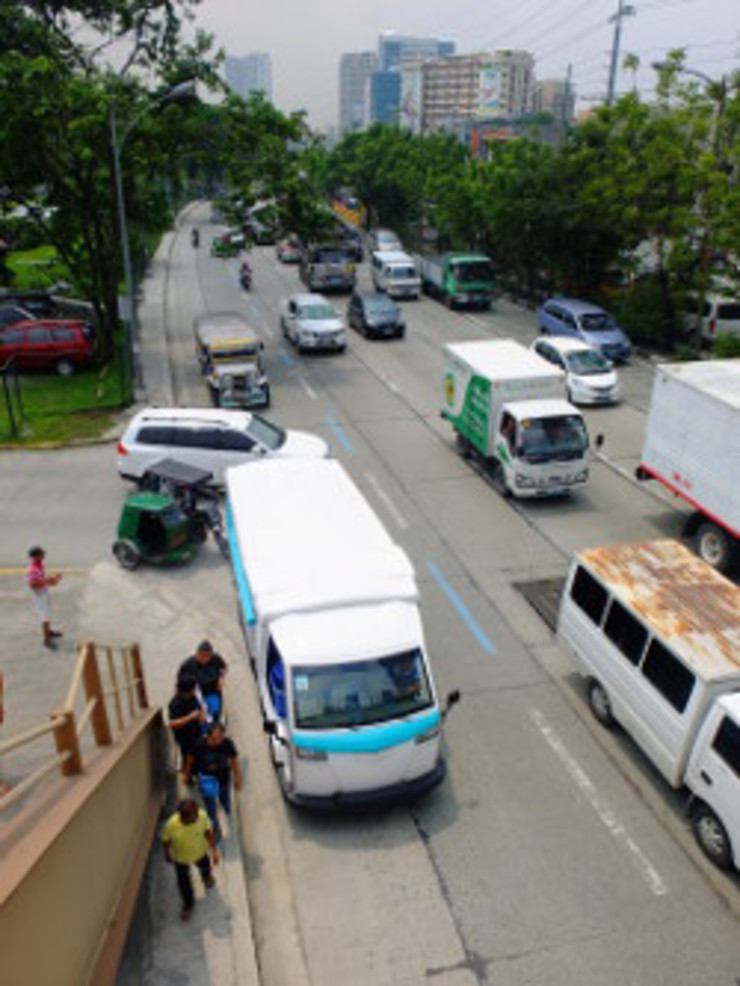 But unless the air pollution level in Metro Manila is lowered, the e-shuttle's large windows will also bring in more smog.
The COMET is also much more quiet, moving through the city without the usual chug and engine-revving of typical jeepneys. Aside from contributing zero noise pollution, the battery-powered shuttles do not spew smog like gasoline-fuelled jeepneys.
Domingo said the COMET's route saves him money. He usually has to ride a jeep from SM North EDSA to the University of the Philippines Diliman campus and then take another jeep to Katipunan Avenue, costing him P17.
With the COMET, he takes only one ride that goes all the way to Katipunan Avenue and which costs him just P13.
Comfortable for drivers too
The COMET drivers also seem to find the system convenient.
"Hindi na ako mag-iintindi ng bayad nila. Tsaka may tama po akong babaan. Para hindi ako nakakasagabal sa daanan. Alam ko po kung saan ako hihinto," said COMET driver Reggie Mercado who used to drive conventional jeepneys.
(I don't have to deal with their payments. And there is a designated stop for me so I don't get in the way of traffic. I know where to stop.)
The driver's seat area of all COMETs has two screens: one that shows the e-shuttle's battery life and another that reminds the driver of the next stop.
Drivers are also required to wear uniforms, which Mercado jokingly said adds "pogi (handsome) points" both to the driver and the COMET.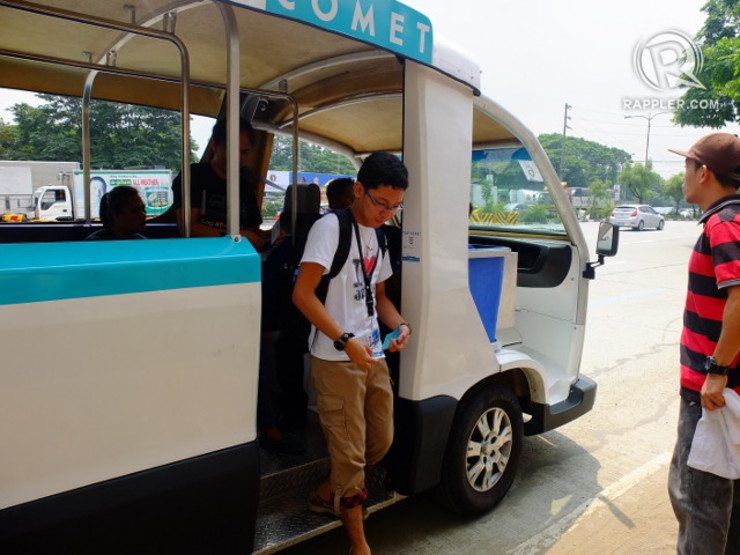 The convenient, comfortable features of the COMET may very well bump off old jeepneys from the road in the near future. But will Domingo miss the colorful, noisy jeepneys that have become a Philippine cultural icon?
"Probably. Riding the old jeepney is another experience, because of my memories with friends and the struggles with it that have become part of normal life. Maybe they can fuse some old features with the COMET," he said in a mix of English and Filipino.
But a few minutes later, Domingo says he has a better answer.
"The COMET will never really replace the jeepney. But it can become a new symbol for the Philippines, a symbol of progress." – Rappler.com