In 2003, the Philippines did a similar thing – to join the US 'coalition' against Iraq – but had to compromise to save a migrant worker's life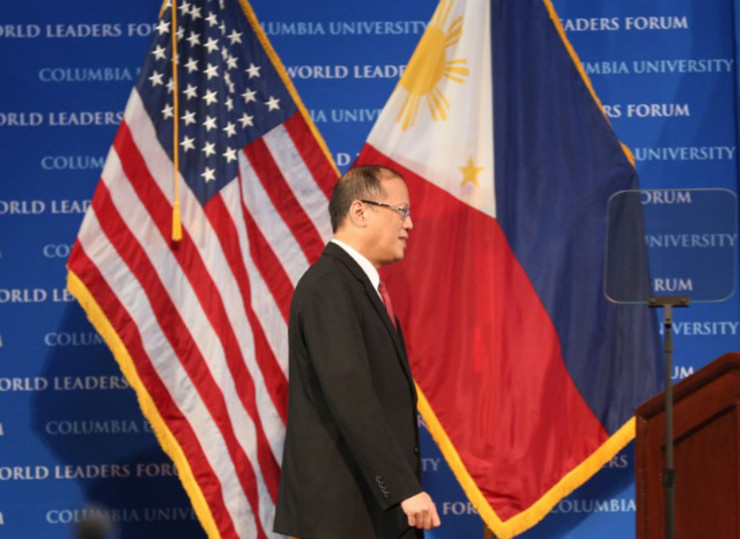 MANILA, Philippines – Facing potential threats from the Islamic State (ISIS), the Philippines offered to help the United States in fighting the extremist group that has reportedly recruited members from the Southeast Asian country.
Philippine Foreign Secretary Albert del Rosario is set to meet with US State Department officials to discuss this offer, Philippine President Benigno Aquino III told reporters in New York on Tuesday, September 23.
"Of course, we want to do something doable and within our capabilities without posing undue risks through their forces or the country at large," Aquino said.
He said Del Rosario, in his meeting with his American counterparts, will "get more details exactly if they are asking for assistance and what manner of assistance…which we will review."
Aquino's statement came as United States President Barack Obama appealed to the world "to join in this effort" to fight ISIS, which is also known by the name Islamic State of Iraq and the Levant (ISIL). Obama said more than 40 nations "have offered to join this coalition."
"In this effort, we do not act alone. Nor do we intend to send US troops to occupy foreign lands. Instead, we will support Iraqis and Syrians fighting to reclaim their communities. We will use our military might in a campaign of air strikes to roll back ISIL. We will train and equip forces fighting against these terrorists on the ground. We will work to cut off their financing, and to stop the flow of fighters into and out of the region," Obama said in his speech before the United Nations General Assembly on Wednesday, September 24. (READ: Obama leads UN summit vs 'Un-Islamic Non-State)
Overseas Filipinos a factor, too
The Philippines extended a similar offer to the US in 2003, when then Philippine president Gloria Macapagal Arroyo led the country in joining the US "coalition of the willing" against Iraq.
Filipinos largely rejected Arroyo's move, a Social Weather Stations survey in 2003 showed, as 63% of Filipinos wanted their country "to be neutral in a US-Iraq conflict."
The US eventually dropped the Philippines from the coalition of the willing. This came after Arroyo, in 2004, withdrew a humanitarian force from Iraq "in exchange for the release of Filipino truck driver Angelo de la Cruz who was later freed," the Philippine Star reported then.
University of the Philippines professor Merlin Magallona told Newsbreak in 2004 that the case of De La Cruz "illustrates in a more dramatic manner the involvement now of ordinary Filipino citizens in foreign relations."
"The global presence of Filipinos is likely to connect itself to the conduct of foreign policy or in making of foreign policy in the first place," Magallona said.
In the fight against ISIS, however, unlike the US, the Philippines has not spelled out its strategy. Instead it has condemned the group and vowed to help "thwart" it.
Security for Pope in Philippines
ISIS remains a threat to the Philippines, with Rappler reporting in June that ISIS is boosting its membership in Southeast Asian countries.
Reports said at least 3 Filipinos have died fighting with ISIS.
At the same time, rebels from the Abu Sayyaf and the BIFF claimed having pledged their allegiance to ISIS.
On Tuesday, a terrorism monitoring group reported that the Abu Sayyaf threatened to kill one of two German hostages unless a P250-million ($5.62-million, 4.4 million-euro) ransom is paid and Berlin stops supporting the US-led campaign against ISIS.
Despite these links, Aquino downplayed the influence of ISIS or IS in the Philippines. He said the Philippines still faces the same problems: terrorist groups like the Abu Sayyaf and the Bangsamoro Islamic Freedom Fighters, which "are doing basically the same things, but now attributing it to their joining IS, which doesn't necessarily mean that they are IS."
In any case, he said, the Philippines is ensuring the security against ISIS of world leaders set to visit the country. These leaders include delegates at the Asia-Pacific Economic Cooperation Summit in late 2015, and Pope Francis from January 15 to 19, 2015.
He said he wants the Presidential Security Group, for one, to "double the effort, especially for the head of the Holy Mother Church." "There shouldn't be any incident while he's in our country," Aquino said, as Francis is reportedly facing threats from ISIS in Vatican City. – with reports from Agence France-Presse/Rappler.com