President Benigno Aquino III says Vice President Jejomar Binay should provide constructive solutions to problems rather than criticize an administration that he is a part of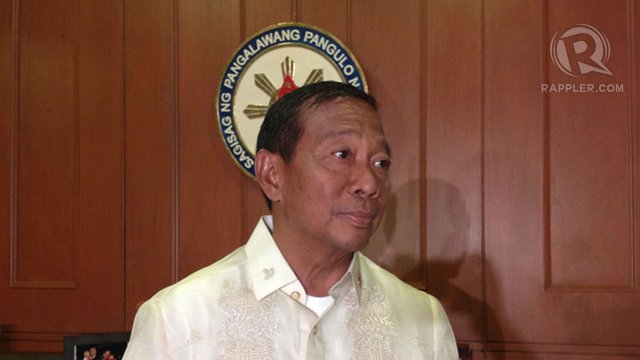 MANILA, Philippines – If Vice President Jejomar Binay is unhappy with the policies of the administration, then he's free to leave, President Benigno Aquino III said Monday, November 3.
Asked by reporters whether he feels that "it is time for the Vice President to leave (his) Cabinet or… stay," President Aquino cited reports that Binay has been "critical" of his administration.
He did not specify such reports. But in a speech before state prosecutors last October, Binay slammed Aquino's allies whom he accused of plotting a demolition job against him, the administration's controversial Disbursement Acceleration Program, and the "unfair" treatment of former president Gloria Macapagal-Arroyo.
The Binay camp has also named some of Aquino's closest advisers as the ones behind the "political" campaign against him.
"If the Vice President did say those things, then there are just two things we need to remember: number one if he thinks we aren't doing enough, he is a member of the Cabinet then he should advise us: how can we improve the system?" Aquino said. (READ Binay's reaction here: 'I will continue to be a team player')
"That's not a choice, he is a member of the Cabinet. And if he thinks our direction is wrong, then he is also free to no longer join our movement."
Aquino noted that he he has not heard Binay – in any of the Cabinet meetings – offer solutions to the problems he cited. "At the minimum, he is the Vice President of the land. He has criticisms…to be constructive he has to have solutions and if he has some, I have not heard these solutions in these Cabinet meetings. So if he has solutions he should've shared them. The question is: why has he not shared them?" he said.
Aquino added: "Let me just reiterate: if you think the government is doing something wrong, you're a member of the government, you are the second highest official in the land, you have an obligation to share your knowledge on sustainable solutions if you feel you have any."
Pals turned foes?
Aquino and Binay are members of two different political parties, although Binay is a member of Aquino's Cabinet and both go a long way. Binay was the first OIC mayor appointed by Aquino's mother, the late President Corazon Aquino, after the 1986 EDSA People Power Revolution that toppled the Marcos dictatorship.
Binay, a family friend of the Aquinos, plans to run for president in 2016, while Aquino has yet to name the candidate he will be campaigning for.  The ruling Liberal Party (LP) is hoping the President will endorse Binay's opponent in the 2010 vice presidential race, Interior Secretary Manuel Roxas II.
Binay is caught in the biggest corruption scandal to hit him and his family in their nearly 3 decades in power. The Vice President is the subject of a Senate probe, which is investigating alleged corruption charges against him during his time as mayor of Makati. He also faces plunder charges before the Office of the Ombudsman.
Binay denies all accusations. He and his spokespersons have accused Aquino's party mates in the LP of being behind the exposés against him to hurt his chances in the 2016 presidential race.
'Not my place'
In the same interview, however, Aquino said Binay has been good at his job as the government's housing czar. "Number one, this (allegations of corruption) happened before his role in the Cabinet (READ: The Jojo Binay that Mercado knew). Number two, if we talk about his assignments in regard to housing, I think a lot of people would agree the housing sector has a lot of achievements under his watch," Aquino said.
He also said Binay "has the right to presumption of innocence until proven guilty," adding that the Senate probe is just one of the processes that need to be undertaken.
The President did praise the probe though, saying "it's a credit also to the current regime that it is investigating, no matter what your status is."
Binay earlier sought a meeting with the President to discuss the probe. Aquino and Palace insiders said that in that meeting, Binay asked if the Senate investigation could be stopped pending the ongoing investigation by the Ombudsman.
Asked about what he thinks Binay should do now, the President said: "I think it would be wrong for me to comment on what he should do, he's not asking me for advice and he's older than me. If he isn't asking me for advice, I won't force advice on him," he said. – Rappler.com