The Committee to Protect Journalists says developments in the Ortega murder and Ampatuan massacre show that impunity continues in the Philippines
UNITED NATIONS (UPDATED) – A global press freedom watchdog cited last year's conviction of the gunman of radio journalist Gerardo "Gerry" Ortega as a positive step in fighting impunity for media killings.
At a United Nations panel discussion to mark the first International Day to End Impunity for Crimes against Journalists, the New York-based Committee to Protect Journalists (CPJ) said that the Philippines was among countries that had rare convictions for the murder of journalists in 2013.
CPJ Executive Director Joel Simon spoke about his group's October 2014 report that found that there was a "relative boom" of 8 convictions globally last year. Simon was a panelist at the event called "Ending Impunity: Upholding the Rule of Law" held at the UN Headquarters in New York on Monday, November 3.
The discussion was part of commemorations of the anti-impunity day on November 2, which the UN General Assembly established just last year.
"Where political will exists, justice for journalists can be achieved. We've seen convictions in Pakistan, Brazil and Russia, Philippines, Colombia," Simon said.
In its report titled The Road to Justice: Breaking the Cycle of Impunity in the Killing of Journalists, the CPJ said that the conviction of Ortega's killer Marlon Recamata was a "partial victory" for justice. Ortega was a popular, hard-hitting journalist who reported on environmental and corruption issues in the province of Palawan. He was gunned down in 2011.
"[The conviction] was also a stark reminder that the two suspects, [former Palawan governor] Joel Reyes and Mario Reyes, brothers and both powerful local politicians whom Ortega had accused of corruption, were yet to be even apprehended despite implicating testimony from the convicted gunman," the CPJ said.
The Reyes brothers have evaded arrest since March 2012. They are among the government's so-called "big five" or 5 high-profile fugitives.
Simon told Rappler that besides the Ortega case, the CPJ will draw attention to the 2009 Maguindanao massacre through a documentary to be released this month in time for the 5th anniversary of the world's single deadliest attack on journalists. Here is a clip from CPJ:  
On November 23, 2009, 58 people including 32 journalists were killed and buried using a backhoe in Maguindanao province as the powerful Ampatuan clan aimed to prevent a political rival's wife from filing a candidacy on his behalf.
The CPJ said that 5 years on, the Philippines' "cycle of violence and impunity shows no signs of weakening."
"As the fifth anniversary of this heinous crime nears with no convictions in sight, the slow pace of justice has many worrying that justice will be unbearably protracted or severely compromised, or both," the report said.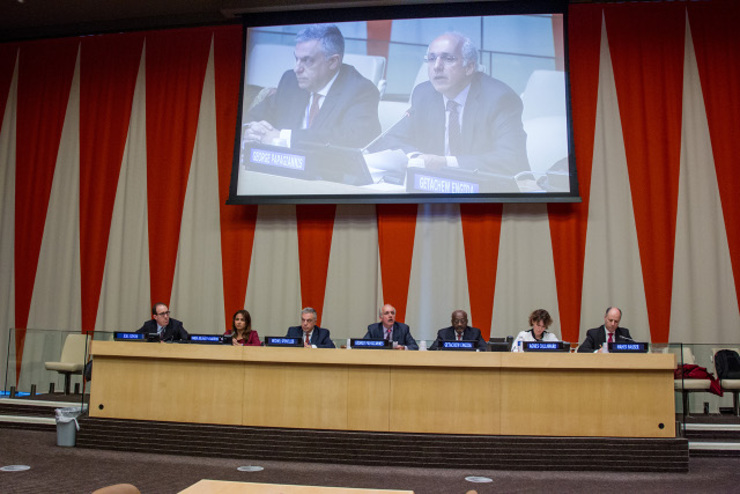 'Beyond awareness, results'
In the panel discussion, diplomats took turns to condemn attacks on journalists and hail the growing awareness of the issue.
Yet Simon said that it is not enough for the UN to raise awareness on impunity on crimes against journalists. It must also produce results.
"How do we define success? Ninety percent of those who carry out the murder of journalists get away with it. It's only in 2% of those cases where the masterminds are held to account. Convictions are usually only at the level of perpetrators or hitmen. Success means this number must decline over time," Simon said.
The CPJ head said that to address the gap between rhetoric and action, UN member states must comply with the request of the UN Educational, Scientific and Cultural Organization (UNESCO) for updates on the status of media killing cases, and steps taken to hold perpetrators accountable.
Simon said that 60% of 193 UN member states do not respond to this request.
"Some countries won't surprise you but some are states that are quite vocal in expressing rhetorical support for combating impunity for crimes against journalists. This is a resource that can benefit all those advocating for justice. Those who don't comply should be exposed, and account for their failure to respond," he said.
Agnes Callamard, director of Global Freedom of Expression and Information Project of Columbia University, said that impunity does not just involve media killings. 
Callamard said harassment through the use of laws like defamation or libel, sedition, and lèse-majesté also constitutes impunity. Libel remains a crime in the Philippines, punishable by imprisonment.  
"All those laws are regularly used by politicians and businessmen to place journalists at legal risk and silence them. Such laws create a legal system in which impunity is not only possible but flourishes. Laws must be consistent with international human rights standards. Not all laws are good laws," she said.
'Murder of freelance journalists a moral failure'
Nadia Bilbassy-Charters, foreign correspondent of Al-Arabiya News Channel and MBC TV, drew attention to the worsening situation of journalists in the Middle East.
Reporting on the Syrian civil war has become increasingly dangerous because of terrorist groups like the Islamic State of Iraq and Syria (ISIS). ISIS has beheaded journalists James Foley and Steven Sotloff.
Yet Bilbassy-Charters said that the risks are greater for local and freelance journalists.
"Eighty-eight of all journalists killed are local. I have an office to protect me but most of these journalists have no one to protect them. Half of them are freelancers. They take on enormous risks just to tell the world what's happening. It's the big moral failure of 21st century what's happening in Syria, not just the humanitarian situation but what's happening to journalists."
Bilbassy-Charters pointed out that when the Abu Sayyaf kidnapped her colleague Jordanian journalist Baker Atyani in the Philippines in 2012, their company worked to secure his release. Many journalists do not have the same support system. 
"There are no longer clear frontlines. When a journalist will do a story to bring you some kind of truth to what's happening in any part of the world, they're really restricted and seen as an enemy. They are targeted in every step of the way and this needs to stop. Freedom of expression, informing the public is important. If you don't have that, how do we make decisions?" – Rappler.com
Rappler multimedia reporter Ayee Macaraig is a 2014 fellow of the Dag Hammarskjöld Fund for Journalists. She is in New York to cover the UN General Assembly, foreign policy, diplomacy, and world events.