Antonio Trillanes IV recalls how Vice President Jejomar Binay helped rebel soldiers hatch a mutiny against President Gloria Arroyo, but stood them up on the day of the coup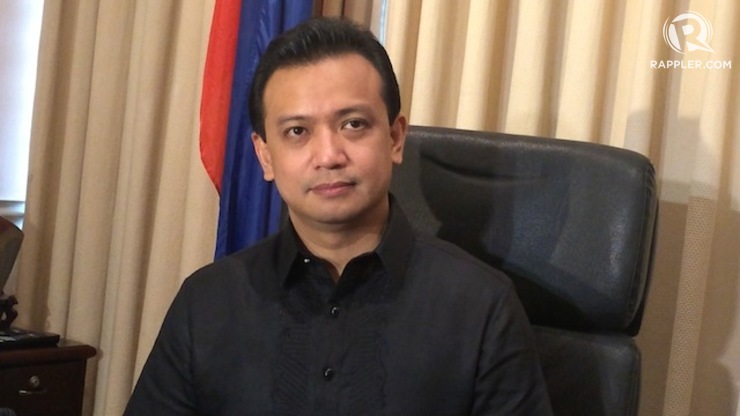 MANILA, Philippines – There's a history of animosity between Vice President Jejomar Binay and Senator Antonio Trillanes IV, and it goes way back to the November 29, 2007, Manila Peninsula siege when they were both fighting then President Gloria Macapagal Arroyo.
Trillanes recalled how Binay helped the rebel soldiers hatch a mutiny. Binay – then mayor of Makati and already a leader of the national opposition – allowed them to keep their firearms inside the Makati City Hall. Trillanes was then one of the leaders of the mutineers. In the end, however, Binay failed to show up with the critical mass he promised would support the Magdalo soldiers.
This is why, to Trillanes, Binay's decision on Tuesday, November 11, to back out of their televised debate wasn't  a surprise.
"Itong nangyaring pag-atras niya at pagbitaw niya sa kaniyang salita ay hindi bago sa akin. Kung maaalala 'nyo 'yung Manila Pen incident noong 2007, kasama po si Vice President Binay sa pagplaplano nito," Trillanes narrated on Tuesday.
(His decision to renege on his word is nothing new to me. If you remember the Manila Pen incident in 2007, Vice President Binay was among those who planned it.)
"On the eve ng Manila Pen incident, naipasok na namin ang baril namin doon sa Makati City Hall para magamit namin sa pag-aklas. Up to that point, talagang maliwanang na kasama [siya]. Tapos paglabas namin nang araw ng pag-aklas ay wala po si Vice President Binay. Ipinahamak niya ang buong grupo. Kung hindi dahil sa media noong araw na iyon, marami sanang namatay," Trillanes said.
(On the eve of the Manila Pen incident, we had our firearms inside the Makati City Hall so we could use them when we launch our mutiny. Up to that point, it was clear he was with us. But when we launched the mutiny, we no longer saw Vice President Binay. He put the entire group in danger. If it weren't for the media, many could have died that day.) 
The camp of Vice President Binay refuted his story, however. In a statement, Joey Salgado, who heads media affairs for the Office of the Vice President, said Trillanes is trying to "rewrite history" with a different version of "his Manila Peninsula siege, which ended in a fiasco."
Without giving specifics, Salgado said: "History teaches us that revolutionary undertakings succeed with the support of the people, not because of one man with a messianic complex. The senator should stop blaming the Vice President for his failure as a mutineer." 
Binay's media head said this latest attempt by Trillanes at a "revisionist" account of the Manila Pen siege is another reason the Vice President was right in calling off a debate.
"This shows that the Vice President was correct in deciding there would be nothing to gain from a debate with someone who does not respect reason, facts or the rule of law and tends to exaggerate his role in history," Salgado said.  
Anti-Arroyo icons
Back in 2007, Binay and Trillanes had become icons in the fight against President Arroyo. Trillanes just won a Senate seat in May that year, but was on detention over rebellion charges for the 2003 Oakwood Mutiny, where he protested corruption in government, particularly in the military, where was a Navy officer.
Binay had been re-elected mayor of Makati City in spite of moves from the Arroyo administration to sabotage his campaign. The Office of the Ombudsman tried but failed to remove him from city hall before the May elections. 
The Makati regional trial court hearing the rebellion charges against the Magdalo officers was located inside the Makati City Hall. Trillanes said it was right inside the chambers of the judge that Binay joined them in planning another mutiny. 
"Ginawa namin ang pagplaplano na 'yan sa opisina nung judge na humahawak ng aming kaso sa Makati RTC at doon po nagbitaw siya ng salita na kasama siya. Gagamitin niya ang kaniyang posisyon para i-mobilize ang empleyado ng Makati City Hall, ang urban poor ng Makati, ang mga estudyante ng UMAK (University of Makati)," Trillanes said.
(We planned it inside the office of the judge hearing our case in the Makati regional trial court. It was there that Binay made a promise he would be with us. He would use his position to mobilize the employees of the Makati City Hall, the urban poor of Makati, and the students of UMAK.)
Trillanes said the plan was for Binay to march with them toward the Ayala Triangle, where anti-Arroyo protests were often held because other city mayors supportive of Arroyo banned them. Abandoned, the Magdalo soldiers instead trooped to the Manila Peninsula.
Trillanes said they were still coordinating with Binay's son, then Makati Councilor (now Mayor) Jejomar Erwin "Junjun" Binay Jr, who promised them that they were still mobilizing the support. It turned out to be an empty promise.
The tense drama inside one the country's poshest hotels ended with the arrest of the Magdalo soldiers along with journalists who refused to abandon the coverage. 
Misinformation?
It was at the police headquarters in Camp Crame in Quezon City that Trillanes would see Binay again. 
"Dinala kami sa Crame. Nandoon siya sa Camp Crame. Nagdala ng abogado. Humihingi ng paumanahin. Nagkamali daw siya ng info. Hindi ko maintindihan kasi kapag nagbigay ka ng salita…alam mo na nandoon. Alam mo ang araw, oras, at lugar. Pero wala siya," Trillanes narrated.
(They brought us to Camp Crame. He was there. He brought lawyers. He asked for forgiveness. He said he got the wrong information. But I don't understand because he already gave his word. He knew we were already there. He knew the date, the time, and the place. But he did not show up.)
"In fact noong time na 'yun, kinastigo ko na siya," said Trillanes. (In fact, at the time, I already castigated him.)
In 2010, President Benigno Aquino III succeeded Arroyo and Binay became vice president. In December that year, Trillanes was granted provisional liberty and was finally able to attend sessions in the Senate. He was re-elected to a second term in 2013.
But Trillanes and Binay are no longer allies. Trillanes said the Manila Pen siege made him realize the kind of man Binay is. 
"Pinasakay lang kami, kagaya ngayon. Ganito ang ginagawa nila. Papasakayin ka nila hanggang sa makita nila na sila ay makikinabang doon sa kanilang sinasabi. Kapag hindi, hindi 'yan sisipot, hindi paninigndigan ang sinabi," said Trillanes.
(He took us for ride then, like he is taking us for a ride now. That is what he does. He will see if he will benefit from it. If he won't, he will abandon you. He won't make good his promise.)
Seven years later, Trillanes has become one of Binay's staunchest critics determined to stop him from taking the presidency. – Rappler.com