The appeals court says former elections chief Abalos failed to show a link between Pasay City Judge Jesus Mupas and 'emissaries' who allegedly asked for money in exchange for a favorable ruling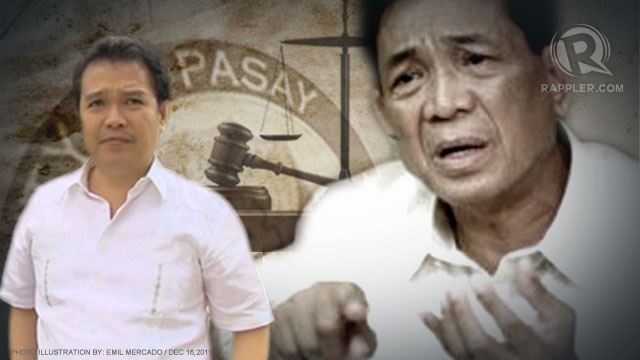 MANILA, Philippines – The Pasay City trial court judge who has refused to inhibit from the electoral sabotage case against former poll chief Benjamin Abalos Sr has got the backing of the Court of Appeals (CA).
In its 10-page decision dated October 16, the CA's Special 17th Division sustained the decisions of Pasay City Regional Trial Court Branch 112 (dated January 24 and February 22, 2012) to junk Abalos' motions for Judge Jesus Mupas to inhibit from the case.
The appeals court denied Abalos' petition for certiorari and prohibition.
The CA held that Abalos failed to show a connection between Mupas and two lawyer "emissaries" who allegedly attempted to extort money from Abalos in 2011 in exchange for leniency in the handling of the case.
"It is certainly unfair and unjust to impute upon respondent judge assertions of bias, prejudice, hostility, or impropriety for that matter arising from petitioner's alleged meeting with two lawyers," the CA said.
Abalos presented CCTV footages of his meeting with each of the two lawyers, but the CA said these "cannot prove the matter of their conversation, much less, about the attempt to extort money."
According to Abalos, shortly after the electoral sabotage case was raffled off to Mupas, lawyer May Mercado allegedly sought P1 million in exchange for the granting of bail. Later, another lawyer, Jojo Desiderio, sought an initial P15 million for a bail order in favor of Abalos and another P15 million upon his release.
Abalos said he rejected both offers. After surrendering to authorities in December 2011, he filed an urgent motion to inhibit against Mupas, but it was denied by the judge. A motion for reconsideration was also junked by Mupas, prompting Abalos to file a petition for certiorari before the CA.
He accused Mupas of gravely abusing his discretion for not recusing from the case, thus casting doubts on the judge's impartiality.
The CA decision was penned by Associate Justice Manuel Barrios, and seconded by Associate Justices Normandie Pizzaro and Carmelita Salandanan-Manahan.
Abalos and former President Gloria Macapagal-Arroyo are facing two counts of electoral sabotage for alleged poll fraud in North Cotabato during the 2007 elections.
In October, Abalos was cleared of 11 counts of electoral sabotage in South Cotabato by Pasay RTC Branch 117. – Rappler.com