A former Comelec employee says that 'digital lines' found on decrypted images of physical ballots had affected the vote counts for two 2013 senatorial candidates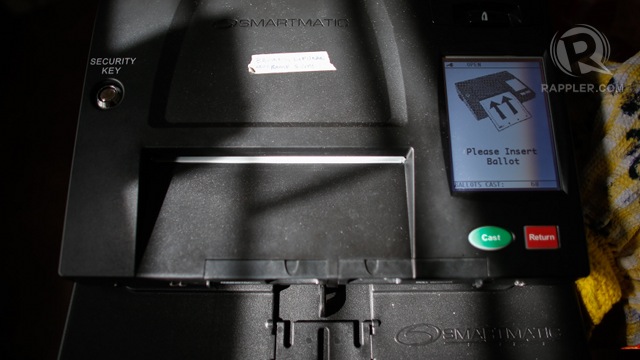 MANILA, Philippines – A former employee of the Commission on Elections (Comelec) warned of "electronic dagdag-bawas" that could be caused by "digital lines" in precinct count optical scan (PCOS) machines.
Two 2013 senatorial candidates had their vote counts affected by these lines, said lawyer Melchor Magdamo, the executive assistant of former Comelec Chairman Jose Melo, in a statement on Wednesday, November 19.
These vertical lines appeared in the digital, decrypted images of the physical ballots that were scanned by PCOS machines on election day. Some of the "digital lines" ran over unshaded ovals on the digital ballots, causing PCOS machines to detect these ovals as shaded ones that would either add to a candidate's vote count or subtract from it when overvoting arises, said Magdamo.
These lines "had the effect of an electronic dagdag-bawas in that they added or subtracted votes for a particular candidate," said Magdamo.
He also said that 2013 senatorial candidates Aquilino Pimentel III and Eduardo "Bro. Eddie" Villanueva were "victims" of these "digital lines," but they did not file a protest due to the late discovery of this issue in PCOS machines.
Magdamo said that these lines were uncovered during a random manual audit conducted in late 2013 by experts from the Department of Science and Technology (DOST), following reports of discrepancies between the PCOS and manual counts.
It was again reported during a hearing of the joint congressional oversight committee on the automated election system (JCOC-AES) in September 2014. (READ: Persistent issues cast doubt on PCOS reliability)
"It was discovered to be widespread in ballots all over the country, there are mysterious digital lines that affected the vote count," said Magdamo, a co-convenor of election watchdog group Citizens for Clean and Credible Election (C3E).

Magdamo also claimed that Comelec "tried to cover up" DOST's findings regarding the digital lines.
The C3E pushes for the disqualification of supplier Smartmatic-TIM from participating in the bidding for the lease of additional voting machines and from conducting the refurbishment of existing PCOS machines for the 2016 polls.
'Digital lines committee'
In a phone interview, Comelec Chairman Sixto Brillantes said that the poll body is preparing to convene a "digital lines committee", as instructed by the JCOC-AES last September, to address the issue.
Decrypted digital ballots from around 500 randomly-selected clustered precincts all over the country would be checked for the existence of these "digital lines," said Brillantes.
Brillantes also said that they would let interested parties and observers draw the clustered precinct numbers during the random selection, so that Comelec would not be suspected of favoring some precincts.
He added that they could finish the whole process in time for the December 25 deadline imposed by the JCOC-AES for Comelec to submit a report.
As for the refurbishment of existing PCOS machines, Brillantes said that they are looking at either availing of an extended warranty with Smartmatic or putting up the refurbishment for public bidding. – Rappler.com