Anti-poverty chief Joel Rocamora says that without a partial entry of judgment on a court decision made 2 years ago, Malacañang cannot move to use the funds to help coconut farmers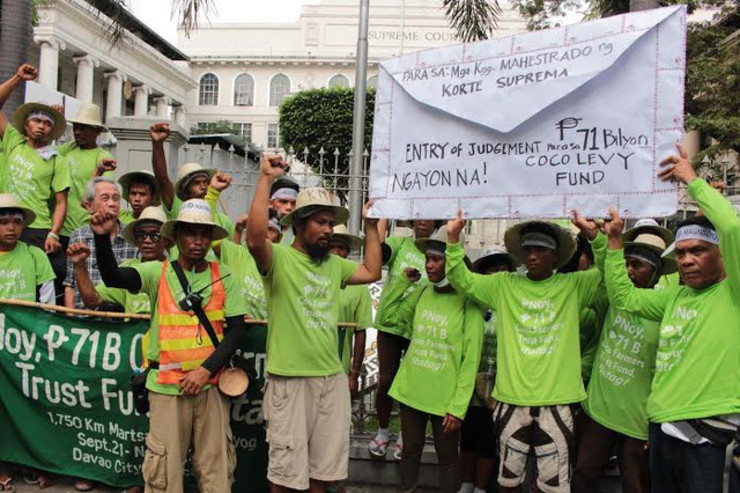 MANILA, Philippines – The Supreme Court's inaction has been an obstacle to the mobilization of billions of pesos in coco levy funds for the benefit of Filipino coconut farmers, said the 71 coconut farmers marching to Malacañang Palace.
The farmers arrived at the Supreme Court in Manila on Wednesday, November 19, after walking more than 1,700 kilometers from Davao City.
They delivered a letter of request, asking the High court to make final and executory the decision it made on the coco levy case two years ago, .
In 2012, the Supreme Court decided that 24% of San Miguel Corporation stocks were bought by the Marcos administration using coco levy funds collected from smallholder coconut farmers. Therefore, the money, now amounting to around P71 billion ($1.6 billion), should go back to the government and be used specifically for the benefit of coconut farmers.
The judgment has yet to be entered by the clerk of court in the book of entries of judgment – a requirement of the Rules on Civil Procedure, said National Anti-Poverty Commission chief Joel Rocamora, who accompanied the farmers to the Supreme Court.
"A draft Executive Order on the management of the coco levy fund is ready for the President's signature, and the PCA is fast-tracking the coconut industry roadmap. But until the Supreme Court makes an entry of judgment, the President cannot, by law, sign an executive order regarding the disposition of the fund," he said.
Rocamora wondered: Given that two years have passed without an appeal for reconsideration or new trial, why is the Supreme Court tarrying on a decision that could significantly affect the lives of coconut farmers?
Coconut farmers are among the "poorest of the poorest" sector in the Philippines, alongside fisherfolk. According to NAPC, they earn only P10,000 to P16,000 a year. Almost half, 41%, of coconut farmers live below the poverty line.
Rocamora said, "The coco farmers need the coco levy now more than ever. Every second that decision is delayed, lives are lost or wasted."
The 71 coconut farmers are expected to arrive in Malacañang Palace on November 26 where they hope to face President Benigno Aquino III himself.
Watch the journey of the marching coconut farmers here:
– With reports from Pia Ranada/Rappler.com