At the EDSA Shrine, local and foreign journalists call for an end to impunity, as they pay tribute to their 32 colleagues who were among those killed in the 2009 Maguindanao massacre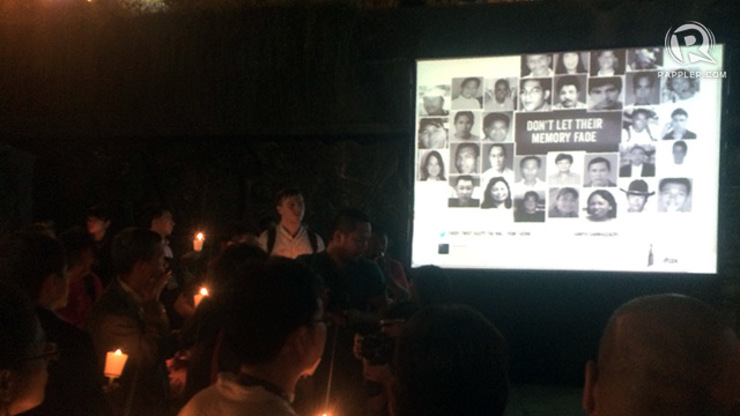 MANILA, Philippines – At the foot of the historic EDSA Shrine in Quezon City, local and foreign journalists lit candles as they joined calls to end impunity in the slow-moving Maguindanao massacre case.
The candle-lighting ceremony on Sunday, November 23, was organized by the Center for Media Freedom and Responsibility (CMFR) as a tribute to the 32 journalists who were among the 58 individuals killed in the gruesome massacre in Ampatuan town, Maguindanao, in 2009.
The event also marked the International Day to End Impunity. (INFOGRAPHIC: Maguindanao Massacre case, 5 years on)
"We want people to know we have not forgotten, and that we will continue to campaign and advocate justice for the victims and their families," said Melinda Quintos de Jesus, executive director of the CMFR. (READ: Families remember Ampatuan massacre victims)
"We would want to be able to call for justice, as the trial has been taking such a long time," she added. (READ: Sereno, De Lima explain 'delays' in massacre trial)
Holding the activity at EDSA Shrine, said De Jesus, is a throwback to the bravery and unity shown by Filipinos during the peaceful 1986 People Power Revolution, which ousted former dictator Ferdinand Marcos from power.
"All this time, we feel that in this place, we can also recall the many ways in which we lose our freedom, and we want to make sure that more people are involved in [the 'Million Candles'] campaign," said De Jesus.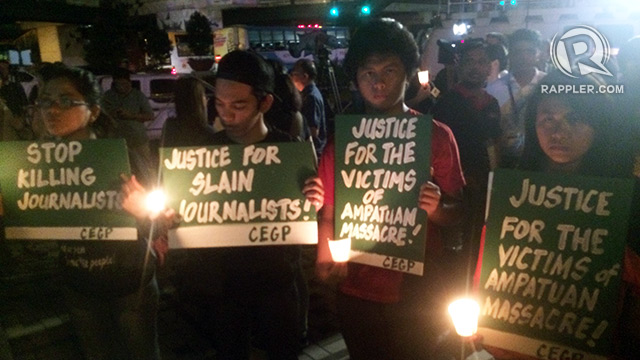 "We have already said so many things already, spoken so many words. And now, I think it's time to have that power of a silent, symbolic act that can become a movement hopefully, so that people would continue to work against impunity," she added.
Lighting a candle to support calls for justice "is a simple gesture anyone can do anywhere they are," De Jesus said.
German journalist David Schraven said it is important to hold into account the people who have attacked journalists all over the world. (READ: World awaits gov't action on Ampatuan massacre case)
"It is possible that in a country like the Philippines, so many journalists have been killed, and nobody [has been] convicted. It's a big shame not only for the justice system, but also for the democratic system here," said Schraven, editor-in-chief of CORRECT!V, a non-profit investigative newsroom based in Germany.
The most important thing for the government to do, said Schraven, is to improve the justice system, "so that the bad guys who did commit murder are persecuted fast and hard."
Sunday's candle-lighting ceremony coincided with the "Uncovering Asia" event, a 3-day Asian investigative journalism conference organized by the Philippine Center for Investigative Journalism (PCIJ). – Rappler.com