Anti-pork groups in Quezon City aim to gather 177,000 signatures in the city to support a people's initiative bill seeking to abolish all forms of pork barrel in government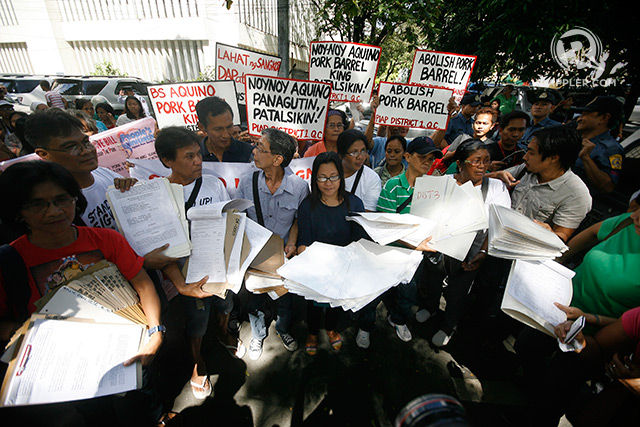 MANILA, Philippines – The Commission on Elections (Comelec) has received an initial batch of 10,000 signatures from Quezon City in support of a people's initiative bill for the abolition of all forms of pork barrel in government.
On Tuesday, November 25, the People's Initiative to Abolish the Pork Barrel-Quezon City (PIAP-QC) brought folders containing a total of 10,000 signatures to the city's Comelec district offices.
"Actually, these are the first 10,000 signatures that we have gathered for two months, since the launch of the campaign to abolish the pork barrel system. We got it from many communities, schools, and factories," said PIAP-QC spokesperson Malou Turalde.
"Instead of us just ranting about corruption and the pork barrel system but not doing anything about it, we are showing through this people's initiative that we are committed and sincere in this campaign," Turalde said.
She said the group's "commitment" is to gather 177,000 signatures from Quezon City's 6 congressional districts.
"We will strive to reach that goal in the coming days," added Turalde.
The proposed people's initiative bill should gather the signatures of at least 10% of the total registered voters nationwide – or around 6 million signatures – with at least 3% of signatures of voters in each congressional district.
Upon the verification and certification of the Comelec of the sufficiency of the signatures, the proposed people's initiative bill would be put to a vote through a nationwide referendum.
Turalde said that the people's initiative campaign is simultaneously taking place all over the country. (READ: CBCP backs people's initiative vs pork barrel)
Voters' education
Besides the collection of signatures, the group is also educating Filipino voters about the issue. "The signature gathering is just a consequence of letting the people know, making them understand what this pork barrel system really is," she said.
"If this people's initiative bill against the pork barrel becomes law, all of those who are guilty will be held liable, even if it is the President himself. After all, the President has his own pork barrel."
Landmark Supreme Court rulings have abolished discretionary funds such as the congressmen's Priority Development Assistance Fund (PDAF), and the Disbursement Acceleration Program (DAP) implemented during the administration of President Benigno Aquino III.
Turalde agreed with the observation of Senator Miriam Defensor Santiago that the redefinition of government savings in the proposed 2015 national budget is unconstitutional "for being over-broad and for being vague." (READ: Redefinition of 'savings' can lead to corruption – Miriam)
In the proposed 2015 budget, savings can be declared at any time for "justifiable reasons."
"As far as we know, the 2015 budget is an election budget. Majority of that remains discretionary. The problem is, if we do not react and get involved, they could use that discretionary funds thanks to the new definition of savings," Turalde said.
Comelec 'lukewarm' to people's initiative?
The anti-pork barrel group also observed that local Comelec offices "seemed to be unaware of procedures" in receiving the people's initiative signatures.
"Based on our monitoring in many Comelec offices, they do not know what to do. They would say, 'We'll receive it, but we don't know what to do next,'" said Mark Louie Aquino, Metro Manila coordinator of the people's initiative.
According to him, the Comelec main office has yet to issue a memorandum or resolution to guide local Comelec offices in receiving and verifying signatures in a people's initiative.
"This is among the duties of the Comelec. We know that this would be additional work for them. We are also educating them and telling them, let's work together," Aquino said. – Rappler.com