From photographers, information officers to accountants, Filipinos make their mark in the UN through hard work, tenacity, and their trademark sense of humor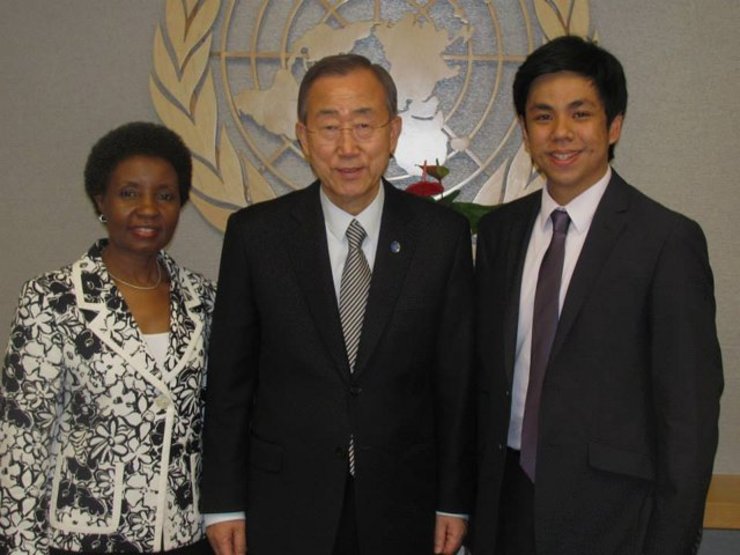 UNITED NATIONS – Accepting a 75-day contract to arrange books on foreign land is a risky career move. Yet for Rommel Maranan, it was the first step to fulfilling a childhood dream. In just 4 years, he worked his way up from the basement library to the top floor of the United Nations where he is now an assistant in the Office of Secretary-General Ban Ki-Moon.
Only 28, Maranan is the youngest on the team of the UN's premier diplomat. Like many Filipinos working here at the UN Headquarters in New York, the Ateneo de Manila alumnus sent countless applications, started out with temporary assignments, and competed with the world's best civil servants.
His story shows how Filipinos manage to thrive in the biggest international organization.
"One thing about Filipinos is we have the skill plus the good attitude that comes with it. We always go the extra mile. Filipinos have a good image here. Iba ang sipag ng Pinoy (Filipinos' diligence is extraordinary)," Maranan told Rappler.
In the same way that workers from the Philippines are all over the world, Filipinos are everywhere in the UN. From security staff, event marshals, media professionals to accountants, Filipinos are making their mark through hard work, tenacity, and their trademark smile and sense of humor.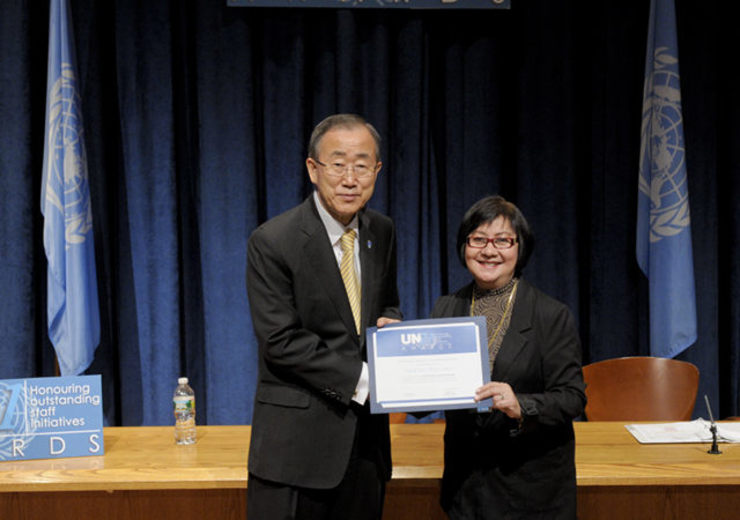 'Overrepresented but in demand'
There are 775 Filipinos working for the UN or 1.87% of the 41,426-strong Secretariat. In aiming to ensure representation of all 193 member states, the UN tracks the number of staffers from each country. In 2013, it classified the Philippines as among countries that were "overrepresented."   
Filipino employees said this did not stop the UN from hiring more Filipinos. Natalyn Bornales, information officer at the UN's Dag Hammarskjöld Library, recalled what her Canadian boss told her when she started working at the UN Headquarters 15 years ago.
"My boss said, 'Filipinos have a very good reputation of being hard workers and efficient.' The education that we attained in the Philippines prepared us well to be on a competitive level with professionals from other countries," said Bornales, a library science graduate of the University of the Philippines Diliman.
Bornales rose from being "a peso-earning support staff at the UN Information Centre in Manila to a dollar-earning professional in New York."
Many Filipinos though began as tourists who took a chance by walking in or sending applications. Job opportunities cover areas ranging from Political, Peace and Security, Economic and Social Development, to Legal.
Bornales said Filipinos often do administrative work, where their knack for details and multi-tasking skills come in handy. In a highly competitive workplace, she said Filipinos strive to stand out by going beyond their job description or "pakitang gilas" (showing their flair).
'Filipinos are very adaptable that we are a perfect fit for a multicultural and diverse environment like the UN.'

 
Maranan is one example. Tasked with arranging the UN chief's busy schedule, he works more than 10 hours on "a good day." When traveling with the Secretary-General, the communication graduate makes it a point to research local greetings for Ban to speak with officials in their native tongue.
He says, "One time, our supervisor asked us, 'Can you come in this holiday?' My Filipina colleague and I thought, 'If that's what the job requires, why not?' When we had a vacancy, I was asked, 'Do you know Filipinos whom you can recommend?'"
'Exposure teaches tolerance'
Working for an organization promoting diversity requires Filipinos to adjust to colleagues and managers of various faiths, languages and nationalities. They find that some nationalities tend to be laid-back while others are no-nonsense.
Yet Bornales said Filipinos get along with other nationalities, citing the culture of pakisama (camaraderie).
"We are very adaptable that we are a perfect fit for a multicultural and diverse environment like the UN. We blend easily," she said.
Beyond the sprawling UN Headquarters in midtown Manhattan, assignments to global hotspots challenge Filipinos to work in harsh conditions.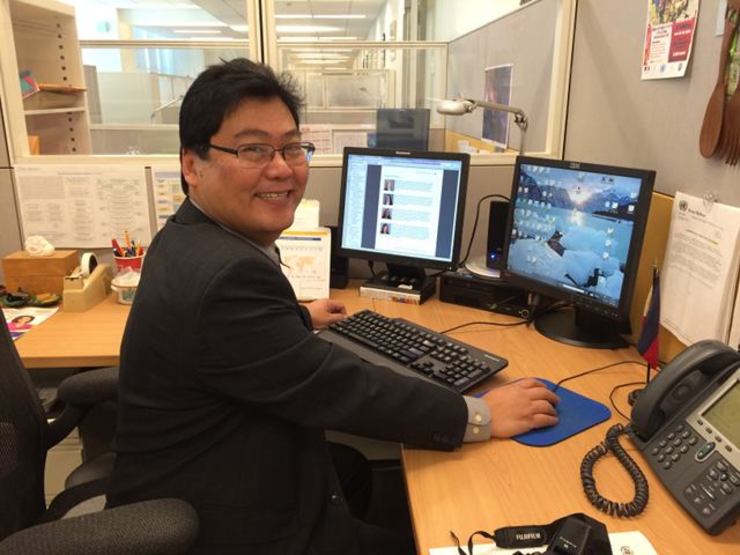 Reynaldo Naval Jr helped establish public information centers at the UN peacekeeping mission in Kosovo in the wake of the 1999 war. The son of the late journalist Reynaldo Naval, he said working for the UN is "being in the middle of the world."
"My first time to be in a Muslim nation was in Kosovo. Before that, I did not know anything about Muslims or the nation itself. There, I got the understanding that they have diversity even within. I learned tolerance, understanding, acceptance. Exposure and experience are the best teachers in life."
As information assistant at the Media Documents Centre, Naval is popular with UN correspondents for his mastery of UN records, accessibility, and steady supply of jokes. He has been working for the UN for 30 years.
Pressures and prestige
While Filipinos earned a positive reputation, they are still pushing to improve their work status. Most Filipinos are under general services or the support staff. Only 17% reached the higher professional category, where at least 5 years of UN experience and passing a difficult exam are required.
Filipino staff members work independently of the Philippine Mission to the UN, applying for openings and promotions on their own. Long-time UN employees said this is not the case for some countries, which lobby for their nationals to bag plum posts.
Although it is a rare experience, racism is also a problem. A Filipino employee said she was once turned down for a UN position because she was not a native English speaker, even if this was not a criterion in the job posting.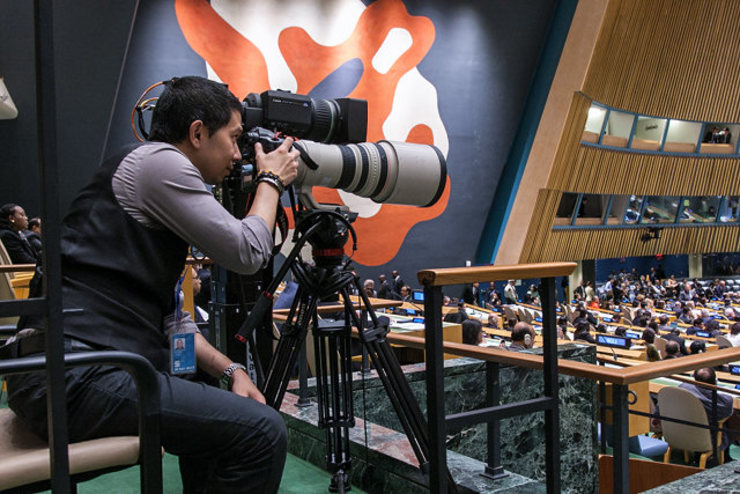 Despite the hurdles, a UN job has its perks. Filipinos described their pay and benefits as "competitive."
The payoff is not just financial. For photographer Loey Felipe, working for the UN provides him with coveted close-in access to dignitaries and celebrities. He said snapping photos for the world body is an incomparable opportunity.
"Before, I would take a picture of a model, it will go to a magazine. But that magazine will be forgotten soon. Now, if you ask me what's my biggest accomplishment, it's having my name etched in the UN. Thirty, 40 years from now, when people Google the photo of an event, my name will appear. I'm part of history," Felipe said.
Among his prized pictures is that of the UN Security Council's moment of silence after the downing of Malaysia Airlines Flight 17. "It circulated all over the news. From China to Ghana, Australia to New Zealand, my photo was there. I said, 'Wow, that's my name.'"
Travel is another incentive. For Maranan, traveling with the head of the organization is the most rewarding experience. He said in the last two years, he visited 41 countries on 16 trips with Ban.
"There are trips where in state dinners, you are expected to talk. You will be seated beside the minister of petroleum, the minister of defense. They ask you, 'What do you think of the political situation?' I had to brush up. You can't say, 'Oh, I'm just here to eat.' Expectations are really high since you're working with the Secretary-General."
Filipinos take pride in being part of an organization promoting peace, development and human rights.
Maranan said, "You will reach a point when you're photocopying or just typing. You think: What am I doing? How is it helping? But from a broader perspective, no matter how small, it's still a contribution. I feel that this is a very noble profession. It may sound idealistic but we're all still working for world peace."
Naval of UN documents agrees. "The UN is the only church for mankind to come together to express their sentiments and positions without feeling afraid."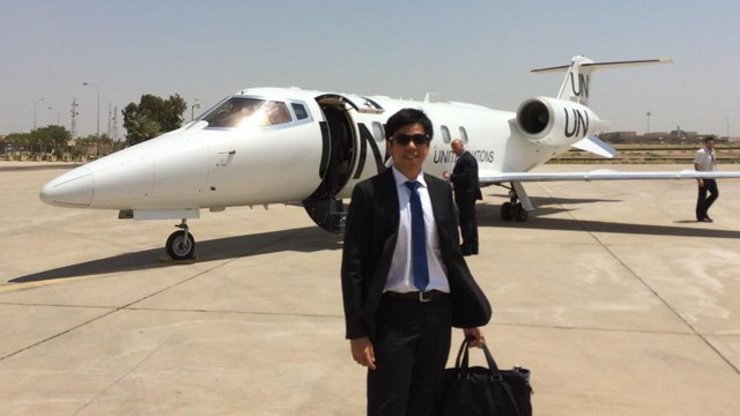 'PH must be more proactive'
Experience in the body handling the world's woes changed how Filipinos view their home country. Maranan said his trips made him see the Philippines' problems in a different light.
'Other countries want to achieve even a fraction of what we have. I'm not saying we should be complacent but every country has problems.'

 
"Sometimes, we complain and complain but when you see it from a broader perspective, other countries want to achieve even a fraction of what we have. I'm not saying we should be complacent but every country has problems," Maranan says.
"When we saw the devastation in Gaza, you ask: what can I do? Why does this still happen? I've been to the Democratic Republic of the Congo and saw the victims of sexual violence in conflict. If you hear their plight, you will see everyone has their share of problems, big or small, local or international," he added.
Naval said the Philippines must be more proactive in global efforts like disaster risk reduction. "We tend to rationalize and be reactive. We have to address the lack of preparation. We cannot just say, 'Oh, the UN, NGOs, and USAID will be there.' Every year, calamities hit us so we already have an idea what to do."
In explaining their contributions to the UN, Filipinos love to recall the anecdote involving the late Filipino diplomat and statesman Carlos P. Romulo. The first Asian president of the UN General Assembly literally put the Philippines on the UN map.
Upon seeing a proposed UN seal, Romulo demanded to know where the Philippines was on the map. US Senator Warren Austin then told him, "It's too small to include. If we put in the Philippines, it would be no more than a dot." Romulo responded, "I want that dot!"
Since then, Filipinos have earned their place in the organization known as "the conscience of the world." 
"It's a childhood dream achieved," Maranan said. "I continue to live it and I wouldn't have it any other way." – Rappler.com