This is AI generated summarization, which may have errors. For context, always refer to the full article.
The warships will be the Philippine military's biggest and most capable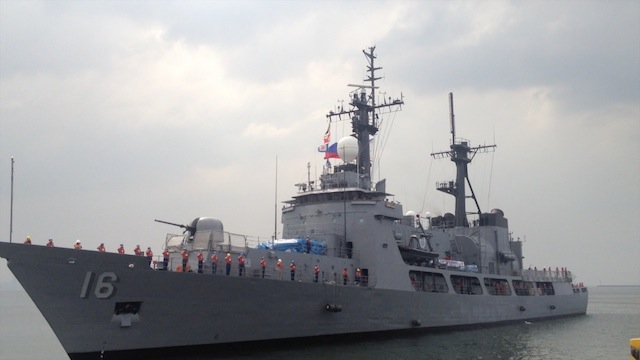 MANILA, Philippines – The Philippine defense department is confident it can award the contract for the already delayed 2 brand new frigates worth P18.9 billion early next year.
"We may not be able to open it (final bidding) this year but early next year we will be able to award the contract," said Defense Undersecretary Fernando Manalo in a recent interview.
Manalo said he is confident that the bidding will be successful and the project will not be further delayed. "We have more than enough (bidders) to give us the confidence that it is really a competitive bidding," he said.
Six firms have qualified for the contract: Spanish firm Navantia Sepi (RTR Ventures) and South Korean firms STX Offshore & Shipbuilding; Daewoo Shipbuilding & Marine Engineering Co Ltd, and Hyundai Heavy Industries Inc; India's Garden Reach Shipbuilders & Engineers Ltd of India And Europe's STX France SA.
Manalo said they have completed the pre-bid conference for the second and final stage of bidding for the biggest project under the Armed Forces of the Philippines Revised Modernization Program. (READ: State of PH Navy Modernization: 'Golden days will return')
The frigates project was delayed by the department's failure to immediately finalize the Terms of Reference (TOR), which contains the technical specifications of the project, including the ship design and weapons system.
The two frigates are going to be the country's biggest and most capable warships. The package includes capabilities such as primary and secondary guns, missile system, anti-submarine warfare weapon system, and electronic warfare system.
The frigates should also be able to accommodate a helicopter and rigid hull inflatable boats.
It's a much needed upgrade from the refurbished cutters from US, BRP Ramon Alcaraz and BRP Gregorio Del Pilar.
In the recent pre-bid conference, the bidders were able to comment and recommend changes to the TOR.
"We are just waiting for the submission of the Technical Working Group on the final comments and recommendations," Manalo said.
The Philippine Navy earlier said it needs at least 6 warships to patrol the country's waters.
The other big ticket project is the squadron of fighter jets worth P18 billion. It was awarded to South Korea's Aerospace Industry. – Rappler.com