(UPDATED) The Comelec opts for the extended warranty agreement with Smartmatic over a public bidding for PCOS refurbishments, prompting a poll watchdog to call the decision a 'callous and despicable act'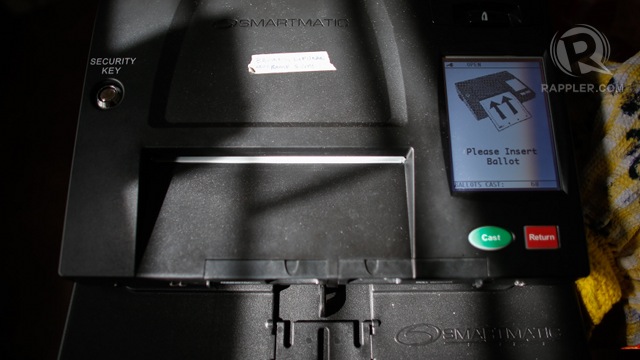 MANILA, Philippines (UPDATED) – The refurbishment of existing precinct count optical scan (PCOS) machines, to be reused in the 2016 national elections, would be conducted by its supplier Smartmatic-Total Information Management (TIM) Corp.
The Commission on Elections (Comelec) approved the first part of an extended warranty agreement with Smartmatic-TIM to upgrade and repair some 82,000 PCOS machines for the 2016 polls.
According to Comelec Resolution No. 9922 dated December 23, 2014, the Comelec en banc voted 5-2 in favor of Program 1 of Smartmatic's extended warranty proposal, amounting to P300 million ($6.7 million*).
The other option was to bid out the PCOS refurbishment contract, as recommended by the poll body's own law department.
Brillantes explained that the P1.2-billion ($26.6-million) amount cited in earlier reports was Smartmatic's proposal for the entire two-stage extended warranty, including Program 1.
Program 1 of the extended warranty covers only the "examination, diagnostics, and some minor repairs" on all PCOS units in Comelec's inventory, clarified Comelec Chairman Sixto Brillantes Jr. in an ambush interview with Rappler on Monday, January 5.
It does not yet cover the actual refurbishment of the PCOS machines, which would cost around P900 million ($20 million). "That will be subject to probably another negotiation or public bidding," Brillantes added.
Chairman Brillantes and commissioners Lucenito Tagle, Elias Yusoph, and Christian Robert Lim voted to approve Program 1 of the extended warranty. Commissioner Al Parreño filed a separate opinion on the matter, but joined the majority.
Commissioner Luie Tito Guia dissented, saying that open competitive bidding "remains to be the best option for this Commission after in-house repair." Meanwhile, Comm. Arthur Lim's separate opinion "appears to be more of a dissent… [opting] for the public bidding if the timeline will allow it."
Poll officials have previously said that while a public bidding reflects transparency and allows other companies to submit bids for PCOS repairs, it might cause delays in the Comelec's preparations for the country's third automated elections on May 9, 2016.
'Callous and despicable act'
The Citizens for Clean and Credible Elections (C3E) strongly objected to the extended warranty deal, saying that the Comelec is "rewarding the inefficient and ineligible."
"We are manifesting our strongest rejection of this callous and despicable act. We will use all available means to stop the Comelec from further rewarding the inefficiency of Smartmatic, which is not even eligible to do business," said Hermenegildo Estrella Jr, co-convenor of C3E, in a statement.
Estrella also shot down Smartmatic's claim that it has "exclusive rights" over the PCOS machines. Smartmatic earlier argued that if the Comelec would choose to conduct a public bidding, bidders "can only resort to reverse engineering, which can be considered illegal."
"[It is] false and bereft of basis," said Estrella, who said that the PCOS machines now belong to the Comelec.
Estrella cited a provision on the deed of sale – when Comelec bought the PCOS machines from Smartmatic in 2012 – saying that "the control and ownership of the hardware and software shall be transferred to the buyer upon acceptance per batch of 20,000 units during the Hardware Acceptance Process."
"As the owner of the machines, opening it for repairs is not a violation," just as an owner of a car can opt to have it repaired in any shop or by any mechanic, Estrella said.
In response, Brillantes said, "Lahat ng gustong mag-oppose, mag-oppose. Kaya namin nilabas na ngayon [ang decision] para magdemanda na sila. Pero pakiusap ko lang, bago sila magdemanda, basahin muna nila 'yung resolution. Hindi 'yung daldal kayo nang daldal, hindi niyo naman alam kung ano ang sinasabi namin."
(Those who want to oppose, do so. That's why we released the decision now, so that they could act on it. But I request that before they file complaints, they should read the resolution first, instead of talking about the matter without knowing what we were saying.)
"It's a 10-page resolution. It discusses in detail why we are giving the P300-million [contract] to Smartmatic," Brillantes added.
Bidding for more machines
Smartmatic-TIM is also participating in two public biddings for additional voting machines for the 2016 polls.
Along with Indra Sistemas, Smartmatic-TIM was declared an eligible bidder for the lease of more optical mark reader (OMR) or PCOS machines. The contract for this project amounts to P2.5 billion ($55.5 million). (READ: Smartmatic, Indra contest each other's eligibility in PCOS bidding)
Meanwhile, Smartmatic-TIM was the sole bidder that passed the first stage of the bidding for 410 units of digital recording electronic (DRE) machines that use touchscreen technology. The contract for this election system amounts to P32.6 million (around $723,000).
In November, the C3E and other groups asked Comelec to blacklist Smartmatic-TIM from future election-related projects, but the Comelec bids and awards committee junked their petition. – Rappler.com
* $1 = P45.06