These will help extend the Navy's reach, says a navy spokesman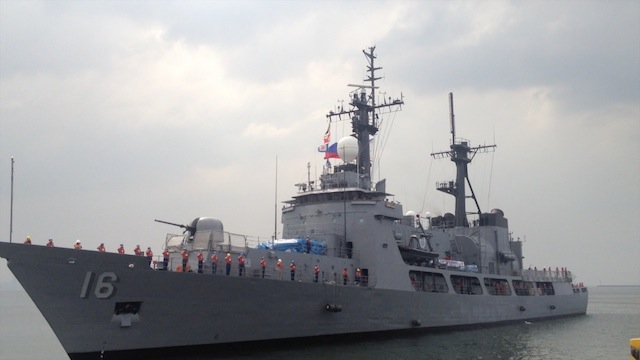 MANILA, Philippines – The Philippine Navy confirmed that two of its most capable warships will be equipped with missile systems to improve the country's deterrence capability against maritime intruders. 
"It will act as force multiplier for us. It will help us extend our reach," Navy spokesman Colonel Edgard Arevalo told reporters. 
"We have limited number of vessels. Our patrolling reach is also limited. If we have a missile system, it will elevate our capability. It will increase our patrolling reach," Arevalo added.
Navy Vice Commander Rear Admiral Caesar Taccad earlier confirmed that the plan is "in the pipeline" but provided no details.
BRP Gregorio Del Pilar and BRP Ramon Alcaraz, which were acquired in the last 3 years from the US Coast Guard, are deployed to patrol the waters in the West Philippine Sea (South China Sea). 
READ:
The shopping list: Status of PH military's modernization
They are currently equipped with 25-millimeter Oto Melara cannon and sail in tandem with brand new AugustaWestland AW-109 Power naval choppers.
A missile system, Arevalo explained, will mean the ships will not necessarily have to be in the area "to thwart a possible aggressor within our seas." The Philippine Navy has about 100 ships but only a few are capable of patrolling the West Philippine Sea. 
The Philippine Navy has been highlighting a peaceful resolution of maritime conflicts with its neighbors, supporting the government's international arbitration case against China. 
But the Philippine military is also embarking on a modernization plan to improve the country's deterrence capabilities by letting intruders know that the Philippines will be able to respond if necessary.
The Philippine Air Force is waiting for the initial delivery of two FA-50 fighter jets late this year while the Navy is finalizing the bidding for two frigates and two anti-submarine choppers.
The Navy has also set up a submarine office to prepare for a future acquisition of submarines. – Carmela Fonbuena/Rappler.com