Comelec Chairman Sixto Brillantes Jr says the contract has yet to be awarded to Smartmatic. A separate contract for the actual repairs can still be bidded out, he adds.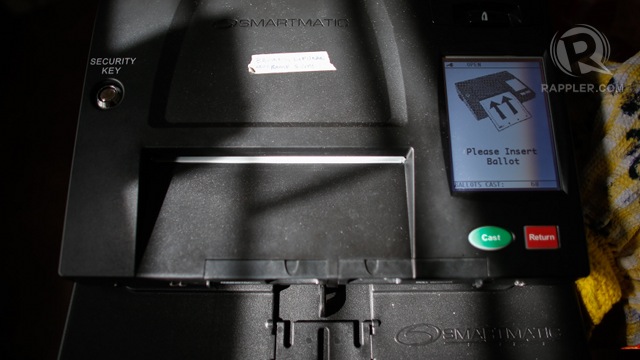 MANILA, Philippines – Commission on Elections (Comelec) Chairman Sixto Brillantes Jr clarified that the reported P300-million deal with Smartmatic-Total Information Management (TIM) Corp has yet to be awarded, and covers only the diagnosis of the precinct count optical scan (PCOS) machines that will be reused in the 2016 elections.
He also confirmed that the whole refurbishment process could cost a total of P2 billion.
In an interview with the media on Wednesday, January 7, Brillantes said that the poll body approved only the first part of Smartmatic's proposal covering the "examination, diagnostics, and some minor repairs" of the PCOS machines.
It would cost the poll body a maximum of P300 million. The poll body's decision was promulgated through Resolution No. 9922 dated December 23, 2014. (READ: Why Smartmatic got deal for PCOS repairs)
Brillantes noted that the contract for it was not yet awarded. He added that the Comelec is set to meet with Smartmatic next week to possibly lower the cost before signing the contract.
The Comelec opted to deal directly with Smartmatic for PCOS diagnostics, instead of bidding it out, as recommended by the poll body's own law department.
A separate contract for the next stage or the actual repairs, costing at most P900 million, could still be bidded out, Brillantes said.
Machines upgrade
He also confirmed another P800 million for the upgrading of the existing PCOS machines, but said it was optional and was offered by Smartmatic to the Comelec in the event it would win the ongoing bidding for additional 23,000 PCOS machines.
This was proposed by Smartmatic so that the functionalities of both existing and additional PCOS machines would match.
Malacañang said on Tuesday, January 6, that as an independent constitutional body, the Comelec is presumed to have followed the law when it approved Smartmatic's proposal.
Coloma cited Executive Order 423 issued in 2005, which allows negotiated contracts for projects not exceeding P500 million, as Comelec's justification for its decision.
"The chance is with the Comelec to prove that they did follow the law and to provide sufficient explanation with regards to every aspect that the public would like to question," said Presidential Communications Secretary Herminio Coloma Jr.
Poll watchdog Citizens for Clean and Credible Elections (C3E) opposed the deal with Smartmatic, saying that it was "callous and despicable."
The group was among those that pushed for the blacklisting of Smartmatic in future election-related projects. Their petition was junked by the Comelec bids and awards committee in December.
Former poll commissioner Augusto "Gus" Lagman, in TV interviews, also slammed the Comelec's decision, saying it was a "midnight deal," as Brillantes and two other commissioners who voted in favor of Smartmatic's proposal would be leaving the poll body in February. – Rappler.com