'I'm trying Tagalog but it's difficult,' Pope Francis tells one Filipino in Rome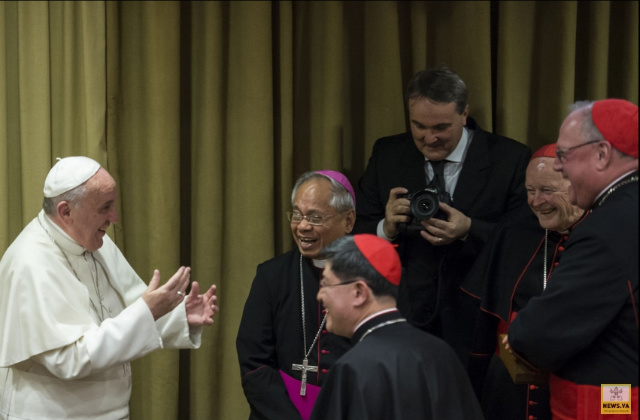 MANILA, Philippines – Ahead of his Philippine trip, Pope Francis is said to be practicing his English speaking skills, especially since the Vatican has decided he will say in English his Masses in the Philippines. 
He's also trying another language: Tagalog.
Bro Francis Dominic Vergara of the Congregation of the Sons of Holy Mary Immaculate in Rome had been practicing his Italian in preparation for his first meeting with the Pope.
When Vergara finally met Pope Francis in a greeting before the Te Deum and Vespers last December 31, the leader of the Roman Catholic Church asked if he knew how to speak in Tagalog:
Pope Francis:

 You speak Tagalog?


Vergara:

 Yes!


Pope Francis:

 I'm trying Tagalog but it's difficult.

"We Filipinos (15 seminarians, 3 of which were deacons) were invited to serve the pope, and then before the Te Deum, we [had] the chance to meet him person to person. It was a feeling of joy. It was [an] awesome encounter with him," Vergara shared.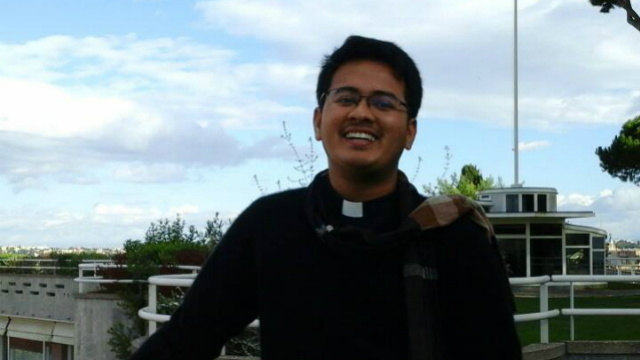 His conversation with the Pope went on for more or less two minutes. He described Pope Francis as "very sincere and very fatherly," and at that moment, he felt they were friends and not strangers.
Vergara has been studying Philosophy for 5 months already at Rome's Pontifical University of Urbaniana, the university of the Pope and the only university inside the Vatican.
Pope Francis' presence 'enough'
Lingayen-Dagupan Archbishop Socrates Villegas also recently revealed that the Pope is prepared to say one line of the Apostle's Creed in Tagalog.
"I think he is prepared to say 'Sumasampalataya ako.' And then tayo na magtuloy nun. I think masyado namang stressful kung iparecite natin sa kanya yung Tagalog ng Apostle's Creed," Villegas joked during a papal visit conversation organized by the Philippine Daily Inquirer on Monday, January 12. 
(I think he is prepared to say 'I believe.' And then we'll take it from there. I think it will be too stressful to have him recite the entire Apostle's Creed in Tagalog.)
Villegas, also the president of the Catholic Bishops' Conference of the Philippines, said the Pope's lack of proficiency in English and other languages is "compensated a great deal because of his gestures, because of his life."
Vergara assured the public that even without words, Filipinos will find that the Pope's presence is enough once he comes to the Philippines.
"Baka nga yung iba hindi na makinig sa sasabihin niya [at] panunuorin na lang sya…Yun naman [parating] hinahanap sa ibang tao…Kahit hindi kayo mag-usap basta nandiyan enough na to tell the Filipinos that 'I care for you," he added.
(It's possible some Filipinos won't listen to what he will say and will just instead watch him…That's what people always look for…Even if  no one talks, just being there is enough to tell Filipinos that 'I care for you.')   – Rappler.com
Roy Lagarde of CBCP News is contributing to Rappler's coverage of Pope Francis' visit to Sri Lanka and the Philippines. He is part of the select group of journalists accredited to accompany the Pope during the entire trip.