The bomb attack topples a tower of the National Grid Corporation of the Philippines, causing a massive power outage in the province and Maguindanao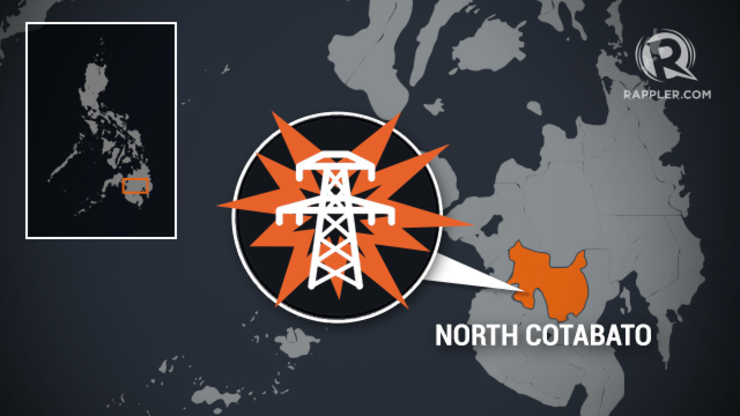 DAVAO CITY, Philippines – A massive blackout is now experienced in the provinces of North Cotabato and Maguindanao after a bomb attack hits a transmission tower in Pikit town on Sunday evening, January 18.
Capt. Joan Petinglay, spokesperson of the military's 6th Infantry Division, said the incident transpired at the vicinity of Barangay Batulawan about 8:15 pm, toppling a tower of the National Grid Corporation of the Philippines (NGCP).
Responding troops reported that the tower is still on fire as of posting, Petinglay said.
Only 5 days ago, a similar attack destroyed Tower 26 of the NGCP between the boundary of Barangay Galakit and Barangay Layog in Pagalungan town at 9:10 pm.
Responding government forces found out that 3 of the 4 posts were heavily damaged toppling down the tower, Petinglay said.
An initial explosive ordnance disposal (EOD) post blast investigation revealed that there were 3 improvised explosive device (IED) placed in those 3 toppled posts, all simultaneously blown through cellphone detonation.
Metal fragments consistent with 81 mm mortar and 60 mm mortar, as well as cellphone parts and 9 volts battery were seen in the area of explosion, Petinglay added.
The government has yet to establish a lead on the identity of the perpetrators but the area is known to be a territory of the Bangsamoro Islamic Freedom Fighters (BIFF), which the government accused of staging bomb attacks.
The BIFF consistently denied the allegations asserting that they only attack military personnel and installations.

Led by former 105th Base Commander Ustadz Ameril Umra Kato, the BIFF splintered from the Moro Islamic Liberation Front after serious disagreements on the conduct of the peace negotiations with the government. – Rappler.com