Philippine Foreign Secretary Albert del Rosario says Manila is still exploring 'options' to respond to China's 'massive reclamation' in the South China Sea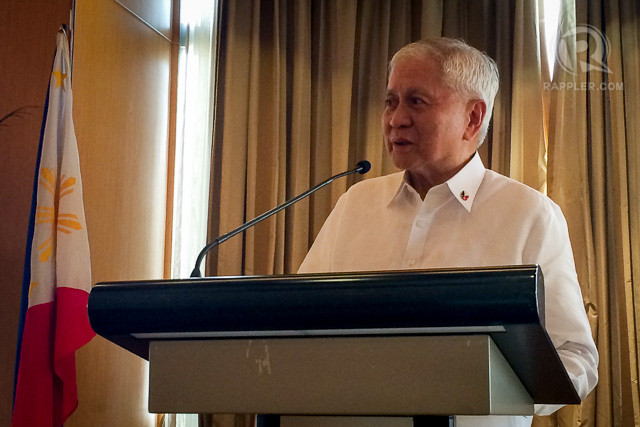 MANILA, Philippines – The Philippines plans to raise China's "massive reclamation" in the South China Sea in an upcoming meeting of foreign ministers of Southeast Asia's regional bloc.
Philippine Foreign Secretary Albert del Rosario denounced Beijing's construction work in disputed reefs as a "blatant violation" of agreements of the Association of Southeast Asian Nations (ASEAN) with China, calling it a "threat" to all 10 ASEAN members.
Del Rosario said that the reclamation will be discussed in the ASEAN Foreign Ministers' Retreat in Kota Kinabalu in Sabah from January 27 to 28. The meeting is the first under Malaysia's chairmanship of ASEAN in 2015.
"We'll talk about the massive reclamation, the threats it presents in terms of its implication on freedom of navigation as well as the rising of tensions which are obviously violations of [agreements], in terms of [China's] desire to change the status quo and character of the features there," Del Rosario said in a press briefing in Manila on Thursday, January 22.
"I will re-emphasize this and invite the concern of the ASEAN states because it is a threat to all of us," he added.
The secretary was referring to the 2002 Declaration on the Conduct of Parties in the South China Sea (DOC), a non-binding agreement ASEAN and China entered into. The DOC asks parties to refrain from actions that will "complicate or escalate disputes." 
Del Rosario's statement comes a day after Philippine Foreign Undersecretary Evan Garcia also criticized the "huge activities" China is conducting in the disputed area, first reported late last year.
On Thursday, Rappler published photos of China's reclamation in Kagitingan (Fiery Cross) Reef in the Spratly Islands showing the presence of dredgers, cargo vessels, and fishing boats as of December.
Military chief Gregorio Catapang Jr said earlier this month that Beijing's reclamation activity is already "50% complete" while defense sources told Rappler that China will finish building an airstrip in Fiery Cross Reef this year.
Vietnam, Malaysia, and Brunei are also ASEAN members that have claims to parts of the South China Sea. Other members of the bloc are Cambodia, Indonesia, Laos, Myanmar, Singapore and Thailand.
The strategic sea is believed to hold vast deposits of oil and gas, rich fishing grounds, and a major shipping route.
PH 'exploring options' on reclamation
Del Rosario admitted that the Philippines is still exploring how to respond to China's reclamation activities.
"We ourselves are looking to see what options are open, not only to us but also to other nations in terms of addressing this massive reclamation. We relate this to the expansion agenda of the Chinese in connection with their claim of undisputed sovereignty of the entire South China Sea," the secretary said.
For now, Del Rosario said Manila will continue protesting the construction work. 
"Certainly, we're taking a position in terms of registering the necessary protests and consulting with our international partners as to what can really be done," he said.
Manila filed diplomatic protests against China's reclamation work in Mabini (Johnson South) Reef, McKennan (Hughes) Reef, Calderon (Cuarteron) Reef, and Gavin (Gaven) Reef. 
With one of the weakest militaries in Asia, the Philippines opted to take the legal track by filing a historic arbitration case against China's expansive claim under the UN Convention on the Law of the Sea (UNCLOS). (READ: Rough seas: Will PH 'lawfare' work vs China?)
China is snubbing the case, and continues its reclamation work. Analysts see Beijing's reclamation activities as an attempt to strengthen its control over the disputed features even if the arbitral tribunal rules in favor of the Philippines.
The Hague-based arbitral tribunal has no mechanism to enforce its ruling.
PH wants legally binding code soon
Last year, both the Philippines and its close treaty ally the United States proposed before ASEAN and China a freeze to any activity that may raise tension in the South China Sea, including reclamation. Yet China rejected the call.
This time around, Del Rosario said the Philippines does not have any new proposal but will continue working on the early conclusion of a legally binding Code of Conduct (COC) in the South China Sea.
"I think that the South China Sea is a major topic on the agenda because it concerns the peace and stability of the region. We are looking to ASEAN in terms of the centrality, posture to be able to ensure peace and stability," he said.
While not a party to the dispute, the US also plays a more active role and pushes for a speedy conclusion of the COC.
The Philippines stopped all construction and repair work in maritime features it occupies to maintain the "moral high ground" as its arbitration case is underway.
So what happens when China finishes its airstrip and reclamation?
Beyond protests and talks, Del Rosario hinted that there is not much the Philippines can do for now.
"I can't predict or forecast for you what the scenario is going to be….I wish I could be more definitive in my response but right now, that's the best I can do." – Rappler.com