But Comelec chairman Sixto Brillantes Jr is not inclined to proceed with the dare anymore, after learning of the request to have a Smartmatic programmer follow their instructions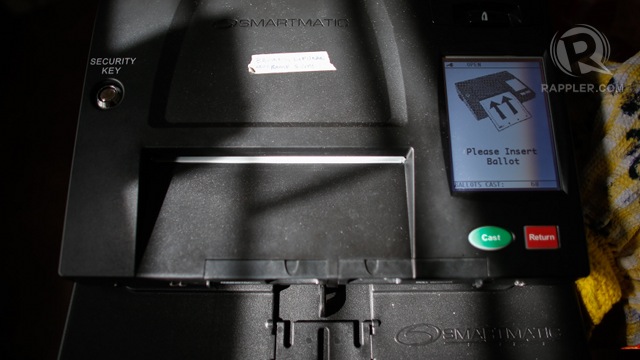 MANILA, Philippines – An election watchdog took on the challenge of the election commission's chairman to prove that the voting machines to be reused in the 2016 national elections could be "easily tampered with."
During a House committee on suffrage and electoral reforms hearing on Tuesday, January 27, Evita Jimenez of the Automated Election System Watch (AES Watch) proposed that they be given the opportunity to demonstrate their proof.
"If this committee will allow… that the Filipino IT community be able to show here, with the help of a Smartmatic technician/programmer and the Comelec (Commission on Elections) IT department, that the system, through the instructions to be given [to them], will be altered," she said.
"We'd like to ask this committee to take serious attention to this proposal, just to end all the stories about manipulation, the capability of the machines to be manipulated from the inside," added Jimenez, who is also the executive director of the Center for People Empowerment in Governance (CenPEG).
The Comelec and Smartmatic have been hounded by criticisms on their performance in the 2010 and 2013 automated polls, due to many controversies and reported glitches surrounding the precinct count optical scan (PCOS) machines.
The dare was originally issued three weeks ago by Comelec chairman Sixto Brillantes Jr to former commissioner Augusto "Gus" Lagman, who made public statements that the PCOS machines can "easily be tampered" by poll body "insiders."
Lagman likewise sought a Smartmatic programmer when he accepted Brillantes' dare.
"We will commit to set the date, the time, and the requirements mutually agreed upon by the stakeholders," said Jimenez, who is a co-convenor of AES Watch along with Lagman.
Jimenez said their request was also made to the joint congressional oversight committee on the automated election system (JCOC-AES), which the House electoral reforms committee is a part of.
Get own programmer
Brillantes, however, said he was not inclined to proceed with the challenge anymore, after learning of their request to have a Smartmatic programmer follow their instructions.
"Isipin mo, gagamitin niya [Lagman] isang Smartmatic programmer para i-tamper 'yung makina ng Smartmatic. Eh sabi ko, huwag na lang kung ganoon ang kwentuhan natin," said Brillantes during the hearing. (Imagine, a Smartmatic programmer will help him tamper Smartmatic's machines. So I said, let's not do this if that would be the case)
The poll chief added that Smartmatic might not agree to that arrangement as well. He then urged Lagman and Jimenez to get their own programmer to prove that it's "easy" to tamper election results.
Brillantes also claimed that poll watchdogs "have not shown a single precinct in this country which has been easily tampered [with]" during past automated elections.
"If they can show one, then I would agree to their dare," added Brillantes.
He then raised concerns that swindlers and operators would "use Lagman's statement as basis" to earn money from politicians.
The House panel chairman, Capiz Rep. Fredenil Castro, noted Jimenez's proposal, but said he would have to coordinate first with his Senate counterpart in the JCOC-AES, Senator Aquilino Pimentel III.
Castro then cautioned about making "irresponsible, unsubstantiated statements" that "undermine the integrity of election results in such a way that all become subjects of suspicion." – Rappler.com