Despite protests from watchdogs, retiring Comelec chief Sixto Brillantes Jr signs the contract, saying the price has been lowered; the scope of work, expanded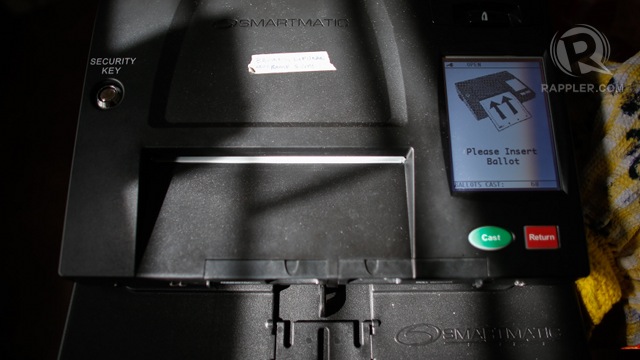 MANILA, Philippines – The Commission on Elections (Comelec) has finalized the contract with technology provider Smartmatic for the diagnostics of the voting machines to be reused in the 2016 national elections.
On Monday, February 2, his last day with the poll body, Comelec Chairman Sixto Brillantes Jr announced that he signed the contract on Friday despite the criticisms and attacks against it.
Brillantes said the contract price has been lowered to P240 million from P300 million. The poll body was also able to negotiate an expanded scope of work to be done on the precinct count optical scan (PCOS) machines.
"It will not cover only diagnostics. It will not cover only minor repairs, but it will also cover all forms of repairs. It will also involve replacement of destroyed machines, which was not in the original proposal of Smartmatic," he said.
Due to this, Smartmatic's proposed second stage worth P900 million may not push through anymore given the new scope of work, Brillantes added.
He also said Smartmatic is preparing to start on the diagnostics this week.
The Comelec-Smartmatic deal, first approved in December, was assailed by election watchdogs. They said it was a "midnight deal" rushed by the Comelec in time for the retirement of Brillantes and commissioners Lucenito Tagle and Elias Yusoph.
Brillantes defended his signing of the contract, saying that the Comelec and Smartmatic had been talking about it for a year. "My term ends on midnight of February 2. Lahat ng kailangan kong pirmahan, pipirmahan ko (All that I need to sign, I will sign)," he said.
"I dare those who say that this contract is not right…. Let them now bring it up to the highest courts, and I will fight for it up to the end," Brillantes said.
"Kuwestiyunin 'nyo sa husgado, kuwestiyunin 'nyo maski saan, at iyon naman ay ipaglalaban namin na tama. Hindi naman namin kayang ibigay sa iba, kasi palagay namin tama naman ang pagbigay namin sa Smartmatic," argued Brillantes.
(Question it before the courts, question it anywhere, and we would defend that it is right. We cannot give it to anybody else, because we think it's right to give the contract to Smartmatic.)
On Monday, poll watchdog Automated Election System Watch (AES Watch) was set to file a petition before the Supreme Court to stop the awarding of the PCOS diagnostics and repairs contract to Smartmatic.
Their petition will cite Comelec's "grave abuse of discretion" in issuing the resolution that approved the deal with Smartmatic, thus violating the Constitution and the procurement law, said the AES Watch in a statement.
Meanwhile, the Citizens for Clean and Credible Elections (C3E) rallied in front of the poll body's office in Intramuros, Manila, as Comelec employees attended a flag ceremony dedicated to the 3 retiring officials.
The C3E filed a separate complaint before the SC last week, seeking to blacklist Smartmatic from procurements related to the 2016 elections. – Rappler.com