The senator warns the sacked Special Action Force commander he could face charges for following orders from a suspended official, now resigned PNP chief Alan Purisima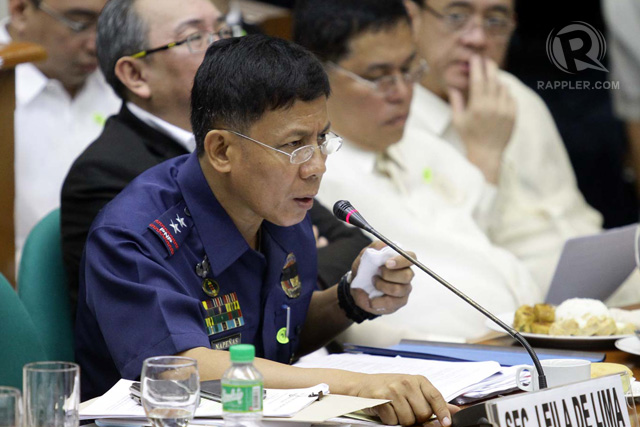 MANILA, Philippines – A senator on Monday, February 9, warned a police commander that he may be liable for insubordination and grave misconduct for following orders from resigned Philippine National Police chief Alan Purisima in "Oplan Exodus."
Senator Grace Poe, head of one of 3 committees investigating the January 25 Mamasapano operation that killed a terrorist and 44 members of the police Special Action Force (SAF), asked dismissed SAF commander Director Getulio Napeñas to comment on Purisima's claims that he merely gave him "advice," not an order, before the January 25 operation in Mamasapano, Maguindanao.
"Sinabi ba ni Purisima na ito payo lang ha? (Did Purisima tell you, this is just an advice?)," Poe asked. 
Napeñas said: "Wala pong ganoon." (There's no such thing.)
The senator then said: "Puwedeng grave misconduct and unprofessionalism [ang] ikaso sa inyo kasi suspendido ang kausap ninyo. Paalala lang." (You can be charged with insubordination and grave misconduct because you were following orders from a suspended official. Just a reminder.)
On the first day of a much-awaited Senate probe into the PNP's bloodiest operation in recent history, Purisima tried to downplay his involvement in the Mamasapano operation that has caused the worst political crisis for the Aquino administration. (READ: Timeline Mamapasano clash)
Malacañang meeting
The probe unearthed a little-known fact: that Napeñas himself briefed the President and Purisima at the Bahay Pangarap, the official residence of Aquino in Malacañang, in January 2015. At the time, Purisima was already serving a 6-month suspension order, which began on December 4, 2014.
Purisima's involvement in the operation prompted the President to accept his resignation. But while he announced the resignation last February 6, Aquino did not explain why. On the same day, Purisima appeared on national TV to deny he supervised it. (READ: List of PNP's operations vs Marwan)
At the Senate on Monday, Purisima described his role as a mere "observer."
Senate President Franklin Drilon asked Purisima what he was doing at the Bahay Pangarap briefing if he was already suspended. "I listened to the meetings," Purisima quipped.
Drilon: "You participated by simply listening."
Purisima: "Yes, your honor."
Drilon: "How many meetings?"
Purisima: "About 2 meetings….maybe 30 minutes [each]."
Drilon: "So you just kept your mouth shut?"
Purisima: "I may have given observations but I was not very particular….
Drilon: "What observations were these?"
Purisima: "That they will be moving on the time of their departure….that they should consider more the time of their departure."
Asked about why he ordered Napeñas to keep Acting PNP chief Deputy Director General Leandro Espina and Armed Forces chief of staff Gregorio Catapang Jr out of the loop, Purisima said: "That was not an order but an advice."
Purisima distinguished an order from an advice: "A command must be followed. An advice may not be followed."
He explained: "I was just following plan to give info to everyone based on time-on target."
Napeñas said he "considered what General Purisima said" and informed the military only when the operation was underway. He added that it was Purisima himself who assured him during the Malacañang meeting that he (Purisima) "will take care of Catapang."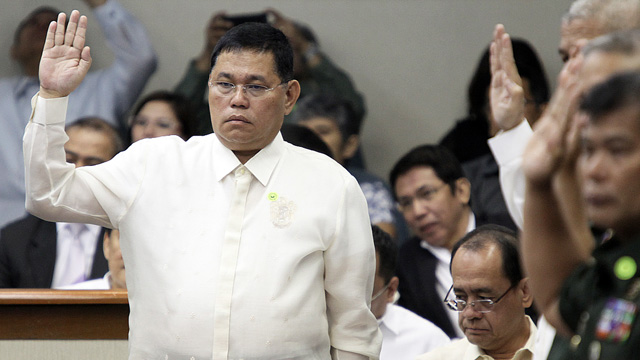 'Leo, what's your plan?'
Napeñas's testimony detailed the involvement of Purisima in the days leading to January 25.
He recalled that Purisima texted him on January 19 at 6:31 pm, asking about updates on "Oplan Exodus."
Napeñas read aloud Purisima's text: "Leo, what is your plan?" 
Napeñas said he told Purisima that the operation would push through as planned, and would be launched between January 23 to 26. The former SAF commander said it was he who ultimately decided to push through with the operation on January 25, basing his decision on the PNP's ongoing operations against Zulkifli bin Hir, better known as Marwan, who had a bounty of $5M from the US government and P7.4 million from the Philippine government. (READ: Marwan's ties that bind)
Earlier testimonies from military officers Monday showed lack of coordinaton with the military as well as Purisima's involvement in "Oplan Exodus" on January 25. (READ: AFP unaware of 2nd SAF team)
Purisima's calls to military
It turned out that Purisima was also in touch with the military on January 25.
A timeline presented to the Senate by the military showed that at about 6 am that day, Purisima sent Western Mindanao Command (Wesmincom) chief Lieutenant General Rustico Guerrero two SMS messages asking for a return call.
A few minutes earlier, Guerrero received a call from Espina asking for reinforcement.
Before calling Purisima, Guerrerro first called 6th ID commander Major General Edmundo Pangilinan to ask if the military ground commander knew about the SAF law enforcement operation. Pangilinan told his superior that he only learned about it through the SMS message that Napeñas sent him around 5 am.
In the phone conversation between Guerrero and Purisima, the suspended PNP chief "mentioned about the law enforcement operations of SAF and that he is requesting support from AFP units."
It was only after the calls of Espina and Purisima that Napeñas called up Guerrero.
Asked how he interpreted Purisima's call, Catapang said: "It's a request that we had to look into in as much as we didn't want our SAF forces to be beleaguered."
Motivations
Purisima should not have been part of the chain of command during the operation, since he was still serving a preventive suspension order issued by the Ombudsman over a corruption case.
But the President and Purisima are longtime friends, going as far back as the 1980s when Purisima was a security aide of the young Aquino during the term of his mother, the late President Corazon Aquino.
Senator Teofisto Guingona III grilled Purisima about why he got involved despite his suspension.
"Anong nasa utak mo noong sinabihan mo si Napeñas na huwag sabihan si Gen Espina (What was going through your mind when you told Napeñas to not tell General Espina)?" Guingona asked Purisima. 
Purisima insisted he had "no role" in the operation.
"You were following their plan by giving advice? Come on general, let's be reasonable here. I'm asking about your motivation," said the senator. 
"No motivation," insisted Purisima.
Guingona remarked that the police general's response was "not adequate." 
"I did not give orders for the PNP SAF to go," repeated Purisima, who has been accused of "remote controlling" the operation despite his suspension. 
What was not made clear during the hearing was the version of events as far as the Moro Islamic Liberation Front was concerned. The MILF was a no-show at the hearing. – with reports from Bea Cupin and Carmela Fonbuena/Rappler.com