(UPDATED) The military is put on the hot seat at the Senate as it faces a barrage of questions about its delayed response on January 25 in Mamasapano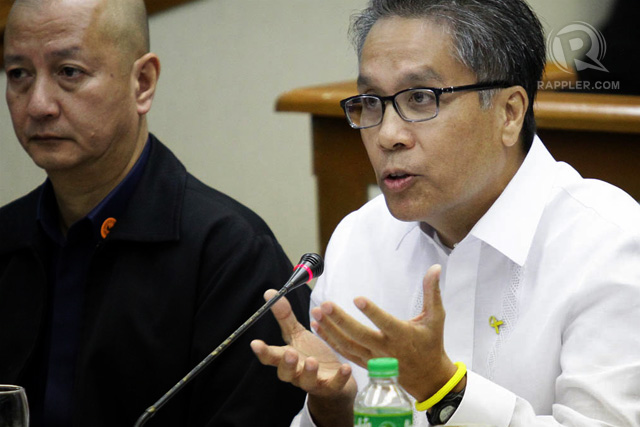 MANILA, Philippines (UPDATED) – Interior Secretary Manuel Roxas, kept out of the loop in a high-level police operation that killed a top terrorist but left 44 elite cops dead questioned why the Armed Forces of the Philippines (AFP) was unable to send help earlier.  
"Tama po, walang coordination. Walang prior coordination, sinasabi time on target. Pero tanong ko naman po at magalang kong tinatanong ito: Wala ngang coordination pero saklolo lang ang tinawag nito eh. SOS na ito eh," Roxas said during the Senate's second hearing on "Oplan Exodus," an ill-fated January 25 operation Maguindanao. 
(They're right. There was no coordination, no prior coordination because it was time on target. But my question is: Sure, there was no coordination but they were asking for help. It was an SOS.) 
It was the first time that Roxas, who is also the National Police Commission chairman, expressed his thoughts on being kept out of the loop in the operation.
The Army was only able to fire white phosphorous in the area at 6:30 pm, more than 12 hours after the first bullets were fired. By then, all but one of the SAF's 55th company had been annihilated. Nine of the SAF's 84th Seaborne Company also died on January 25. (READ: Timeline Mamasapano clash)
"Sige, alas sais ng umaga, nabigla [ang AFP]. Alam kong merong procedure, may protocol kung sino man magpipindot ng 'fire'… naintindihan ko yun," added Roxas. (Sure, at 6 am, the AFP was caught off-guard. I know there's a protocol the AFP follows, I understand that.) 
"Ang nasa isip ko ay merong concept ng 'fire on my location.' Sinasalakay na kami, inuubos na kami dito. We will take our chances that you fire on our positions because at least may chance na hindi kami tamaan pero may chance na tamaan yung kalaban namin kaysa hindi kayo mag-fire, ubos kami dito," added Roxas.  
(What's in my mind is the concept of 'fire on my location.' We're being attacked, we're being annihilated. We will take our chances that you fire on our positions because at least there's a chance that we won't be hit but the enemy will.) 
The Mamasapano encounter is a sore topic in both police and military circles. Over the past week, officials from the two forces have been in a passive, slow-brewing word war over the death of the 44. 
Turning emotional, Roxas apologized for his outburst. 
The military was put on the hot seat on Tuesday as it was asked a barrage of questions about the delay of its response on January 25. It has repeatedly insisted that it could have done more had the SAF coordinated with soldiers in the area.
But sacked SAF commander Director Getulio Napeñas said that each time they coordinated with the military, their operation against top terrorist Zulkifli bin Hir Marwan was compromised. (READ: Why SAF didn't trust military)
Senator Alan Peter Cayetano asked Armed Forces chief of staff Gregorio Catapang Jr if the military had helicopters in the area that day. Catapang said SAF did not ask for helicopters. To which, Cayetano retorted in Filipino: "Why, if I'm drowing do I need to specify what kind of help I need?" 
Cayetano asked Catapang if the military "sacrificed" the 44 SAF for the peace process, in reference to the general's previous statements saying that had the military intervened the incident would have turned into a full-blown war and kill the peace process with the Moro Islamic Liberation Front (MILF.) 
"Your men were there, dying and you were thinking, ano ang sinasabi ng MILF?" Cayetano asked. Catapang said: "When we're fired upon we have to respond." Cayetano shot back: "Why did you not give that order from the start."
Major General Edmundo Pangilinan, commander of the 6th Infantry Division that has jurisdiction of military forces in central Mindanao, insisted that he made the right call when he put on hold a SAF request for artillery fire support. The military did not have enough information, such as location of the target, when the request was made, Pangilinan explained. 
"Hindi kami nagpapatutok, we didn't have a clear picture [to be able to] provide artillery fire support. It's doctrinal, not judgment," Pangilinan said.  
Senator Antonio Trillanes IV agreed with the AFP, urging them to stick to their doctrine. Had the soldiers misfired and hit SAF troopers that day, Trillanes said the Army would be the one being investigated now. – Rappler.com