Cavite Vice Governor Jolo Revilla's condition is 'deteriorating,' says the Revilla family spokesperson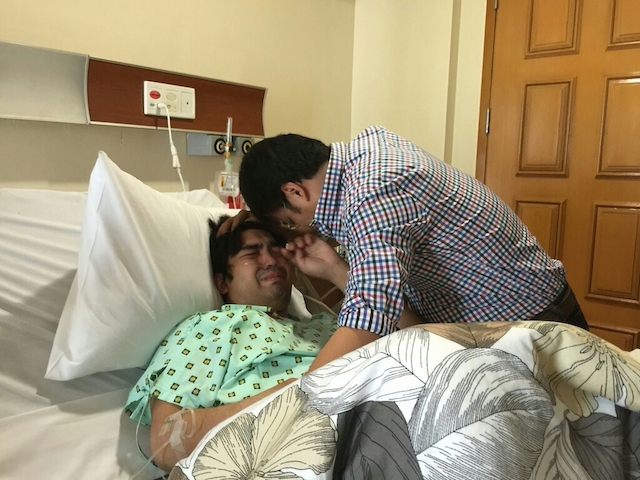 MANILA, Philippines – The first thing that Cavite Vice Governor Jolo Revilla said when his father walked into his hospital room on Tuesday, March 3, was that he was deeply sorry.  
"Nagyakapan sila (They hugged each other). Sabi ni Jolo (Jolo said), 'I'm sorry, Papa. I'm sorry.' Senator [Ramon 'Bong'] Revilla said, It's alright, anak (son), you have to be strong," lawyer Raymond Fortun, spokesperson of the Revilla  family, told reporters outside the Asian Hospital and Medical Center in Muntinlupa City.
The anti-graft court Sandiganbayan allowed the senator to visit his son for 5 hours, or from 3 pm to 8 pm on Tuesday.
Responding to questions, Fortun said that the father and son did not discuss the "circumstances" of the Saturday morning incident that brought the vice governor to the hospital.
He said the family stands by its statement that the vice governor accidentally shot himself on the chest while cleaning his gun in their home on Saturday, February 28.
'Deteriorating condition'
Responding to questions, Fortun said Revilla is in "critical condition" as his health showed signs of  "deterioration."
Fortun said that Revilla's doctors had just discovered a "problem" in his abdomen which would require a CT scan at the earliest time or 8 am Wednesday, March 4.
"So the fact that there are now developing matters happening in Jolo Revilla's body, that gives me the basis to say that his condition is definitely not improving but more to be specific, he is deteriorating," Fortun said.
He said that upon examination by a gastroentorologist, it was discovered that Revilla has "abdominal distention," causing his navel to jut out – a new complication.
"Bottomline is this is a developing situation not present when he was admitted….His condition is critical," Fortun said.
Fortun said that despite his condition Revilla has been moved out of the Intensive Care Unit (ICU) and into a regular room, so he can have more than 3 guests – the maximim number allowed for ICU patients – and also to keep other ICU patients from being inconvenienced.
Fortun also said that the senator wanted to seek court permission to extend his stay at the hospital past 8 pm considering his son's condition, but he advised him that it would be impossible, given time constraints.
"We will be faithful with the order of the court. If there's a need for us to file an urgent motion [we will do it] by tomorrow, and hopefully the court will also grant it," he said. – Rappler.com