'We need to strengthen our institutions,' Manila Archbishop Luis Antonio Cardinal Tagle says as he urges Filipinos to wait for the next elections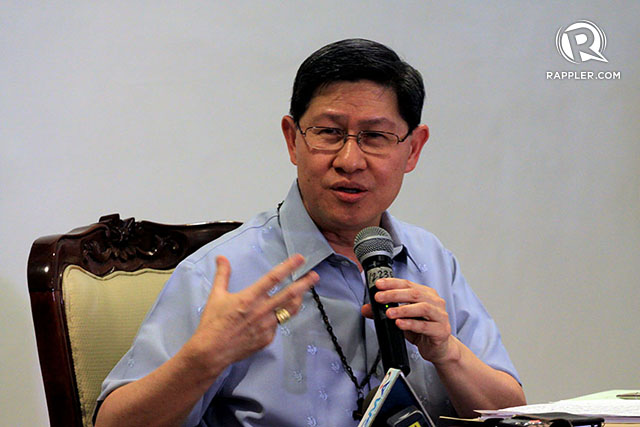 MANILA, Philippines – Questioning a proposed "advisory council" to run the Philippine government, Manila Archbishop Luis Antonio Cardinal Tagle rejected calls for President Benigno Aquino III to resign in the face of his worst political crisis. 
"Kailangan nating pakilusin at patatagin ang ating mga institusyon. Hindi tayo puwedeng nagbabago nang pagano'n gano'n na lamang," Tagle told ABS-CBN News in an interview aired Monday evening, March 9. (We need to mobilize and strengthen our institutions. We cannot always change things that quickly.)
Referring to the presidential elections in May 2016, he added, "Malapit na naman ang eleksyon eh." (The elections are near anyway.)
Tagle, who was in the United Kingdom for a forum, said the country should "let the electoral process and let the people determine" its next leader. He pointed out that Aquino is not seeking reelection.
He also questioned those calling for an advisory council to run the government once Aquino quits. He said, "Sino 'yang mga 'yan, at sino ang bubuo niyan?" (Who are those people, and who will compose that?)
Tagle's call came as religious leaders take different positions on Aquino's biggest controversy: the police operation in Mamasapano, Maguindanao, that killed 44 members of an elite police force, 18 Muslim rebels, and at least 3 civilians. (READ: Did heaven send Aquino a message?)
Evangelical leaders such as Brother Eddie Villanueva, on one hand, held a prayer meeting on Monday in the presidential palace, Malacañang, to defend a "constitutional presidency."
On the other hand, the National Transformation Council (NTC), which includes at least 6 bishops, earlier urged Aquino and his entire administration to step down. This "will allow a non-partisan transitional council to take over," the NTC said.
The Philippines' Department of Justice (DOJ) warned the NTC for proposing or conspiring "to commit the crime of coup d'etat."
Bishops for a 'moral basis' 
Facing the DOJ's threat, the NTC denied it is planning a coup, and introduced the group to reporters on February 26.
NTC member Norberto Gonzales – a defense secretary and national security adviser under former president Gloria Macapagal Arroyo – said the NTC has no leader but works as a "collegial" body. He also told Rappler the NTC has no single financier, but funds its activities by pooling its members' resources. 
Members of the NTC include Renato Corona, an Arroyo-appointed chief justice who was later dismissed, and Francisco Tatad, a press secretary under dictator Ferdinand Marcos.
Gonzales also claimed that religious leaders provide a "moral basis" for the NTC. (READ: Bishops split on 'moral basis' for Aquino to quit)
One of the bishops in the NTC is Lipa Archbishop Ramon Arguelles, who has slammed Aquino on key issues such as the Reproductive Health law. (READ: Anti-Aquino bishop: Ready for prison if guilty)
The Catholic Bishops' Conference of the Philippines, for its part, has rejected "extra-constitutional measures" that "will only visit more harm and misery on our people."
In a separate statement, Cebu Archbishop Jose Palma said the Catholic Church "respects the opinions and sentiments of the citizens who are calling for the President's resignation."
"However," Palma said, "the Church is not in the position to issue such political statements for it is beyond her competence." 
Religious leaders had invoked a "moral basis" in previous moves to oust Philippine presidents. Tagle's predecessor, the late Manila Archbishop Jaime Cardinal Sin, used his influence to oust Marcos in 1986 and Joseph Estrada, eventually a convicted plunderer, in 2001. – Rappler.com