Government should look into Palparan's personal history to look for clues on his whereabouts, says Lacson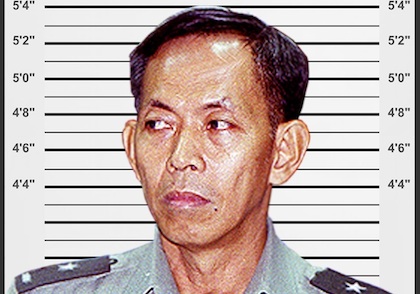 MANILA, Philippines – Once a fugitive, Sen Panfilo Lacson offered the government advice on how it can find the elusive retired Maj Gen Jovito Palparan.
Lacson said the government should tap its intelligence network to look into Palparan's personal history and background. "These information will lead to clues on his whereabouts," Lacson said.
"Eat Palparan for breakfast, eat Palparan for lunch, eat Palparan for dinner, at kung puwede sa snacks, eat Palparan na rin," said Lacson. "There's a wealth of data available para masundan mo kung saan siya puwedeng pumunta," he said.
Palparan has been hiding since December 2011, when a Bulacan regional trial court issued a warrant of arrest against him in connection with two cases of kidnapping and serious detention for the 2006 disappearance of students Sherlyn Cadapan and Karen Empeno.
Lacson himself went into hiding for 14 months, from January 2010 to March 2011, to evade the arrest warrant issued by Manila court in relation to the November 2000 murder of publicist Salvador Dacer and driver Emmanuel Corbito. He resurfaced after the Court of Appeals lifted the arrest warrant.
Persecution?
Lacson maintained that he's innocent of the murder charges filed against him. He said he hid from authorities to avoid persecution by the previous administration of Gloria Macapagal-Arroyo.
Palparan, too, cited the supposed persecution against him by "Leftist allies" of President Aquino.
In his last interview before he went into hiding, Palparan told Rappler: Ilalagay mo ba sarili mo sa alanganin? Ang daming threat sa akin." (Would I expose myself to trouble given the threats against me?)

The retired general recalled that previous reports have described him as a "dead man walking." The threat got worse since the Aquino administration was allied with the Left, he said.
Earlier in July, anti-Communist ANAD partylist Rep Pastor Alcover advised Palparan to stay in hiding. Citing the release of the so-called Morong 43 activists, Alcover said Palparan will not get a fair trial under Justice Secretary Leila De Lima.
Gabriela partylist Rep Luzviminda Ilagan said they are considering filing an ethics case against Alcover. – Rappler.com