[UPDATED] Proposed operating funds are double this year's level, while funds for facilities and equipment will increase by 1,671%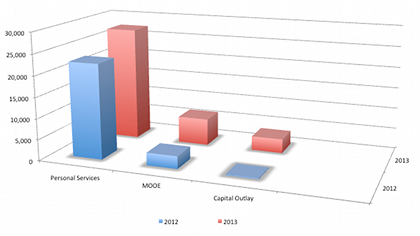 MANILA, Philippines – The budget of state universities and colleges (SUCs) will increase by almost 50% — from P25.85 billion in 2012 to P37.12 billion in 2013 — if Congress approves President Benigno Aquino III's proposed budget for next year.
Budget items that will substantially increase are funds for maintenance and other operating expenditures and capital outlay.
Operating funds will be double this year's level — P6.42 billion in 2013 from P3.42 billion in 2012. 
Funds for capital expenditures, which finance the construction of facilities and purchase of equipment, will increase by a whopping 1,671%. The proposed number for 2013 is P3.365 billion, which is a big jump from the miserable P190 million in 2012.
The budget for salaries and benefits of teachers and other personnel in the SUCs, on the other hand, will increase by 20.6% — to P27.333 billion in 2013, from P22.661 billion in 2012.
The increase in budget for personal services will support the implementation of the 4th tranche of the Salary Standardization Law III, which will raise the salaries of SUC teachers and staff.
Promoting access, quality
In a press release, Budget Secretary Florencio B. Abad said the budget hike for SUCs is designed to strengthen SUC performance and improve student welfare through better infrastructure.
"In preparing the SUC budget for 2013, we were instructed by President Aquino to concretize the roadmap for higher education as part of this Administration's reform agenda. This way, the delivery of higher education will be more efficient and accessible," Abad said. 
Abad explained that the roadmap will also allow SUCs to develop their students' capabilities and prepare them better for the workforce.
The increases will help bolster institutional improvements, research initiatives, extension services, and the quality of instruction across all SUCs, according to Abad.
"Improvements in teaching quality and the establishment of quality assurance systems in SUCs are attainable not just through better compensation for our teachers," the Budget Secretary said. 
Support for centers of excellence
Fund support in the proposed budget, according to Abad, will be based on a set criteria to bolster rationalization efforts in SUCs, so that more programs and courses respond directly to growing industry demands.
The rationalization of SUCs entail the mapping out of leading universities in all regions, centers of excellence, as well as centers of development. 
Besides developing high-level professional disciplines or courses demanded by the market, the rationalization plan will also align college academic programs according to SUCs' leading regional industries.
One key problem of previous years is the lack of support for capital outlay which finances the purchase of equipment and facilities.  
"The Aquino administration recognizes the severe need for capital outlay support in SUCs," according to Abad. 
The budget boost, he said, "will jumpstart developments in infrastructure and enable SUCs to acquire laboratory equipment and other necessary facilities to boost their competitiveness and academic capacities."
UP budget
The University of the Philippines System, the country's premier state university, will also get a substantial budget increase — an additional P3.9-billion in 2013 on top of the level for the current year. 
This will raise the total 2013 allocation of the UP System to P10.0 billion. 
The UP System is also getting a substantial boost in funds for equipment and facilities (capital outlay).  Under the 2013 budget for all UP campuses, CO support will increase from P190 million in 2012 to P1.45 billion.
The proposed allocation for Personal Services for UP in 2013 is at P6.5 billion, up by P1.2 billion from this year (note: PS does not include unfilled positions).
On top of this, MOOE activities under UP will receive a 188.2-percent boost amounting to P2 billion, which will cover research and other related activities for the university's nationwide campuses. 
The remaining amount will be devoted to retirement and life insurance premium support for faculty and staff. – Rappler.com
Click on the links below for more: