(UPDATED) The filing of certificates of candidacy for city mayor is on April 21 and 22, while the campaign period is from April 23 to May 6.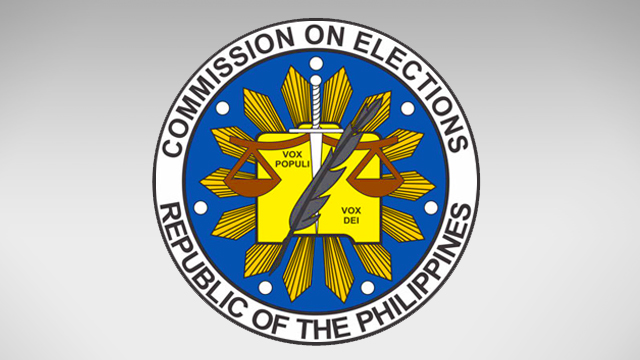 MANILA, Philippines (UPDATED) – The Commission on Elections (Comelec) has scheduled for May 8 the recall elections in Puerto Princesa City, Palawan, where voters will decide whether to replace Mayor Lucilo Bayron.
It was confirmed by Comelec spokesperson James Jimenez in a phone interview with Rappler on Monday, April 6, saying that the poll body agreed on the calendar of activities for the recall elections during its en banc session.
The filing of certificates of candidacy for city mayor will be on April 21 and 22, according to Comelec Resolution 9942, promulgated on Tuesday​, April 7. ​Mayor Bayron will automatically be a candidate in the recall election.
The campaign period will be from April 23 to May 6.
On election day, May 8, polling precincts will be open from 7 am to 3 pm.
The gun ban and a prohibition on the suspension of any elective official, among others, will be enforced in the city during the entire election period​, from April 20 to May 18.
Other bans like the appointments ban, a public works ban, and a ban on the release of public funds during the campaign period and on election eve are ​also prescribed in Comelec Resolution 9942.
The Comelec has around a month to prepare for the recall polls, set a year and a day before the next national and local elections on May 9, 2016.
"Matagal na naming alam na may possibility [na matuloy ang recall election na ito], so handa na kami sa kung anong mga gagawin," said Jimenez. (We already know that there is a possibility for this recall election to happen, so we're ready for it.)
For the recall elections in Puerto Princesa, the Comelec will use all forms and supplies originally set aside for the postponed 2013 Sangguniang Kabataan (SK or youth council) elections, as well as excess and available election paraphernalia from the midterm and barangay elections in 2013, and other previous polls.
In addition, the Comelec ruled that the ongoing voter's registration in Puerto Princesa City for the 2016 polls will be suspended from April 20 to May 17.
ANC's Beyond Politics host Lynda Jumilla tweeted the news on Monday, after her interview with acting Comelec Chairman Christian Robert Lim for the show.
On March 30, the Comelec dismissed an appeal by Puerto Princesa City Mayor Lucilo Bayron, who assailed the process of verification of signatures and thumbmarks on the recall petition against him.
The poll body also affirmed the validity of 22,326 signatures in the petition, which was initiated by former city information officer Al Roben Goh in March 2014.
Goh sought the recall of Mayor Bayron due to "loss of trust and confidence" in him, following the alleged deterioration in the peace and order situation, the city's poor tourism performance, and other governance issues.
Bayron protested the "railroading" of the recall petition and claimed it was "bogus," citing reports of irregularities in the petition. – Rappler.com