'Please don't kill my sister. She is innocent'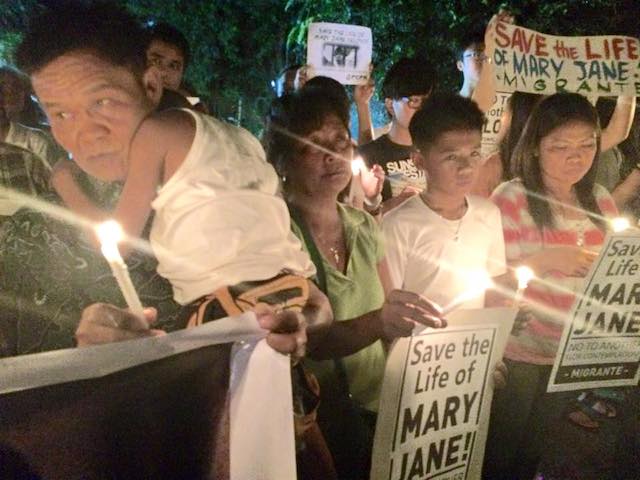 MANILA, Philippines – The family of Mary Jane Veloso, a Filipina on death row in Indonesia, made a tearful appeal for her life on Wednesday, April 8.
"Please don't kill my sister. She is innocent. If you kill her, you will have blood on your hands," Veloso's elder sister Marites Veloso-Laurente told Agence France-Presse in a plea to Indonesian President Joko Widodo
The 30-year-old mother of two was arrested, tried, and sentenced to death in 2010 for attempting to smuggle 2.6 kilograms of heroin into Indonesia.  (READ: FAST FACTS: The case of Mary Jane Fiesta Veloso)
Indonesia is known for its tough stance in implementing capital punishment. It has been criticized for rejecting appeals of foreign governments to spare their citizens on death row, while making similar requests to other countries where Indonesians face the same fate.
But Veloso's family claims she is a victim of an international crime syndicate that uses innocent women to traffic drugs around Asia. (READ: A slow death for family of Filipina on Indonesia's death row)
"We beg you, Mr Indonesian president, if my daughter was involved in drugs, we wouldn't be this poor," Veloso's father, 59-year-old Cesar, told Agence France-Presse in Manila.
Arrest Mary Jane's 'trafficker'
The global network of overseas Filipino workers Migrante International also urged the Philippine government to hunt down Veloso's alleged recruiter and trafficker Maria Kristina Sergio.
Sergio was allegedly responsible for recruiting Veloso to Malaysia before duping her into carrying a luggage filled with heroin to Indonesia. Sergio is the live-in partner of Veloso's god-brother.
"Hindi namin maintindihan kung bakit hindi mahuli-huli iyang si Tin-tin (Sergio). Ilang beses nang inikutan ng mga PDEA (Philippine Drug Enforcement Agency) iyong kanilang bahay sa Talavera pero wala naming ginagawa," Veloso's mother, Celia, told the press. (We don't understand why Sergio has not been arrested. Her house in Talavera, Nueva Ecija province, has been under surveillance by PDEA for quite some time.)
"Sinabihan kami niyang si Tin-tin na huwag daw kaming lalapit kahit kanino at huwag daw kaming magpapa-media dahil kung gagawin daw namin iyon ay mamamatay si Mary Jane at kami ring pamilya ay iisa-isahin. Malaking sindikato daw po sila, internasyunal daw po," she added. 
(Sergio told us not to ask the help of anyone including media, warning us that Mary Jane and us, her family, will be killed one by one if we do. She claimed they're a big, international syndicate.)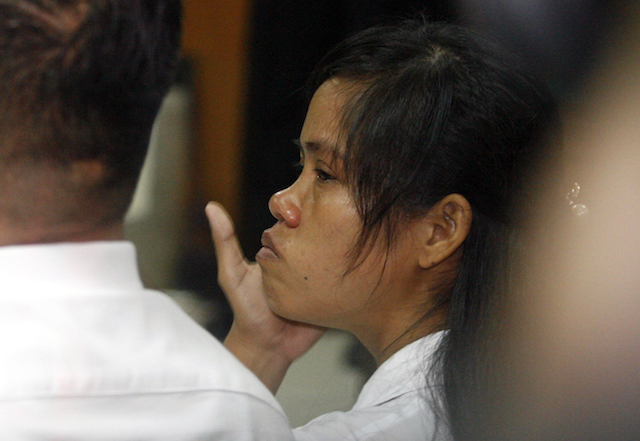 Legal and diplomatic means
The Philippine government is exhausting all remedies to save the Filipino worker, Presidential Spokesperson Edwin Lacierda said, reiterating the statement of the Department of Foreign Affairs.

"The Philippine government has exerted and continues to exert all legal and diplomatic means to save the life of Ms Veloso, including the President sending letters to his Indonesian counterparts, former President Yudhoyono and President Widodo for clemency," Lacierda said on Wednesday. 
On February 9, Aquino raised Mary Jane's case with Jokowi, who was on his first state visit to the Philippines. Later that same month, on February 19-21, the government also helped Veloso's mother, sister, and two children visit her in jail in Yogyakarta.
"DFA also facilitated PDEA team visit to Mary Jane to secure information on possible drug syndicate behind the transport of drugs found in her possession," Lacierda said. 
The Philippine government said Wednesday, April 8, it would file a second appeal. 
Global day of action to #SaveMaryJane
The Veloso family is holding a week-long series of activities for the campaign to save Mary Jane's life. On Wednesday, they visited the Indonesian embassy in Manila to lodge a letter appealing to Widodo for mercy. Other activities they plan to hold with Migrante include the following:
Mass and vigil at Plaza Miranda (Thursday, April 9, 4 pm)

March from Bustillos to Mendiola Bridge (Friday, April 10, 10 am)
Migrante also declared April 9 as the Global Day of Action for the #SaveMaryJane campaign. The group's chapters in Hong Kong, Canada, Europe, and Australia will troop to Indonesian embassies to appeal for clemency for Mary Jane.
Migrante called on the Philippines and the international community to help save Mary Jane Veloso, an overseas Filipino worker (OFW) sentenced to death through firing squad in Indonesia. (READ: 3 ways to help save #MaryJane from Indonesian death row) 
Aside from Veloso, convicts from Australia, Brazil, France, Ghana and Nigeria are set to face a firing squad after they had their requests for presidential clemency rejected.
According to Migrante, there are at least 125 more OFWs on death row in other countries where capital punishment is also imposed like China and Saudi Arabia.
The death penalty was abolished in the predominantly Catholic Philippines in 2006. – with reports from Agence France-Presse/Rappler.com