The alleged pork barrel scam mastermind is moved to the women's prison early Thursday, after the Sandiganbayan denies her request to stay at Camp Bagong Diwa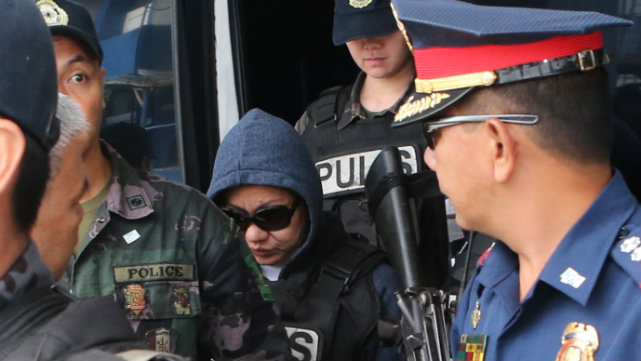 MANILA, Philippines – Two days after she was found guilty of serious illegal detention, alleged pork barrel scam mastermind Janet Lim Napoles was brought to the Correctional Institution for Women in Mandaluyong City early Thursday, April 16.
Napoles, who had been detained at Camp Bagong Diwa in Taguig City, was moved to the women's prison past 1 am, escorted by members of the Bureau of Jail Management and Penology (BJMP).
On Tuesday, April 14, the Makati Regional Trial Court Branch 150 ordered Napoles' transfer after she was found guilty of illegally detaining Benhur Luy, her relative and former assistant who became the whistleblower on the misuse of billions of lawmakers' funds.
Judge Elmo Alameda sentenced Napoles to reclusion perpetua or a jail term of up to 40 years.
The anti-graft court Sandiganbayan, which is hearing separate plunder and graft charges against Napoles over the pork barrel scam, earlier denied her request to stay in Camp Bagong Diwa.
On Wednesday, April 15, the Sandiganbayan's 3rd Division granted the motion of the BJMP to transfer Napoles to the correctional institution "in light of the supervening events of her conviction by the Regional Trial Court in Makati."
The sherriff from the Sandiganbayan arrived in the Taguig jail around 10:30 pm Wednesday with the resolution ordering Napoles' transfer, according to BJMP spokesperson Aris Villaester.
"After securing all her documents and conducting all her medical and physical examination, the BJMP immediately caused her transfer to the Correctional Institution for Women," Villaester said.
Napoles and her brother Reynald "Jojo" Lim are accused of detaining Luy from December 2012 to March 2013 after the two discovered Luy was dabbling into the same business of Napoles – tapping into lawmakers' pork barrel funds through fake non-governmental organizations. (READ: Napoles to Benhur: You stole my PDAF)
Government agencies later found Luy at the posh Pacific Plaza Towers in Taguig owned by Napoles.
In its decision, the Makati RTC said the prosecution was able to establish that Luy was illegally detained, and that Napoles ordered his detention.
Meanwhile, the case against Lim, who remains at large, has been ordered archived.
Napoles surrendered to President Benigno Aquino III on August 28, 2013, after a P10-million bounty for her arrest was announced.
Luy, a cousin of Napoles, was her longtime assistant before he eventually became the principal witness in the plunder complaint filed against her. –Katerina Francisco and Bea Cupin/Rappler.com