Several lanes along Osmeña Highway in Makati and Araneta Avenue in Quezon City will be closed for a week-long traffic dry run starting 6 am, Saturday, April 18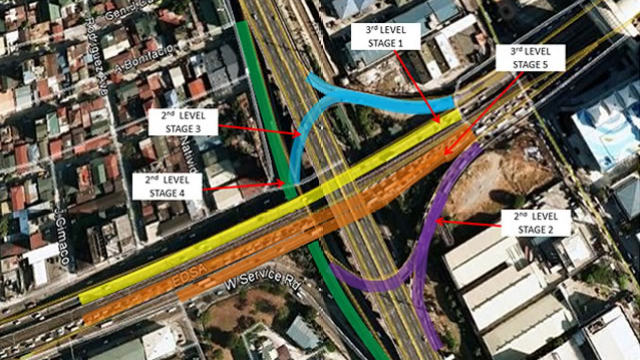 MANILA, Philippines – For one week beginning Saturday, April 18, several lanes along Osmeña Highway in Makati City and Araneta Avenue in Quezon City will be closed to motorists for the traffic simulation in the ongoing construction of the Skyway Stage 3 project.
Citra Central Expressway Corporation (CCEC), the proponent of the 14.8-kilometer elevated expressway project, said on Friday, April 17, that it will conduct a week-long traffic simulation beginning 6 am on Saturday.
"CCEC will soon start its construction mobilization for Skyway Stage 3 in Makati and Quezon City which necessitates lane reduction to board up the work site at the road median," the company said.
In Makati, the traffic dry run will be conducted along a 200-meter stretch of Osmeña Highway below the Skyway Buendia section, between columns S1-001 and S1-004.
In Quezon City, the simulation will affect a 365-meter portion of Araneta Avenue between Imelda Street and E. Rodriguez Boulevard.
TRAFFIC DRY RUN ALONG OSMEÑA HWY IN MAKATI, ARANETA AVE. IN QUEZON CITY @MMDA @TRBSAFE @MakatiInfo @qclocalgovt pic.twitter.com/JpcYcj0pCs

— Skyway Stage 3 (@SkywayStage3) April 17, 2015
For the dry run in Makati, only two southbound and northbound lanes will be open to motorists. The innermost northbound lane will be closed to traffic.
Vehicles going to Quirino Avenue and Nagtahan via Buendia Flyover are advised to stay on the left lane.
Meanwhile, motorists heading to the Makati central business district, Chino Roces, and Buendia Avenue should keep right.
In Quezon City, the 4 standard southbound lanes and 3 standard northbound lanes will be reduced to 3 substandard 2.5-meter-wide lanes.
The Skyway Stage 3 project will run from Buendia in Makati City to Balintawak in Quezon City, connecting the South Luzon Expressway and the North Luzon Expressway.
Once completed, travel time from the north to the south of Metro Manila is expected to decrease from 2 hours to 20 minutes. 
The construction of the project began in February 2014. It is expected to be completed in April 2017, but an accelerated plan may mean completion as early as mid-2016. (READ: Alternative routes as Skyway construction starts)
CCEC said the week-long dry run aims to "assess the traffic behavior in the areas prior to the implementation of the final traffic management that may require some adjustments." 
The CCEC traffic management group is coordinating with the Metropolitan Manila Development Authority (MMDA) and the traffic units of Makati and Quezon City for the simulation. – Rappler.com