(UPDATED) President Aquino's much-applauded 3rd State of the Nation Address shows he has consolidated his hold on both houses of Congress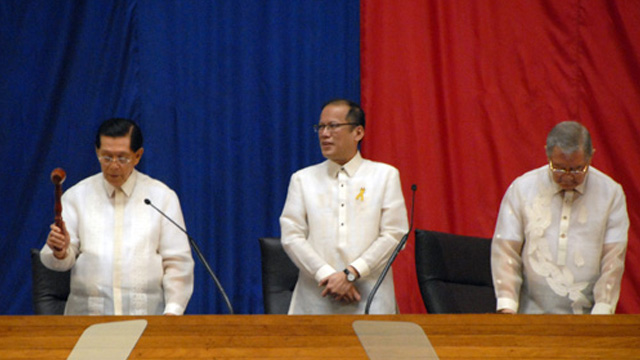 MANILA, Philippines (UPDATED) – The Philippines has ceased to be the sick man of Asia, President Benigno Aquino III declared on Monday, July 23, as he trumpeted his administration's achievements in the economy and in providing basic services to Filipinos.

In his 3rd and much-applauded State of the Nation Address (SONA), President Aquino cited the policy changes he has implemented the past year, such as increasing the budget for education, health, housing and cash transfers for the poor. (Read his full speech here.)
"What was once the sick man of Asia now brims with vitality," the President said. "When we secured our first positive credit rating action, some said it was pure luck. Now that we have had eight, can it still just be luck? When the Philippine Stock Exchange Index first broke 4,000, many wondered if that was sustainable. But now, with so many record highs, we are having trouble keeping score: For the record, we have had 44, and the index hovers near or above 5,000. In the first quarter of 2012, our GDP grew by 6.4 percent, much higher than projected, the highest growth in the Southeast Asian region, and the second only to China in the whole of Asia."
He cited the fact that in the past "we were the debtors; now, we are the creditors, clearly no laughing matter."
It was apparent in the way his speech was interrupted by at least 100 rounds of applause — and sometimes cheers — that the President has clearly strengthened his hold on both houses of Congress.
The President said he promised change when he took his oath as President. Now, he said, change is the "norm."

He urged the final approval of the sin tax bill that aims to generate more revenues from cigarettes and alcohol. The House of Representatives has already passed it on final reading; the bill now needs the approval of both Congress.
If approved, the so-called sin tax bill is expected to generate P32-B in revenues annually.
The President stressed his government's efforts to increase the number of school buildings and classrooms, but expressed the hope that the backlog won't increase. "Responsible parenthood ang sagot dito (Responsible parenthood is the answer to this)," he said, alluding to the Reproductive Health bill that has been pending in both houses of Congress. This remark got the loudest applause from the audience.
He also called on Congress to approve the remaining amendment to the Anti-Money Laundering Act, which expands the list of covered institutions, broadens the definition of money laundering and increases the list of predicate crimes.
The President was however silent on the other pending bill in Congress, the Freedom of Information Act, which was among his campaign promises in June 2010.
Bayan Muna Rep said the President's SONA was packed with "rosy details" that were not felt by key sectors of society. He said he was hoping for a "big picture" from the President.
The President said his government intends to modernize the military, citing plans to buy new airplanes and equipment for the Armed Forces of the Philippines. "We are not doing this because we want to be an aggressor, we are not doing this because we want escalation. This is about keeping the peace. This is about protecting ourselves—something that we have long thought impossible," Mr Aquino explained.
China needed to "respect" the Philippines' rights as a nation, he said. (Read more about this here.)
The President also expressed confidence that a peace agreement with the Moro Islamic Liberation Front will be signed soon. "Malapit na nating makamit ang nag-iisa nating mithiin: kapayapaan," he said. – Rappler.com