With a budget of P100 million, the health department will launch in August a school-based immunization program that will vaccinate millions of students against tetanus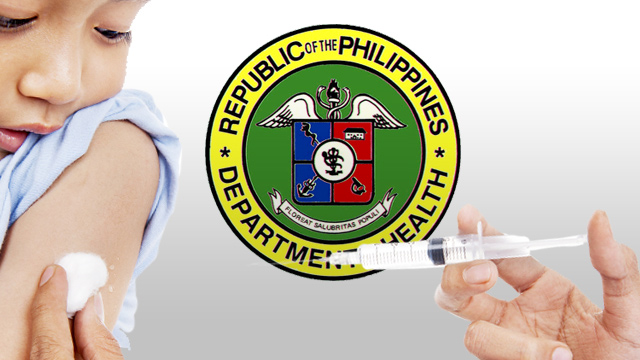 MANILA, Philippines – The Department of Health (DOH) will roll out a school-based immunization program in August to give students "lifetime immunity" against tetanus.
Health Secretary Janette Garin revealed this during the Usapang Bakuna forum led by pharmaceutical company MSD on Tuesday, April 21.
"One of the innovations of the Department of Health now, aside from child immunization and senior citizen immunization…in between will be the adolescent and school-based immunization," Garin shared.
With a program budget of P100 million ($2.26 million), the DOH will give the tetanus-diphtheria (TD) vaccine to 2,403,302 grade 1 students starting August.
In addition to this, a total of 1,674,371 grade 7 students will also get vaccinated against measles, rubella, tetanus, and diphtheria (MRTD).
According to the World Health Organization (WHO), tetanus is acquired when the spores of the bacterium Clostridium Tetani infect a wound or a newborn's umbilical stump. People of all ages can get tetanus, but it can be prevented through immunization.
Garin said giving TD and MRTD vaccines to students is crucial, especially in a disaster-prone country like the Philippines. 
"'Di ba kapag may calamities – may earthquake, may bagyo – magtatakbuhan 'yung mga pasyente 'pag nasugatan para mag-inject ng anti-tetanus, [but] in fact you can actually prepare for it," she said.
(During calamities – earthquakes or typhoons – wounded patients run to hospitals to get anti-tetanus shots, but in fact you can actually prepare for it.)
On top of the 3 doses of tetanus vaccine given during the first year of life, the booster shots to be given as children reach grades 1 and 7 "will give…lifetime immunity during calamities."
"Magpapadagdag ka lang, pero 'di ka na tatakbo, ['di na] hahabulin yung 24 hours because you are already protected," she added.
(You can just get an additional shot, but you don't have to rush to the hospital 24 hours after getting wounded because you are already protected.)
But DOH's anti-tetanus program is one dose short compared to the WHO's prescription for a lifetime protection against the disease, which includes: 
3 doses of diphtheria/tetanus/pertussis vaccine in infancy

Tetanus-toxoid (TT)-containing booster at school-entry age (4 to 7 years old)

TT-containing booster in 

adolescence (12 to 15 years old)

TT-containing booster in

 early adulthood
Tetanus is one of the vaccine-preventable diseases included in DOH's Expanded Program on Immunization. 
The school-based immunization program that will begin in August will also include giving human papilloma virus (HPV) vaccine to 300,000 female, grade 4 students in the 20 poorest provinces in the country. – Rappler.com
*US$ 1 = P44.25
Kid's tetanus shot image via Shutterstock