The ruling Liberal Party expects to beat Roxas' low survey numbers with Aquino endorsement, party machinery, and partnership with Senator Grace Poe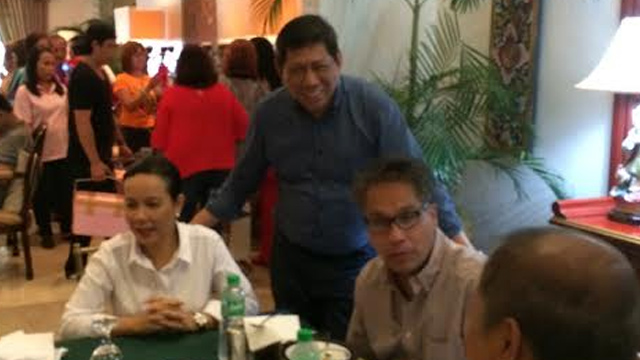 MANILA, Philippines – In the end, the 2016 presidential race will be reduced to a one-on-one fight between the ruling Liberal Party's (LP) presumptive bet Mar Roxas and Vice President Jejomar Binay.
That's the fearless forecast of LP political affairs adviser and Caloocan Representative Edgar Erice, even as survey figures show otherwise.
But Erice who spoke to Rappler on Monday, April 20, said he is confident that Roxas, who's lagging behind in presidential preference surveys, will be able to catch up.
One perfect example is Binay himself, who surged in the surveys later in the campaign during the 2010 national race.
"My wild guess…it will be a one-on-one," Erice said, referring to Roxas and Binay. As to other prospective presidential candidates, Erice casually dismissed them. "The Third Force will always land third."
Latest Pulse Asia survey results released last March showed Binay holding sway with 29 percentage points despite being dragged into several corruption issues, with neophyte senator Grace Poe getting 14 percentage points, but holding on to second place in presidential preference.
Manila Mayor and former president Joseph Estrada and Davao Mayor Rodrigo "Rody" Duterte are locked in third place with 12 percentage points each.
Roxas, the current Local Government Secretary, is in 6th place with only 4 percentage points, 2 points lower compared to a survey conducted in 2014.  
But to Erice, "they survey is the least of our problem." He cited the case of Binay "who was only 2 points" at the early start of the campaign in 2010.
Erice said Roxas' numbers are expected to rise once President Aquino anoints him as his preferred successor in 2016. The President, he assured, will be active in campaigning for Roxas. "He will do whatever he can that the successor will come from LP."
Erice also said the LP, "which is the strongest party in terms of machinery" will be fully behind Roxas.
He said Roxas will resign from the cabinet the moment Aquino anoints him his successor. Aquino's satisfaction ratings have declined however as a result of the Mamasapano bloodbath. The latest net satisfaction rating of the Aquino administration dropped to an all-time low to 19 percent.
Favored VP partner
Analyzing the political configuration, Erice sees a tandem forming between Roxas and Poe as a natural progression.
"It is the writing on the wall, Mar and Grace," Erice said, in reference to a Biblical narrative of Daniel interpreting the handwriting on the wall while Babylonian King Belshazzar was hosting a feast. Daniel predicted the downfall of the Babylonian king. 
Poe has played coy about her political intentions for 2016. Supported by both the LP and the opposition United Nationalist Alliance, Poe topped the senatorial race in the midterm 2013 polls.
On Tuesday, April 21, however, Poe pointed out she has not received any direct offers from either Roxas or the LP.
In a text message, she said, "There has been no formal offer from them," adding, "It's hard to interpret feelers that are not direct to the point. I cannot comment on the possibilities because Sec Mar himself has not publicly declared his intentions."
Her high numbers in surveys have made her the number one choice of political strategists and tacticians as running mate of their presidential wannabe clients. In an earlier podcast interview, Angelito Banayo, who works for Duterte, said Poe is the perfect running mate. 
Will Poe follow the footsteps of broadcaster Noli de Castro, who topped the senatorial race in 2001 and who went on to win the vice presidency in 2004?
Several sources have said Poe has supposedly committed to support the vice presidential bid of Senator Francis Escudero, who placed fourth in the 2013 senatorial race. In 2010, Escudero set his eyes on the presidency, only to back out following a rift with his former party, the Nationalist People's Coalition.
The sources said Poe wants to repay Escudero for helping her in her 2013 senatorial campaign, which she topped.
Erice said the LP has started courting Poe as Roxas' running mate. – Rappler.com