All that Erlen Mahilum wanted to do was write poetry, songs, fiction – even late into the night. So she scored low in academics and often fell asleep in class.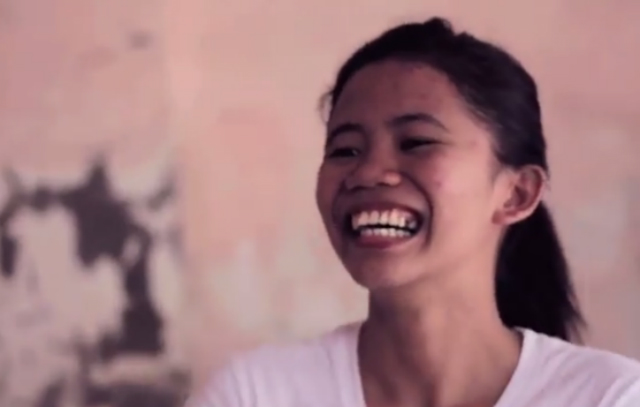 MANILA, Philippines – Growing up, all Erlen Mahilum wanted to do was to write.
She was never good at school anyway, and even if she tried hard to understand her math and science lessons, "wala namang pumapasok sa utak ko (my brain was not absorbing anything)."
If she's not sleeping in class, the 16-year-old would be daydreaming, or doodling, or writing her next poetry, song, or story. She wrote even at her Rizal home, late at night, by the candlelight, so her mom won't find out she was still awake. 
"A life without writing is just unthinkable, so I focused my whole life on writing. But that caused me to have low scores in my quizzes, [and] my grades [went down]," Erlen said on Tuesday, April 28, during Silid Aralan's Turd Talks, which was patterned after the inspirational conference series TED Talks. 
It wasn't easy with the writing business either. Hoping to qualify for Tagumpay National High School's student publication, she kept sending sample articles only to be turned down multiple times.
But since she was 9 years old, volunteers at non-governmental organization Silid Aralan have been teaching her to love the process of learning, including its highs and lows. (READ: To educators: Teach kids how to keep learning)
So Erlen tried harder. She joined and won an English writing contest, where she competed against writers from the school newspaper.
Winning the contest boosted her confidence. Soon after, she started writing her first novel, with the guidance of no less than students from Yale University, which partnered with Silid Aralan to mentor kids through e-mail, Skype, and Facebook.
"The draft of the first chapter of my novel was sent back to me bloody – filled with so many corrections, you'd pity the paper – but then I actually loved it, it was nice because I learned from it and it pushed me to do even better with every chapter," Erlen shared.
A learning eco-system
People still get surprised whenever Silid Aralan founder Arcie Mallari talks about his organization, which helps low-performing kids like Erlen. To date, thousands of volunteers or "co-learners" support 3,500 students all over the Philippines whose grades are below 80.
Every volunteer handles a maximum of 20 learners, and inside Silid Aralan, they don't replicate traditional school by teaching subjects like math and science. (READ: Blended Learning: Education beyond the classroom)
"Nothing is beyond reach – not even the sky. If you have a dream, you got to hold on to it and work hard for it."

 
Instead, their "co-learning" technique includes the use of music, arts, sports, games, and stories to instill a love for learning. 
They urge students to go outside and observe their communities, so that these young kids can create possible solutions to society's most pressing problems. 
"For years, we've been investing our money, our resources, our selves to only the 20% of the total population," Mallari said, referring to kids whose grades are 80 and above.
"If you want to make a difference, then you have to get the majority, the 80%, and in so doing, create change in this country," he added. 
While it is still hard to convince people that investing in low-performing students is a worthy cause, Mallari said the numbers don't lie.
Eight years since they started in 2007, half or 50% of Silid Aralan learners graduated in the top 10 of their class. Their high school graduates all pursued higher learning whether in a college, a university, or a technical-vocational institution.
That includes Erlen, who will soon be an Iskolar ng Bayan.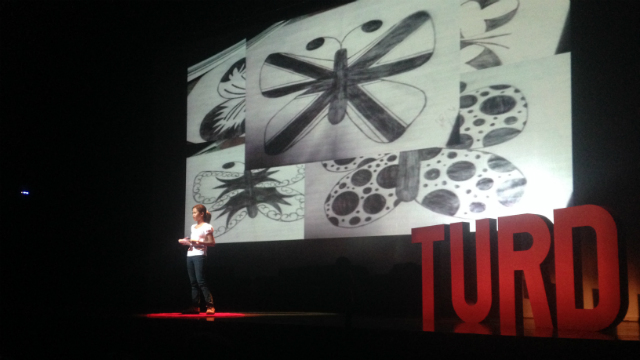 A universe of possibilities
Erlen's dream school has always been the University of the Philippines (UP), but with her consistent low grades, no one believed she could get in – not even herself.
"Paano ako makakapasok ng UP? Hindi nga ako natatanggap sa school paper staff, ang bababa pa ng grades ko. Aasa pa ba akong pumasok sa UP? Parang walang patutunguhan buhay ko," she said on Tuesday.
(How can I get into UP? Our school paper staff won't even accept me, and my grades are very low. Do I still hope to get into UP? I felt then like my life is going nowhere.)
Despite her doubts, she still took the UP College Admission Test (UPCAT) exam in 2014. Out of the 50 Tagumpay National High School students who took it, only Erlen passed the competitive exam. 
She may be the top 55 of her class – the 3rd to the lowest-ranking student – but she still qualified for UP Open University's 4-year undergraduate course in Education Studies.
Erlen was never good at school, but she vowed she would become a UP summa cum laude. Mallari said someone is already interested to sponsor her in college.
She also graduated from high school as one of the feature editors of her school newspaper. As for her novel, it's already being edited by people from Yale. She plans to have it published, so she can work on the next one. 
"Nothing is beyond reach – not even the sky. If you have a dream, you got to hold on to it and work hard for it. Be braver, dream, and shine through the darkest times of your life, and believe in the beauty of your dreams, because there would be a colorful universe of possibilities waiting for you," Erlen said. – Rappler.com
Know more about Silid Aralan here.