Talking to reporters in a flight from Ottawa to Toronto, Canada, President Benigno Aquino III says he believes he still has some endorsement power, judging from the unrelenting 'vociferous' attacks of his critics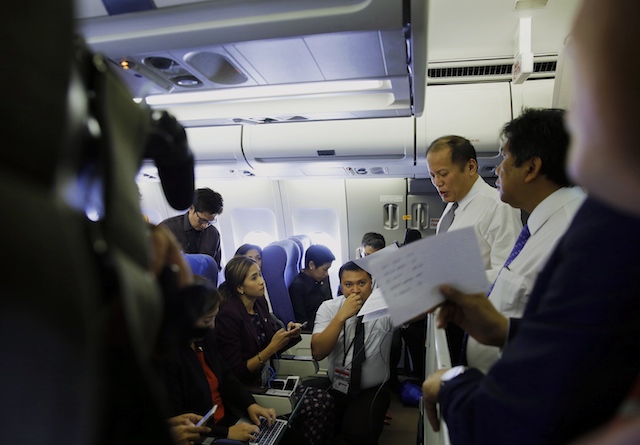 MANILA, Philippines – President Benigno Aquino III has revealed that he is in discussions with Senator Grace Poe on the 2016 elections, though nothing has been finalized yet.
The President confirmed his "recent discussion" with the senator in response to questions  from Philippine media on Friday, May 8, during a chartered Philippine Airlines flight from Ottawa to Toronto in Canada, where he is on a state visit.
Asked if he had ever met or called Poe on a possible bid for president or vice president under the administration banner, Aquino said: "We had a discussion recently. I'm not at liberty at this point in time to divulge details of the same. May commitment ako sa kanya (I have a commitment to her) when to announce it, what exactly to announce."
On whether he is tapping Poe to run for either president or vice president, the President said: "The best way to say it, we broached the idea of continuing the things that this administration has been trying to do. Now, in what capacity, i-fa-finalize 'yon (it will still be finalized). That can also include even campaigning."
Poe said as much in a one-paragraph statement she issued before 9 pm on Saturday, May 9: "The President and I met and he reiterated the importance of selecting a candidate who will continue the programs of reform and good governance. No mention of what particular position." (READ: Grace Poe on talks with Aquino: 'It's a continuing process')
Poe has topped polls on the country's next vice president, and is in a statistical tie with Vice President Jejomar Binay in the 2016 presidential race, based on the results of the latest Social Weather Stations (SWS) survey.
'Open to almost all possibilities'
Aquino said the "very, very broad" administration coalition is in the process of selecting its 2016 candidates. The coalition includes not only the established political parties but also nongovernmental organizations, civil society organizations, and people's organizations, he said.
"At the very least, we owe it to all the partners to get their inputs in determining who should be the one to carry on the [duty] of leading this country," he said in the interview.
Aquino said the coalition had a consultative meeting before he embarked on his trip to the United States and Canada.
When asked, the President said that the coalition is not just looking at potential candidates from the Liberal Party. He also said it is "possible" to get an independent candidate, though did not specify whether this included the presidency.
"I get everybody's inputs – not just the established parties but also the nongovernmental organizations, civil society organizations, and people's organizations," he said.
Asked about a possible tandem between Interior Secretary Manuel Roxas II, the presumed LP standard bearer, and Poe, Aquino said: "I'm open to all possibilities – almost all possibilities. There are those I cannot consider because they cannot continue my reform agenda." (READ: Aquino: Filipinos won't fall for 'two-faced' candidates)
Responding to questions about Roxas' low, single-digit ratings in surveys on potential presidential candidates, Aquino said that if the administration coalition is "preserved and further strengthened, this will boost the campaign of whoever this coalition chooses to support."
"The number one challenge is to keep it [coalition] intact. And keep every  one focused [on continuing the reform agenda]," he said.
'Endorsement power still valuable'
When asked, Aquino said he believed that he still has some "endorsement value" that would help whoever he supports in the 2016 polls, despite his plunging approval and trust ratings.
"If we judge it by the attacks that are still the same, if not even more vociferous, I think even my critics will say that the endorsement value is still present," he said.
Aquino said that the level of attacks – for a president nearing the end of his term – only goes to show that his critics still consider his endorsement power valuable.
"It seems like common sense – if my endorsement value is worthless, why bother spending time continue attacking me? So my critics are saying there's still merit in my endorsement," he said.
Aquino expressed confidence that he would bounce back after suffering his lowest public approval ratings during his presidency, due to public outrage over how his administration handled the Mamasapano clash in Maguindanao.
"We're very confident that the numbers will pick up," he said. – Rappler.com