In a meeting on the eve of his Chicago trip on May 6, President Benigno Aquino III reportedly asks Senator Grace Poe if she can run for vice president, in tandem with Interior Secretary Manuel Roxas II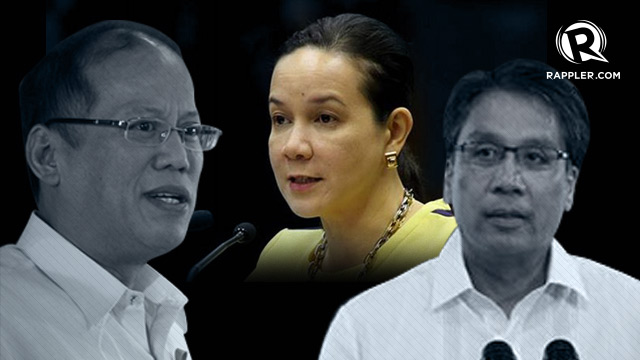 MANILA, Philippines – Will Senator Grace Poe run for vice president in tandem with Interior Secretary Manuel Roxas II in 2016?
President Benigno Aquino III reportedly asked Poe this question when they met on the eve of the Chief Executive's trip to Chicago, Illinois on Wednesday, May 6, a Palace source said.
The source said Aquino asked Poe to decide before next month – the scheduled announcement of his reported endorsement of Roxas' presidential bid.
Poe however, denied this.  "He did not ask me that," she said on Saturday, May 9.
The senator confirmed a meeting with Aquino about the 2016 presidential polls, and admitted that the discussions are ongoing regarding the elections. 
On Friday, May 8, Aquino told Philippine media during a flight from Ottawa to Toronto in Canada, where he is on a state visit, that he met with Poe "recently" on the 2016 elections but did not give details. (READ: Aquino, Grace Poe in talks on 2016 polls)
Asked about the meeting, Poe said, "The President and I met and he reiterated the importance of selecting a candidate who will continue the programs of reform and good governance.
When asked if she was offered to run for a specific position however, Poe said there was "no mention of [any] particular position."
"It was just a discussion of what his goals were in selecting a candidate for 2016," she said.
Poe also admitted her doors are still open, saying, "It's a continuing process and discussion."
Aquino said in his interview that he cannot divulge details of his meeting with Poe, as he had made a "commitment" to her on "when" to make an announcement regarding the senator and "what exactly"  to announce.
In that in-flight interview, Aquino said he hopes to make an announcement on his "anointed" candidates by the "end of the second quarter," or by June.
The latest surveys showed Poe in a statistical tie with Vice President Jejomar Binay in the presidential race, and the top choice for vice president.
Poe topped the 2013 senatorial elections when she ran as an independent,  endorsed by Aquino.
Roxas,  the presumed presidential candidate of the ruling Liberal Party (LP), is ranked 6th, in the Pulse Asia Research Inc survey in March, with only 4% saying they would vote for him for president. Roxas has yet to declare his intention to run for the post, but the LP has said he is their only choice for the job. – Rappler.com