President Benigno Aquino III explains why he did not raise the matter to his Canadian counterpart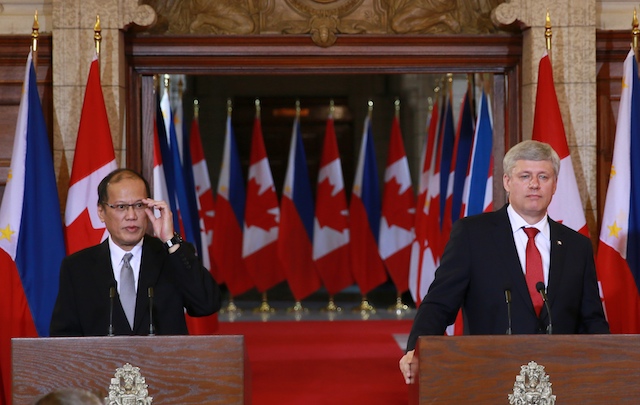 MANILA, Philippines – President Benigno Aquino III did not take up the issue of illegally shipped Canadian garbage posing a health hazard in Manila since 2013, when he met with Canadian Prime Minister Stephen Harper in Ottawa on Friday, May 8.
Aquino told reporters in a chartered flight from Ottawa to Toronto in Canada, where he is on a state visit, that the matter has been addressed by Philippine agencies while the private companies involved have been slapped with criminal charges.
Asked whether he felt he didn't have to raise the matter because of recent developments on the case, Aquino said, "I think before we left Manila, this was already prepared by the relevant agencies tasked to examine the situation."
The President narrated a timeline of actions taken by Philippine authorities and other developments related to the case, which environment and labor groups had urged him to raise to Canadian officials during his state visit. (READ: Groups to Aquino: Remind Canada about trash)
A total of 50 container vans Canada  arrived at the Port of Manila in batches since June 2013. Philippine officials opened 18 of them, revealing plastic bottles, plastic bags, newspapers, household garbage, and used adult diapers.
In February 2014, the Bureau of Customs (BOC) filed a case against Philippine-based importer Chronic Plastics for smuggling in the garbage, which were misdeclared as "plastic scraps" intended for recycling.
Aquino said a technical working group composed of the Department of Environment and Natural Resources (DENR), BOC, and the Department of Justice (DOJ) had recommended disposal of the garbage either through cement kiln processing, or through a landfill, once allowed by the court.
Aquino said that on April 1, the Manila Regional Trial Court directed the BOC to facilitate the disposal of the contraband and release the container vans to Le Soleil Shipping Agencies once their contents are properly disposed of.
"Currently, the prosecution and Bureau of Customs are conducting the necessary inventory, documentation, and photographing of the waste prior to its disposal to be used as evidence in the trial against the accused," Aquino said.
Green groups are opposed to the disposal of the illegally shipped garbage in the Philippines, saying this would set a bad precedent that may encourage more countries to send their garbage to the country. (READ: Leaking shipment of Canadian garbage poses health risks) – Rappler.com