(UPDATED) The Comelec needs to lease 23,000 additional PCOS machines because it expects more voters in 2016 – in the face of a major crisis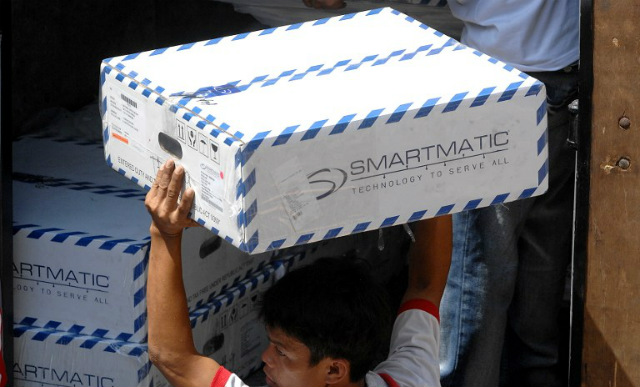 MANILA, Philippines (UPDATED) – Smartmatic, the manufacturer of the Philippines' precinct count optical scan (PCOS) machines, has been disqualified from supplying 23,000 additional vote-counting machines for the 2016 elections.
In a resolution obtained by Rappler, the Commission on Elections (Comelec) Bids and Awards Committee (BAC) barred a Smartmatic joint venture from supplementing the existing 81,000 PCOS machines.
The BAC cited the following reasons:
"Failure to submit valid articles of incorporation"
"The demo unit failed to meet the requirement that the system shall have at least two storage devices, and shall be capable of writing to the same all data/files, audit log, statistics, and ballot images simultaneously"
The disqualified joint venture includes Smartmatic-TIM Corp., Total Information Management Corp., Smartmatic International Holding, BV, and Jarltech International Inc (Smartmatic JV). 
The BAC resolution was signed May 5. 
Smartmatic, however, can still appeal this resolution. It can also join a second bidding for 23,000 PCOS machines, which was earlier suspended. 
The Comelec needs to lease additional PCOS machines because it expects more voters in 2016. 
Comelec-Smartmatic midnight deal?
This is also important because the Comelec is dealing with a major setback: a Supreme Court ruling that might render the Philippines' existing PCOS machines useless. 
Comelec chairman Andres Bautista earlier said the Comelec will conduct two simultaneous bids to address this crisis. (READ: 2 bids, 1 choice to seal fate of 2016 elections)
One of the Comelec's options is to buy 100,000 new PCOS machines for 2016.
This comes after an SC ruling nullified a P268.8-million* ($6.08-million) contract between the Comelec and Smartmatic that didn't undergo public bidding. 
The deal involves the repair of more than 81,000 existing PCOS machines. The repair is non-negotiable because the Comelec said it will not use PCOS machines that haven't been repaired.
Critics, however, have called this a midnight deal, which was signed on February 2, the day when then Comelec chairman Sixto Brillantes Jr ended his term. Comelec insiders dispute this claim, saying the commission had discussed the contract for months.
Proposing a semi-automated election process, critics have also urged the Comelec to blacklist Smartmatic from providing election-related services. They claim that Smartmatic's PCOS machines can be easily rigged. (READ: Poll watchdog pushes for 'laptop count' to replace PCOS)
The Philippines used Smartmatic's PCOS machines in its first and second automated elections, including the 2010 polls that elected President Benigno Aquino III. The 2016 elections will elect Aquino's successor. – Rappler.com
*$1 = P44.62