Not giving up, JPE and Belmonte suggested that President Aquino study it further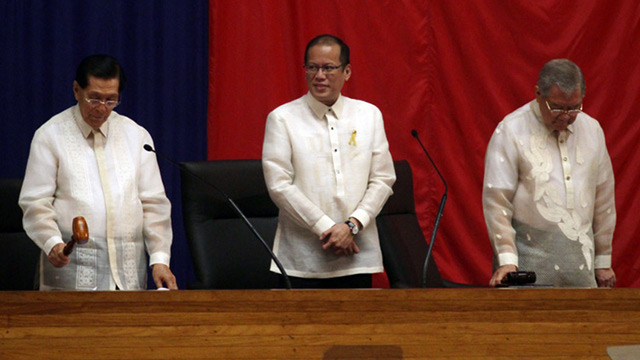 MANILA, Philippines – Mission failed.
Senate President Juan Ponce Enrile and House Speaker Feliciano "Sonny" Belmonte Jr went to Malacañang on Monday, July 30, to persuade President Benigno Aquino III on the necessity of Charter Change (Cha-Cha). But they failed.
"The President reiterated his opposition to Cha-cha," said House majority leader Neptali Gonzales II, who joined the meeting. "He is not convinced at this point how it can contribute to economic progress particularly in light of the fact that we may be accused of changing the rules of the game,"
This has always been the President's position.
Enrile and Belmonte both want to amend the economic provisions of the 1987 Constitution to lift the 40-percent limit on foreign ownership. But President Aquino has said that the economy is growing without Charter change. "Don't fix what ain't broke," Aquino was earlier quoted as saying.
"At least they heard straight from the President that he is opposed to any amendment for now," said presidential spokesperson Edwin Lacierda.
But Enrile and Belmonte are not giving up. Upon their suggestion, President Aquino agreed to study Charter change further.
"The President agreed to the suggestion of JPE [Enrile] and SB [Belmonte] to have the economic cluster of the Cabinet in consultation with private sectors and stakeholders to study it and make corresponding recommendations as soon as possible," said Gonzales.
"I'm still hopeful because he will have our proposed amendments studied," Belmonte said.
Lacierda explained: "I received word from the President and let me quote the President so there would be no mistake: "I stated my opposition but we agreed to have the underlying basis studied by the economic and legal clusters with private sector participation upon the suggestions of both the Senate President and the Speaker.""
They did not discuss the deadline they will impose on the economic cluster to submit its recommendations. Gonzales said the study has to be completed within the year. There may no longer be time to tackle it next year, he said.
They were not able to discuss the possible mode of amending the charter, too. "We did not go that far," he said.
"It's good enough kaysa naman makatanggap kami ng outright 'No (It's better than an outright 'No')," said Gonzales.
"I hope there's a chance," he added.
Moves to amend the Constitution have always been met with strong opposition because of fears that it will be used to extend the terms of elected officials. To address these concerns, Enrile and Belmonte gave assurances that only the economic provisions will be amended. But some sectors are not convinced. – Rappler.com