'We're just standing up for our rights,' the Philippine president says after comparing China to Nazi Germany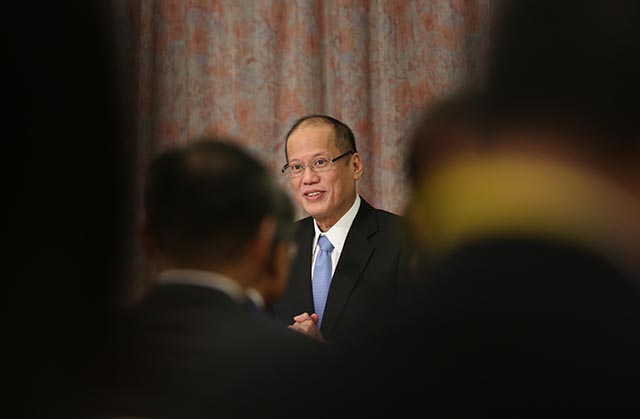 MANILA, Philippines – Philippine President Benigno Aquino III on Friday, June 5, said he didn't want to hurt China after he likened the rising superpower to Nazi Germany.
"We have no intentions of hurting anybody's feelings," Aquino said in a news conference with Japanese media.
Referring to the Philippines' claim over the West Philippine Sea (South China Sea), he added: "We're just standing up for our rights. We respect everybody else's rights. We ask that our rights also be respected."
Aquino made these statements after he drew a parallel on Wednesday, June 3, between China and Nazi Germany in a speech during his state visit to Japan. 
He also slammed China for claiming even more territory in the West Philippine Sea through reclamation activities. (READ: Philippines, Japan lash out at China island building) 
China replied it was "deeply shocked at, strongly dissatisfied with, and opposed to the absurd remarks made by the Philippine leader."
On Friday, Aquino added that the Philippines has done its best to ease the tension in the disputed waters, as Manila pursues a historic case against Beijing. (READ: Philippines vs China hearing set in July)
'Focus on prosperity'
Aquino recounted his state visit to China in 2011, before the sea dispute heated up in 2012 with a Philippine-China standoff in the West Philippine Sea.
Aquino said: "We proposed that stability is a very necessary component for prosperity, and prosperity seems to be the primary need or the primary mission of every government that exists in the world. And the response of then President Hu Jintao was that the disputes in the South China Sea should not be the be-all and end-all of our relationship."
"We keep saying in various fora, hopefully we can concentrate our energies and efforts in growing our economies and making our people more prosperous," the Philippine president said. 
On Thursday, June 4, Aquino added that China's reaction to his Nazi remark "is to be expected." 
Aquino, however, stressed that the Philippines and China signed a regional agreement in 2002, where they vowed not to disrupt the status quo and heighten tensions in the South China Sea.
The Philippines asserts that China's island building there disrupts the status quo and heightens tensions.
Aquino said, "So if they signed it in good faith, is it wrong for us to ask them to adhere to that which they agreed to in 2002?" – with reports from Agence France-Presse/Rappler.com