A Maynilad water pipe lies directly in the DPWH drainage system, while 9 waterways are still obstructed by informal settlers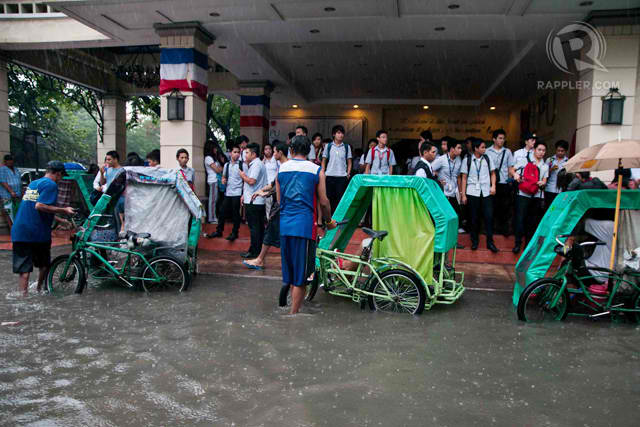 MANILA, Philippines – Metro Manila residents can expect the same recurring problem of flooding in the months ahead, with the government's major flood control projects still unfinished in time for the rainy season this year. 
The flood control projects in Blumentritt, Manila, and Maysilo in Mandaluyong City may not be completed within the year, the Department of Public Works and Highways (DPWH) said on Monday, June 22.
"We should be able to finish them for the next season next year. It has a huge impact when completed," DPWH Secretary Rogelio Singson said on the sidelines of the agency's 117th anniversary celebration.
Explaining the problems in the construction of the P560-million Blumentritt floodwater interceptor project, the DPWH chief said a Maynilad water pipe lies directly in the DPWH drainage system.
"We are doing some remedial measures so that the unfinished portion will be given bypass. We will pump out. We will do some temporary conveyance system for the water to move," he said.
The projects are part of the DPWH's P350-billion master plan to fix the perennial problem of flooding in Metro Manila and surrounding areas in Central Luzon and Southern Luzon.
The master plan also involves upgrading pumping stations, unclogging drains, and clearing waterways of informal settlers.
But Singson admitted that the worsening floods in Metro Manila will not be solved overnight.
He explained that it will take some time to enlarge the drainage system and to move the 12,000 informal settlers whose makeshift homes are currently obstructing 9 waterways in the metro:
San Juan River

Tullahan River

Manggahan Floodway

Napindan

Maricaban Creek

Estero Tripa de Gallina

Pasig River

Estero de Sunog Apog

Estero de Maypajo
"This can't be done overnight…. The master plan laid down is for 20 years, not just for a year," Singson said. 
Once the projects are completed, Metro Manila can expect to see an improvement in its flooding problem, the DPWH added. – Katerina Francisco/Rappler.com