After Senator Pimentel calls for an audit of the housing agency that Binay used to chair, the Vice President responds: 'I hope this is not a bluff. I dare you. Magpakalalaki ka.'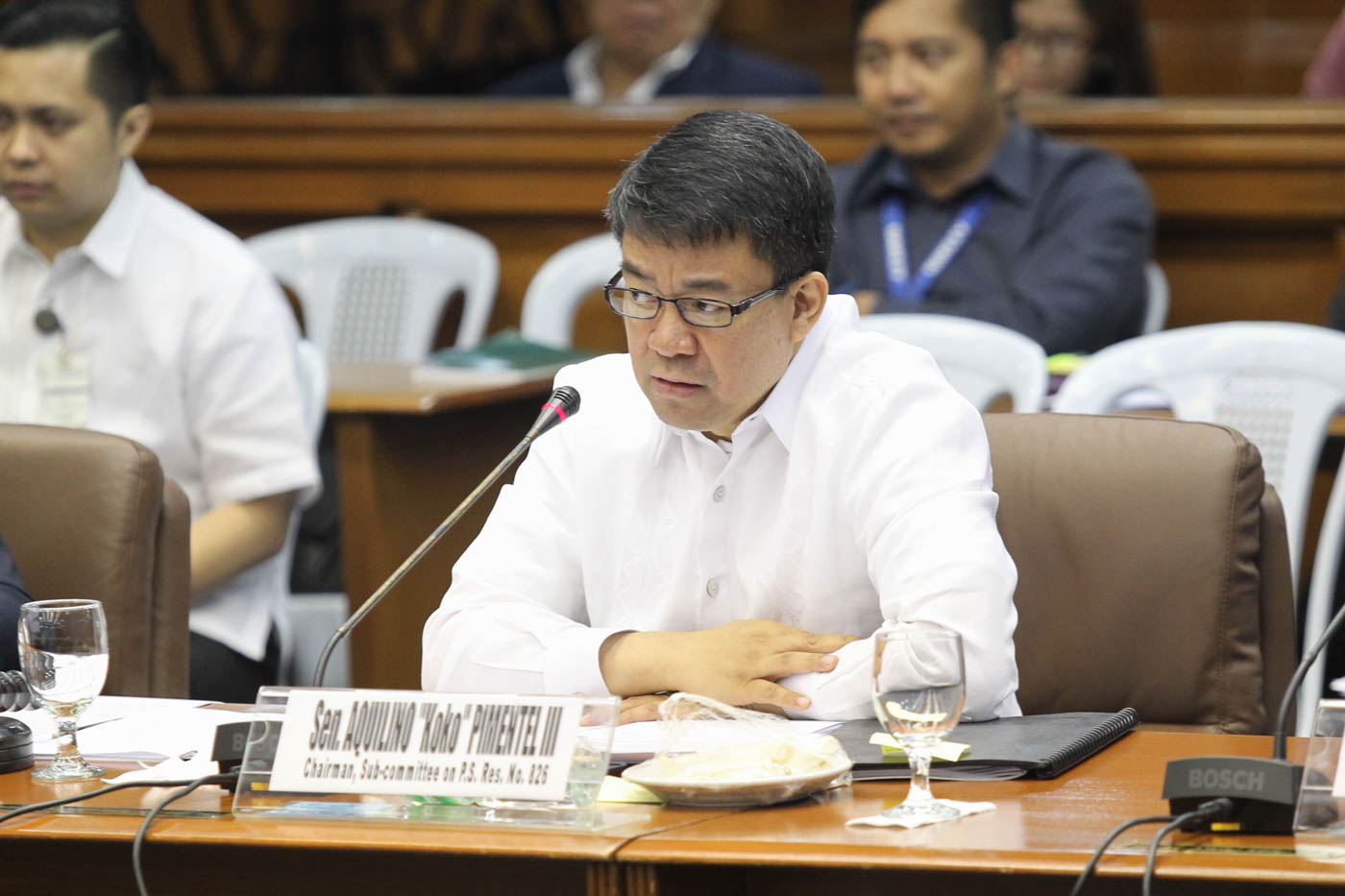 MANILA, Philippines – "Magpakalalaki ka." (Be a man.) 
After sending President Benigno Aquino III a controversial one-sentence resignation letter, Vice President Jejomar Binay now wrote Senator Aquilino Pimentel III a letter that the senator described as "kanto-speak" (street or gutter language). 
Pimentel had called for an audit of the housing agency that Binay headed, and the Vice President responded by alluding to rumors about the senator's sexuality. 
"I hope this is not a bluff. I dare you. Magpakalalaki ka (Be a man)," Binay wrote in the letter he signed on Wednesday, June 24.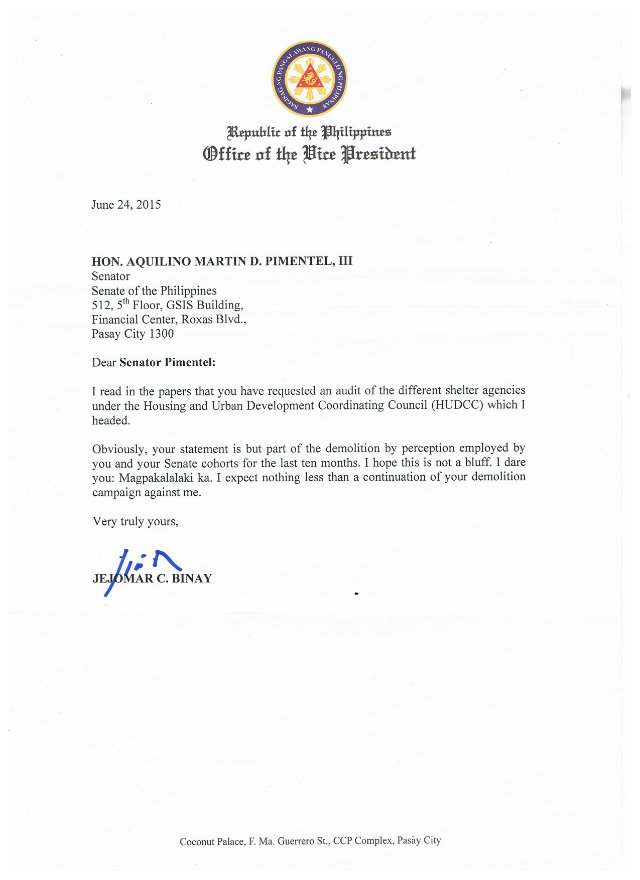 Binay's spokesman, Joey Salgado, confirmed that the Vice President sent and signed the letter bearing his office's seal. 
Pimentel released the letter to the media on Thursday, June 25, after receiving it on the same day. The senator told Rappler that a representative from the Office of the Vice President just left the letter on a table at the receiving area for senators' correspondence. Neither Binay nor anyone from the Vice President's office communicated with Pimentel. 
The letter came after the senator called on the Commission on Audit (COA) to look into the performance of the Housing and Urban Development Coordinating Council (HUDCC) after Binay resigned as its chairman on Monday. 
Pimentel stands by his call for an audit, and was surprised by Binay's letter. 
"May mga kanto-speak pa. Bahala na lang siya," Pimentel said in a phone interview. (He even put in street language. Let him be.) 
"'Di ko maintindihan kung bakit niya kino-connect sa demolition job. I did not focus on the kanto-speak, but nagulat din nga ako na, how come those words were inserted there?"
(I do not understand why he is connecting it to a demolition job. I did not focus on the street language, but I was also surprised.) 
Binay first drew flak for writing President Aquino a one-sentence letter to resign as a member of the Cabinet. Netizens found the letter and the manner of his resignation rude. 
In that letter, Binay simply said, "Dear Mr President, I hereby tender my irrevocable resignation as member of the Cabinet effective immediately."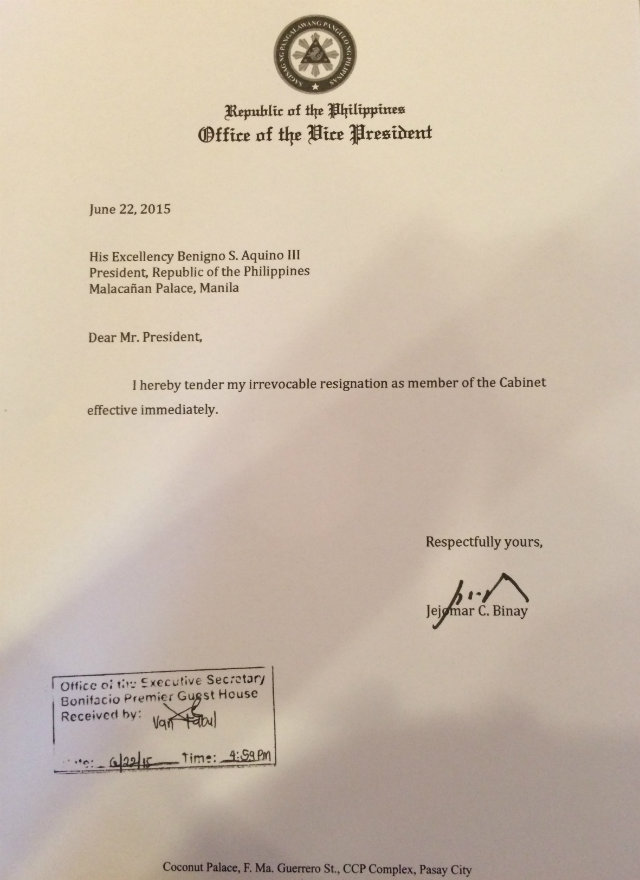 Fact-checking Binay's 'milestones' 
In Binay's letter to Pimentel, the Vice President accused the senator of continuing to wage a "demolition campaign" against him. 
Pimentel is the chairman of the Senate blue ribbon subcommittee who drafted the report recommending plunder charges against Binay and his son, Makati Mayor Jejomar Erwin "Junjun" Binay Jr over the allegedly overpriced Makati parking building. The Senate has been investigating corruption allegations against the Binays through a record 21 hearings. 
Binay viewed Pimentel's call for an audit of HUDCC as part of the supposed efforts to derail his 2016 presidential ambitions. 
"Obviously, your statement is but part of the demolition by perception employed by you and your Senate cohorts for the last 10 months," Binay wrote.
"I expect nothing less than a continuation of your demolition campaign against me," he added. 
Pimentel explained that he made the call for an audit to verify the glowing report that Binay released on his performance as housing czar upon the Vice President's resignation from the Cabinet. 
He said he wanted COA to check if HUDCC and the Home Development Mutual Fund (Pag-IBIG Fund) had stellar performances as Binay claimed. 
"I read his milestone report that the income of Pag-IBIG is on a record level, but when I communicated with my friends in Cagayan de Oro, I asked them, 'How are the victims of [Typhoon] Sendong? Have the housing commitments been met or delivered?' Their answer was no, there are many problems with the housing commitments," Pimentel said. 
The senator said that Binay did not have to "call his bluff" because he intended to request for the audit, whether or not the Vice President dared him to do so. 
"How can a call for a performance audit, and financial audit be part of a demolition job when I have no idea how it will turn out? If the audit is positive for him, if he is cleared, then good for him. Then he can use that in his campaign, put a positive spin to the report, good for him. But if it is not positive, then he should be worried." 
Pimentel said he will respond to Binay's letter also in writing to explain his reasons for calling for the audit.
"I will deny this is part of a demolition job. I will avoid kanto-speak," he said. 
Asked if he will talk to the Vice President, Pimentel said: "Ah, no more. We are not on speaking terms." 
Pimentel and Binay used to be close allies and party mates. Binay was a longtime friend of the senator's father, former Senator Aquilino Pimentel Jr, and they were together in the Partido Demokratiko Pilipino-Lakas ng Bayan (PDP-Laban) for 3 decades. (READ: Binay-Pimentel: The ties that bind)
Yet the younger Pimentel cut ties with Binay after the Vice President decided to include resigned Senator Juan Miguel Zubiri in the opposition's 2013 senatorial slate even after Pimentel accused Zubiri of cheating him in the 2007 polls. 
Last year, Binay abruptly left PDP-Laban without even notifying Pimentel, and formed his own party, the opposition United Nationalist Alliance (UNA).
The president of PDP-Laban, Pimentel said his party will support any candidate in 2016 except Binay. 
'Ang pikon talo!'
Binay's spokesman Salgado blasted Pimentel's call for an audit. 
"However we say that the housing agencies already passed all audits, their minds are closed. He should just continue his call because that is part of his bashing of the VP," Salgado told Rappler. 
Pimentel said he had a simple message for Binay, his former mentor: "Keep your cool." 
"VP, when we were still together, you were always trying to teach us that, in politics, ang pikon talo. I-remind ko na lang siya about his political lectures to us. Relax lang, ikaw mismo nagsabi." 
(The one who gets upset loses. I will just remind him of his political lectures to us. Just relax, that's what you yourself said.) – Rappler.com