This is AI generated summarization, which may have errors. For context, always refer to the full article.
Retired justice Antonio Carpio says the Philippines can build structures in its exclusive economic zone
In what could be a tit for tat, the Armed Forces of the Philippines said it was considering building structures in the West Philippine Sea similar to what China constructed in the disputed waterway.
For AFP Chief of Staff General Cirilito Sobejana, to build in that area would challenge China's incursion and assert Philippine sovereignty.
"We are also entertaining the idea, of course subject to the wisdom of NTF-WPS, na magtatayo ng istruktura sa naturang lugar katulad ng ginagawa rin ng China. Kasi ang dahilan kung bakit hindi tayo nagtatayo diyan nung araw kasi may napag-uusapan na wala dapat magpatayo," Sobejana said during a press conference on Thursday, April 22. 
(We are also entertaining the idea, of course subject to the wisdom of NTF-WPS, that we construct in the area just like what China did. Because it was agreed way back that no country would construct in the area.)
"Subalit, iyon ay nilabag ng China. Kaya dapat tayo, magpatayo na tayo starting now. (But China broke that agreement. That's why we should start our own construction now) And again, that is subject to consideration of NTF-WPS," the military chief added. 
Sobejana was referring to the 2002 Declaration on the Conduct of the Parties in the South China Sea signed by state-members of the Association of Southeast Asian Nations and China.
Specifically, the section 5 of the treaty stated that countries shall "undertake to exercise self-restraint in the conduct of activities that would complicate or escalate disputes and affect peace and stability including, among others, refraining from action of inhabiting on the presently uninhabited islands, reefs, shoals, cays, and other features and to handle their differences in a constructive manner."
China has disregarded this treaty and established artificial islands and militarized the disputed maritime features.
'Don't engage in retaliatory action'
For retired justice Antonio Carpio, one of the staunch defenders of the West Philippine Sea, the Philippines can build in the disputed seas because the award is already final.
"We can build legally on maritime areas declared in the arbitral Award as our EEZ because the Award is already final and is binding on China whether China agrees or not. But China may also build illegally on other maritime areas," retired justice Carpio said in a message to Rappler.
However, for maritime expert Jay Batongbacal, Director of the UP Institute for Maritime Affairs and Law of the Sea, constructing in the disputed seascapes could give China an excuse to engage in retaliatory actions against the Philippines.
"We may enhance existing locations, but we should not give China an excuse to then engage in a retaliatory action of building new structures elsewhere," Batongbacal said in an interview with Rappler.
The maritime expert added that if the Philippine is to declare a "construction competition" with China, it cannot win.
"They can build them faster, bigger, and better, so we will not be able to win a race to build new structures," Batongbacal added.
But despite this, Carpio stands firm that assertion of legal rights is not aggression.
"China can say that, but that has no legal basis because we have a legal right to erect artificial structures on our own EEZ.  An exercise of a legal right can never be aggression," the former justice added. 
Fighting back
Sobejana added that they were really pushing hard to challenge the Chinese presence. However, the Chinese also pushed back.
"China-challenge natin sila na teritoryo natin 'to, nandito kayo sa exclusive economic zone namin, dapat kayong umalis. At ganoon din ang challenge na ginagawa nila sa ating mga sasakyang pandagat," Sobejana said. 
(We're challenging them and saying that they are within our territory. You are in our exclusive economic zone, you should leave. But they do the same, challenging our naval assets.)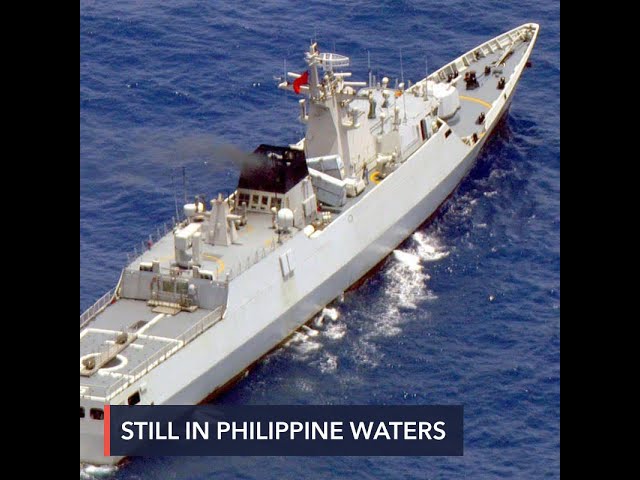 National Security Adviser Hermogenes Esperon said the country has yet to act on a new code of conduct to outlaw Chinese activities. Esperon said it might take 2-3 years to finalize the treaty.
But according to Batongbacal, a freeze in the status quo in the South China Sea would help the Philippines in its fight against China. Freezing the status quo meant temporarily banning any illicit activities, including construction. 
Batongbacal added that a new code of conduct was not needed because if the countries ideally followed the freeze order, it would somewhat solve the dispute. – Rappler.com