This is AI generated summarization, which may have errors. For context, always refer to the full article.
'I do not know why we're pegging the [minimum wage] slightly higher than the poverty index threshold. Don't our laborers deserve better?' Senate President Juan Miguel Zubiri asks the National Wages and Productivity Commission
MANILA, Philippines – After passing policies in recent years to help business owners in the Philippines, several senators have filed measures seeking to increase the daily minimum wage – a need made more stark as the cost of living in the country is far higher than what workers earn.
In a Senate labor committee hearing on Wednesday, May 10, an emotional Senate President Juan Miguel Zubiri lamented that labor groups have long been calling for wage hikes. When Zubiri filed a bill seeking to raise wages across the board, he said he received numerous messages warning him that he would "lose rich friends."
"Marami rin pong nagawang hakbang ang Senado para sa ating mga mayayamang mamay-ari ng mga kumpanyang ito. Maybe hindi po nila alam," said Zubiri. (There are many steps the Senate has made for rich company owners. Maybe they don't even know.)
Zubiri mentioned the Tax Reform for Acceleration and Inclusion (TRAIN) law, as well as the Corporate Recovery and Tax Incentives for Enterprises (CREATE) Act. The CREATE law reduced corporate income tax rates in the country from 30% to 20% beginning April 2021.
"Those were pro-business measures…. Ngayon ang akala po namin ay sana naman dahil may mas malaki po kayong income ay sana maibahagi 'nyo po ito sa ating mga kababayan," he said. (Now, we assumed that perhaps this time, since you have larger incomes, maybe you can share some of this with our countrymen.)
"It's about time we share," he added.
Apart from Zubiri, several other senators including Jinggoy Estrada, Bong Revilla, Loren Legarda, and Raffy Tulfo pushed for a review of current daily minimum wages in the Philippines. These vary by region, with the highest in Metro Manila at P570 for non-agriculture workers.
But senators Tulfo, Zubiri, and Joel Villanueva pointed out numerous times in the Wednesday hearing that P570 was not enough for Filipino families to live decently. They cited data from the IBON Foundation saying that living wage for a family of five would be around P1,161.
"They do not have enough to live a daily decent life. This means that [the] NCR (National Capital Region) minimum wage is only half of the required living wage especially considering the high inflation rate which is at 6.6% in April 2023," said Villanueva.
Villanueva added that he was "hopeful that the standards of a living wage will also be tackled in the discussion of the minimum wage. The Constitution itself guarantees to all workers the right to a living wage… we hope that the living wage will be considered as a minimum criteria in determining wage rates."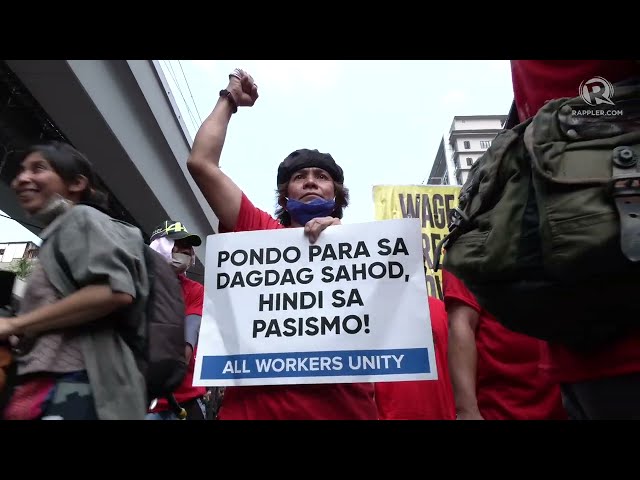 Implications to future generation
Luis Corral, vice president of the Trade Union Congress of the Philippines, noted that raising the minimum wage was a matter of "survival." He mentioned that 2018 data from the Programme for International Student Assessment said Filipino students ranked among the lowest in reading comprehension, arithmetic, and science.
"What does this mean? We're raising another generation of endo workers who will not be competitive in the ASEAN or in the global market. We always say we will reap the benefits of having a young workforce. But if that young workforce is stunted and mentally deficient, we're only assembling tools… We will be a second or third class economy forever," Corral said in a mix of English and Filipino.
"Endo," short for "end of contract," refers to the practice of contractualization of workers, rendering them without security of tenure. Hundreds of thousands of Filipino workers are contractuals.
Bukluran ng Manggagawang Pilipino president Luke Espiritu said in the hearing that legislation must start with raising the minimum wage to the cost of living, and then the pursuit of higher wages.
'Shared burden'
Department of Labor and Employment Secretary Bienvenido Laguesma said that the DOLE was neutral about the bills tackled during the hearing, and that they would help provide technical insight to inform the committee on how to go about legislation.
Maria Criselda Sy, executive director of the DOLE-supervised National Wages and Productivity Commission, defended regional wage boards' processes of mandating minimum wages, which are regulated by certain factors.
"Nakalagay po sa criteria ng minimum wage na isinaad ho ng batas ay kailangan natin itong ibabangga sa ibang criteria katulad po ng employers' capacity to pay at ang required for economic development," she said. (The criteria for minimum wage is provided in the law, where we have to factor in other criteria such as employers' capacity to pay and what is required for economic development.)
"Part of our policy is what we call the two-tiered wage system which we set the minimum wage to be a little over the poverty threshold, since the poverty threshold is the standard basis that our Philippine Statistics Authority issues. And our definition from the PSA is that this is the amount of income that is necessary for a family to subsist," Sy said in a mix of Filipino and English.
Zubiri responded: "I do not know why we're pegging the amount slightly higher than the poverty index threshold. Don't they deserve better? Don't our laborers deserve better? Why are we pegging it at that? Parang we've become a country whose people are just left to beg for alms."
Josua Mata, secretary-general of labor group Sentro ng mga Nagkakaisa at Progresibong Manggagawa, noted that employers were concerned about the rising costs of production, and said that this was a legitimate concern.
"Eh bakit po 'yung mga manggagawa ang magsu-suffer? Bakit kami lang? Kung ang problema ay high cost of production, hindi ba dapat shared burden yan ng mga kapitalista at saka ng mga manggagawa?" Mata said. (How come only the workers have to suffer? Why only us? If the problem is high cost of production, shouldn't that be a shared burden of the capitalists and the workers?)
A Social Weather Stations survey conducted in March found that 51% of Filipinos considered themselves poor.
Zubiri noted that the minimum daily wage of P570 was still subject to deductions, as all employees are required to become members of the Social Security System, Philippine Health Insurance Corporation, and the Home Development Mutual Fund, based on labor laws.
"Ang ramdam po nila ay mahirap po sila dahil siyempre kung iuuwi mo ba naman ay P520 a day, pano mo sasabihin na mayaman po kayo? Hindi aasenso ang ating bansa," he said. (They feel poor because, if you bring home P520 a day, how could you call yourself rich? Our country will not develop.)
The Senate labor committee moved to create a technical working group to handle the discussions of the wage increases in the next hearings. – Rappler.com