This is AI generated summarization, which may have errors. For context, always refer to the full article.
'If the other fight is to prevent a Marcos comeback, I am all for that, Aksyon Demokratiko is all for that,' says Ernest Ramel, chairman of Isko Moreno's party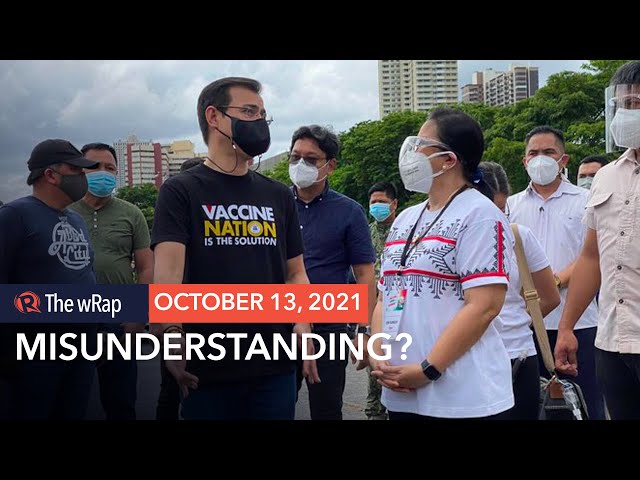 A top official in Isko Moreno's national party said Vice President Leni Robredo misunderstood the Manila mayor's stance on the late dictator Ferdinand Marcos and that this was one reason for Moreno's outburst on October 8.
"Binanggit 'yung Marcos stance na para kay Mayor Isko is not even true; hindi 'yun ang kanyang talagang stance, at parang linalagay siya sa masamang lugar," Aksyon Demokratiko chairman Ernest Ramel Jr. said in a Rappler Talk Newsmaker interview on Wednesday, October 13. (WATCH: Robredo says Moreno's stand on Marcoses among reasons that pushed her to run)
(She mentioned his Marcos stance which for Mayor Isko is not even true; that's not his real stance and it seems he is being put in a bad light.)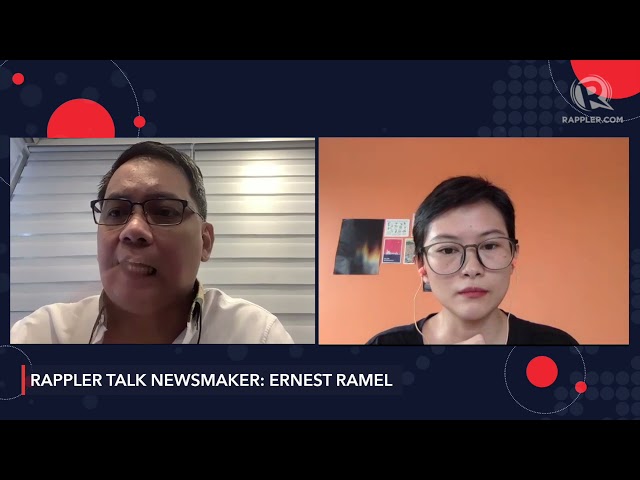 "Others are saying, Mayor Isko is pro-Marcos. How can he be pro-Marcos when he would immediately say when he is asked about it, that the rule of law should prevail, those who face cases should continue to face cases, that I won't lift a finger for or against it?" said Ramel.
Moreno has also promised not to emulate officials who have abused their power or stolen from public coffers, said his party mate.
In Moreno's first interview after deciding on his presidential bid, he said he admired the "visionary" aspect of Ferdinand Marcos' leadership but rejects the abuses that took place. The Manila mayor said Filipinos "should not allow Martial Law to happen again."
Robredo's change of mind
Ramel said he and other Aksyon members were "puzzled" about Robredo thumbing down Moreno's remarks about Marcos when she had, for a time, wanted the Manila mayor to run for president. (WATCH: Robredo says Moreno's stand on Marcoses among reasons that pushed her to run)
"Kung sinasabi niya na hindi siya naniniwala sa mga tayo o tindig ni Mayor Isko sa mga issues, bakit siya ang tinutulak na maging pangulo? Noong hindi nangyari 'yung Isko- Pacquiao, then suddenly siya na 'yung tumakbo," he told Rappler.
(If she says she doesn't agree with the positions of Mayor Isko on issues, why was he the one being asked to run for president? When Isko-Pacquiao didn't happen, then suddenly she is the one running.)
In September meetings, Robredo was open to supporting a Moreno-Pacquiao tandem while not yet deciding on her 2022 plans. Moreno's camp, however, had decided to push through with his presidential bid because Pacquiao was also not willing to slide down to vice presidential candidate.
Robredo, however, had also consistently said that even while talking to other camps, she was not closing her door to a possible presidential bid. In announcing her presidential run, the Vice President had said that she wants to put an end to the "old, rotten politics" that had robbed ordinary Filipinos of the power to bring about change themselves.
Ramel also expressed dismay at some people in what he called the "yellow crowd" for supposedly being closed to other points of view.
"I've been in that circle. Kilala ko sila lahat and lagi ang gusto nila 'pagka nag-iiba 'yung mga ano mo sa gusto nilang marinig, nagagalit sila. Hindi pa ba tayo puwede magkaroon ng ibang opinyon?" said Ramel.
(I know them all and when your position is not what they want to hear, they get angry. Can't we have a different opinion?)
Aksyon Demokratiko's Sonia Roco 'understands' Isko
Ramel said he had had to explain Moreno's outburst to Aksyon Demokratiko leaders, including chairperson emeritus Sonia Roco.
The party has supported the opposition before and endorsed candidates of the Liberal Party-affiliated Otso Diretso in the 2019 elections.
He admitted that people in his and Aksyon's circle "raised hell" about Moreno's remarks, where he used the derogatory term "yellowtards" to refer to the opposition and spoke of a "fake leader" with a "fake color."
"I contextualized it for her (Mrs. Roco) and she understood that the message is for the greater number of Filipinos, for the majority of Filipinos, not just for those who want to be pleased," said Ramel.
Doors open for reconciliation
Asked if Aksyon would reach out to the Liberal Party to reconcile their candidates, Ramel said there continues to be informal messages sent between people of the two camps.
"We are not shutting the door from our end and I'm sure many in the Liberal Party have the same sentiments," said the Aksyon chairman.
"If 'yung isa pang laban (the other fight) is to prevent a Marcos comeback, I am all for that; Aksyon Demokratiko is all for that. We don't want another type of leadership that the Marcoses, that the Dutertes deliver. Ayaw na natin ng ganoon (We don't want that anymore)," said Ramel.
Earlier on Wednesday at Kapihan sa Manila Bay with Ichu Villanueva, Moreno was asked about unification of non-administration candidates to prevent a Marcos presidency.
He said he "can work with anybody" but made clear that he is not backing out of the presidential race.
The 46-year-old presidential candidate dropped by Bacolod City, Cebu City, and Angeles City last Saturday, October 9 using a plane "borrowed" from a businessman who wishes to help Moreno. – Rappler.com